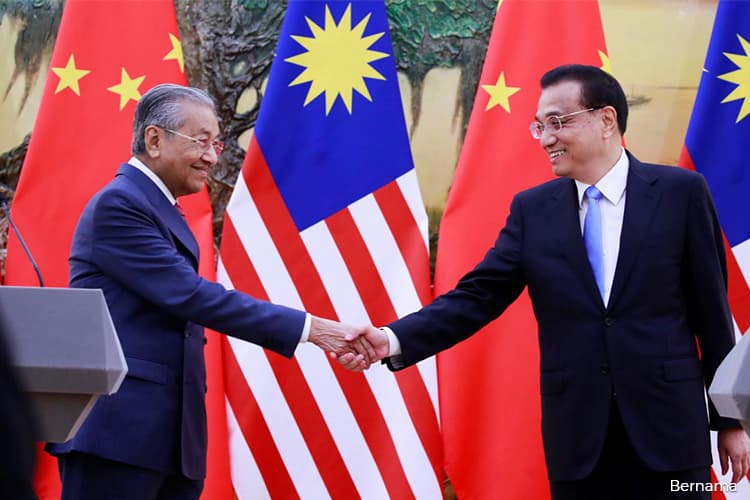 BEIJING (Aug 21): Tun Dr Mahathir Mohamad has admitted that there had been some misunderstandings between the new Pakatan Harapan government and China. However, his five-day official visit to the Chinese mainland has helped to break the ice and clear the air.
"They didn't understand what I was doing.
"Now they (the Chinese government) understand why we want to do all that (cancelling projects). I don't think China wants to see Malaysia go bankrupt," the prime minister told the Malaysian media here before he heads back home this evening.
He acknowledged that the diplomatic tie between the two countries had earlier gotten tensed as the Chinese government did not know the rationale of the new government. "I am here to explain to them. Now they understand."
Dr Mahathir said the Chinese leaders had been friendly to him during his meetings with them. "They didn't say to me (that) they want to throw me out of China," he quipped.
"They have 12 motorcycles to escort me (during the official visit). I have invited the Chinese President Xi Jinping to Malaysia ... and the party's chairman has invited me to come in April next year to join the BRC (Belt and Road Conference)," said Dr Mahathir.
The new government were seen to have given a rude nudge to China when the former announced the costs of several infrastructure building projects, some of which the Chinese state-owned enterprises are involved in, have been inflated for the wrong reasons.
Some quarters commented that this might not paint a good picture on the Chinese-based companies, particularly when there were accusations of fraudulent.
Nonetheless, Dr Mahathir reaffirmed that his "China friendly" stance has not changed since he was the prime minister the first time from 1981 to 2003.
"I am known in China, I am China friendly when I was the prime minister before. I have not changed. I am as China friendly as before. I have managed to convince Chinese business people," said Dr Mahathir.
That said, he reiterated his view that Malaysia needs foreign direct investments that are involved technology transfer, job creation and enhancing exports. "We don't want investments that are just buy land and build on it."