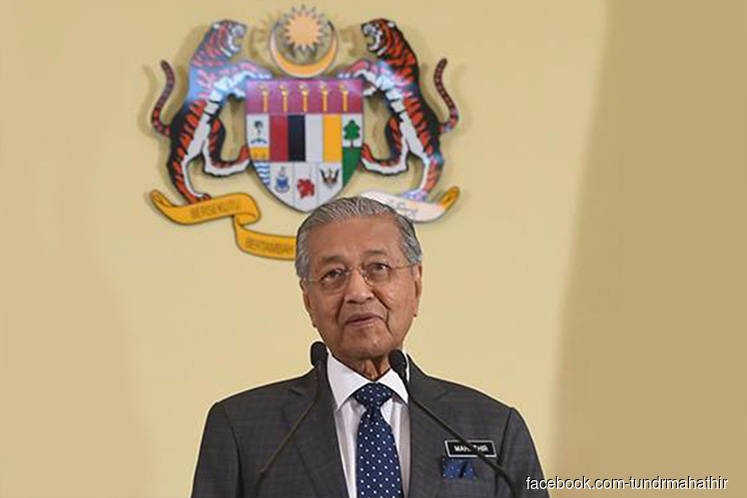 KUCHING (July 15): Prime Minister Tun Dr Mahathir Mohamad today confirmed that former Court of Appeal judge Datuk Mohamad Ariff Md Yusof will be nominated to be the ninth Speaker of the Dewan Rakyat when the first meeting of the first session of the 14th Parliament convenes tomorrow.
Asked if there was a candidate for the Speaker post, Dr Mahathir said: "We have already. It will be announced soon. He is an ex-judge. Yes, he is Datuk Mohamad Ariff Md Yusof."
Earlier, Dr Mahathir attended a closed-door briefing on the development of Sarawak. Chief Minister Datuk Patinggi Abang Johari Tun Openg and the state Cabinet ministers were also present.
Mohamad Ariff, 69, is well versed in commercial law, banking, securities, arbitration, constitutional and administrative law.
Mohamad Ariff hails from Sungai Petani, Kedah, who graduated with a Bachelor of Law from University of London (London School of Economics) and started his career in 1974 as a law lecturer before becoming an associate professor at the Law Faculty of the University of Malaya.
The father of five left the academic world in 1986 when he ventured into legal practice as an advocate and solicitor where he was also one of the founding partners of Cheang & Ariff.
From 1993 to 1995, Mohamad Ariff took leave from legal practice to join the then newly formed Securities Commission of Malaysia and became its first Market Supervision Department director.
During his foray into the world of commerce, Mohamad Ariff also served as Director of Kuala Lumpur Options and Futures Exchange (1995-1996); member of Rating Review Committee (RRC), Malaysian Rating Agency (MARC) (until 2008) and member of Advisory Board, Companies Commission Malaysia Training Academy (2007-2008).
Mohamad Ariff's judicial stint came in Sept 2008 when he was appointed as a Judicial Commissioner of the High Court of Malaya and within a year he was appointed as the high court judge, in October 2009.
In September 2012, he became a judge of the Court of Appeal before returning to Cheang & Ariff as a consultant after his retirement from the Malaysian Judiciary in early 2015.  He had also been a member of the Judicial Academy, Judicial Appointments Commission (2012-January 2015).
Mohamad Ariff is not known as an active participant in politics though he is now a member of Parti Amanah Negara. 
During his days in the judiciary, he displayed great sense of impartiality. He even recused himself as the judge in the Mohammad Nizar Jamaluddin vs Datuk Dr Zambry Abdul Kadir case in 2009 during the Perak constitutional crisis. He withdrew himself on the grounds that during his days in private practice he had represented PAS in several election petitions as well as Parti Keadilan Rakyat (PKR) in several matters besides representing the Barisan Nasional in election petitions in Sarawak.
One of prominent cases that he handled during his days with the Court of Appeal was on the controversial open verdict relating to the death of Teoh Beng Hock, a political aide to a DAP assemblyman while being questioned by the Malaysian Anti Corruption Commission. The three-man panel that he led overturned the open verdict on the death of Teoh and ruled that the death resulted from an unlawful act by a person or persons unknown and called for a further probe into the death.