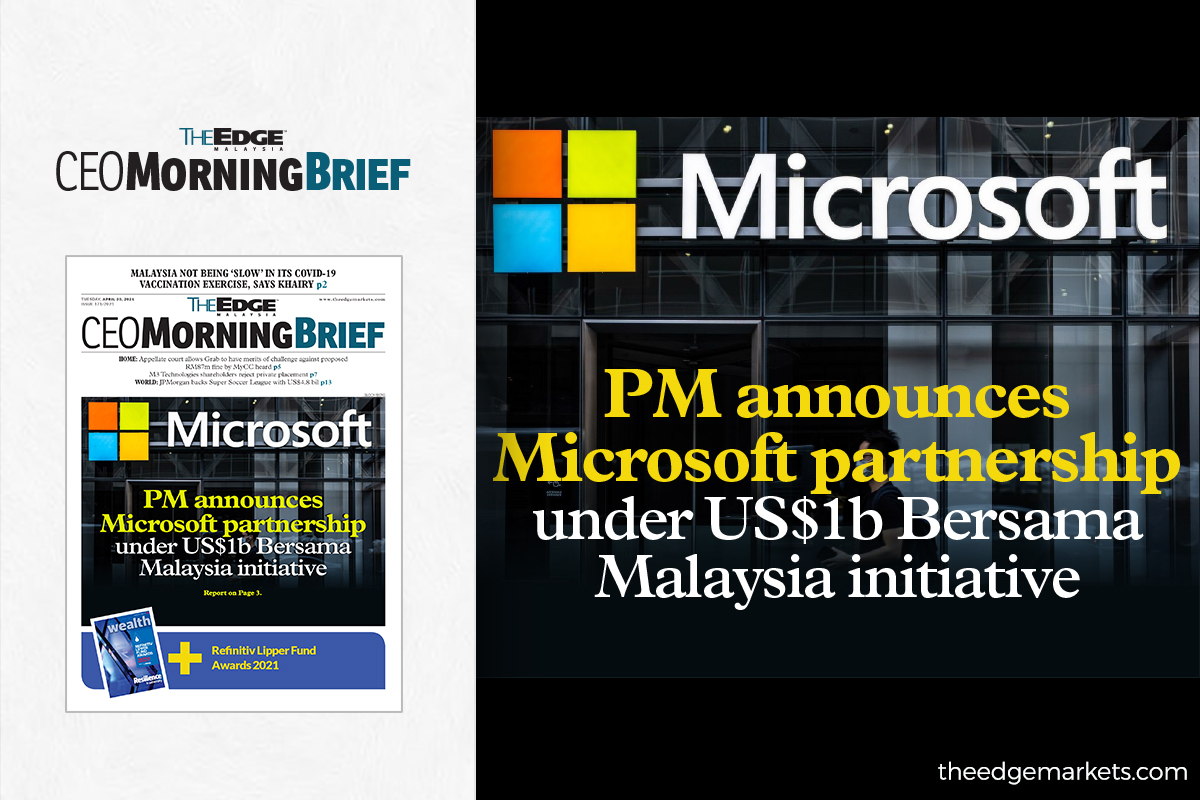 KUALA LUMPUR (April 19): The government has announced its partnership with Microsoft under the Bersama Malaysia initiative, which will see the hyperscaler establish its first data centre region in Malaysia.
In a statement, Prime Minister Tan Sri Muhyiddin Yassin said the initiative will see investments amounting to US$1 billion (RM4 billion) over the next five years.
He said Microsoft's data centre region will effectively consist of multiple data centres, managing data from various countries.
"As I understand it, according to International Data Corporation, the ripple effects of the data centre region investment today could translate to US$6.90 of revenue generated in the local cloud ecosystem for every US$1 of Microsoft Malaysia's cloud revenue by 2024.
"It is estimated that it will help create 19,000 jobs including 4,000 IT-related jobs amongst its cloud users," said the prime minister.
He also welcomed the public-private partnerships formed by Microsoft and its partners, including the Malaysian Administrative Modernisation and Management Planning Unit (MAMPU), Human Resources Development Fund (HRDF), Petronas, Celcom and Grab.
These partnerships are expected to assist in skilling up to one million Malaysians by 2023, Muhyiddin said.
The memorandums of understanding for these partnerships will be signed today.
"As we cement the Microsoft partnership today, I hope this is just the first green shoots of a broader meadow of investments in Malaysia, for Microsoft and other data players. 
"This significant investment from Microsoft further fortifies Malaysia's position as a potential regional data hub and we stand ever ready to welcome more such partnerships as we work with our stakeholders to continually improve Malaysia's value proposition in this big data space," he said.
The partnership is in line with Malaysia's MyDigital initiative and the Malaysia Digital Economy Blueprint, which was unveiled in February 2021.
Under the blueprint, the government had said that it granted conditional approvals to four cloud service providers (CSPs) — hyperscalers Microsoft, Amazon, Google and local telecommunications giant Telekom Malaysia Bhd.
Muhyiddin previously said these CSPs will invest between RM12 billion and RM15 billion over the next five years.
Read also:
New investment policy will be tabled to Cabinet this week, says Azmin Ali
To receive CEO Morning Brief please click here.