This article first appeared in The Edge Financial Daily, on September 12, 2017.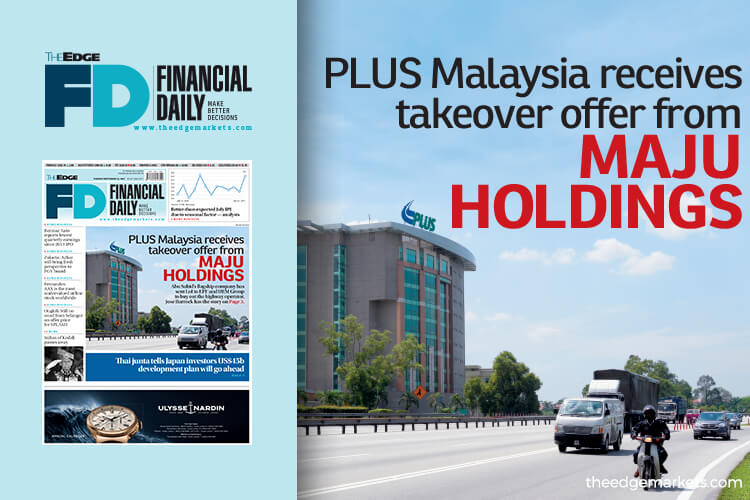 KUALA LUMPUR: Maju Holdings Sdn Bhd, controlled by businessman Tan Sri Abu Sahid Mohamed, has made an offer to UEM Group Bhd and the Employees Provident Fund (EPF) to take over PLUS Malaysia Bhd.
UEM, a wholly-owned unit of Khazanah Nasional Bhd, controls 51% of the highway operator while the EPF holds the remaining 49%.
"Yes, Maju can confirm that we have submitted a formal bid via our financial advisers to UEM and the EPF, to acquire 100% of PLUS and its subsidiaries," said a Maju spokesman.
While the offer's details are scarce, Maju is said to have sent a letter of intent (LoI), and roped in independent investment banking advisory firm Evercore Group LLC to help with the acquisition.
EPF chief executive officer Datuk Shahril Ridza Ridzuan could not be reached for comment. UEM did not respond to The Edge Financial Daily's enquiry on the matter.
However, PLUS chairman Tan Sri Mohd Sheriff Mohd Kassim has confirmed he had received a copy of the offer. Though he was quick to add that Maju and Abu Sahid would have to deal with PLUS' shareholders— Khazanah and the EPF.
"Yes, I got a copy [of the offer]," he said. It is understood that Maju's indicative offer implies a total enterprise value in excess of RM36 billion for PLUS.
Other significant details divulged by sources familiar with the offer include Maju's plan to freeze toll rates for 20 years until the end of the concession period.
The offer's other strengths include the acquisition reducing the government's contingent liabilities by RM30 billion, and Maju is said wanting to forfeit the government's compensation of about RM900 million owed to the toll road operator, a result of toll hikes not implemented.
Maju also intends to undertake infrastructure improvements including lighting up the entire highway.
PLUS has five concessions — firstly, the Projek Lebuhraya Utara-Selatan Bhd which has under its umbrella the North-South Expressway, New Klang Valley Expressway, Federal Highway Route 2 and Seremban-Port Dickson Highway.
Secondly, the Expressway Lingkaran Tengah Sdn Bhd which includes North-South Expressway Central Link. Thirdly, Linkedua (M) Bhd which owns Malaysia-Singapore Second Crossing; fourthly, the Konsortium Lebuhraya Butterworth-Kulim Sdn Bhd or also known as the Butterworth-Kulim Expressway; and the Penang Bridge Sdn Bhd. All PLUS Malaysia's concessions end in December 2038.
In July, Abu Sahid told The Edge Malaysia weekly about his intention to buy out PLUS.
Abu Sahid had said he had received the blessings of the highest levels of the government to buy the highway.
"I am very confident of pulling it [the acquisition] off. I have everything ready ... I have the money, I have the blessings of the highest levels in the country. I have the advisers and bankers all ready, and I have the formula to do it," he said back then.
However, some weeks later, Shahril said the EPF had no plans to dispose of its 49% stake in PLUS as its investment in the company was reaping good returns.
"An interested party may have gone to the press over the matter. However, we have not received any kind of offer by anyone over the stake. There are no suitors," Shahril said back then.
According to the filing with the Companies Commission of Malaysia, PLUS posted a profit after tax of RM23.12 million from RM4.17 billion in revenue for the financial year ended Dec 31, 2015 (FY15).
PLUS paid an RM815 million dividend to its parent Khazanah in FY15.
As at end-Dec 31, 2015, PLUS had non-current assets amounting to RM30.22 billion, and current assets of RM3.26 billion. It had long-term debts of RM31.27 billion and current liabilities of RM1.56 billion.
Over the past five years, other than an after tax loss of almost RM6 million in FY13, the highway operator's net profits have ranged from RM21.35 million (FY11) to RM62.39 million (FY13).
Interestingly, over the past five years, PLUS has paid some RM2.85 billion in dividends to its shareholders — UEM and EPF.
This is not the first attempt for the private sector to buy PLUS from UEM and EPF. To recap, in March 2014, Tan Sri Halim Saad had put in an unsolicited bid to take over PLUS, through his private investment vehicle Idaman Saga Sdn Bhd, but the offer was rejected by the government.