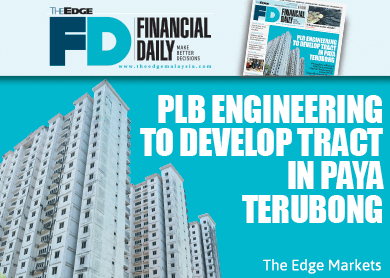 BUTTERWORTH: PLB Engineering Bhd intends to kick-start its development on the 130 acres (52.61ha) of land surrounding the abandoned Majestic Heights project it acquired several years ago.  
On top of that, the Penang-based construction-cum-property development outfit will invest RM17 million as part of its corporate social responsibility (CSR) to revive Majestic Heights — an 18-year-old abandoned housing project in Paya Terubong on Penang island, its executive director Ong Guat Beng told The Edge Financial Daily. 
According to Ong, the PLB group will redevelop the adjoining site with 7,658 affordable housing units which have an estimated gross development value (GDV) of RM2.5 billion.
"We will be reviving Phase 2A of the Majestic Heights project, which is about 70% completed. Currently, only the structure is visible. Everything else has been looted including the doors, windows, grilles, wires and cables," she said.
"Though we acquired 130 acres including 44 acres that will be surrendered to state and federal agencies for infrastructure, utility facilities and the construction of a 1.2km paired road in Paya Terubong, 13 acres of it are occupied by Phase 1A.
"In actual fact, we have about 72.8 acres to redevelop," she said, adding that the revival of the project will begin in the first quarter of next year barring unforeseen circumstances.
Ong said the revival of the 18-year-old abandoned Majestic Heights project was a condition attached to some land that PLB Engineering acquired. 
She said Phase 1A [of Majestic Heights] has nine low-cost high-rise blocks occupying 13 acres of the land, with the rest taken up under an incomplete Phase 2A on three acres of land, and Phases 2B and 3A featuring a semblance of foundation concrete.
"We had no idea what we were getting into when we bought the first six pieces of land in 2011. Our aim was to increase our land bank in Penang. When the second purchase was made, the condition was for the buyer to revive and rebuild the abandoned Taman Terubong Indah development.
"We look at this project as our CSR to the people and the state will be able to address the issue of affordable housing," she said, adding that the density was approved for 87 units per acre.
Ong said the affordable housing project will be built in the next six years on the Phase 2B and 3A sites where the present structure will be demolished.
"The state has agreed to reduce its development costs so that we can meet its demand for affordable housing units (ranging from 750 sq ft to 1,000 sq ft) costing between RM292,500 and RM390,000.
"We also agreed to the state's request to increase the defect liability period from three months to 12 months," she said.
Ong said PLB Engineering is in the process of collecting signatures of consent from 220 of the 342 Phase 2A purchasers to kick-start the construction that is expected to take about 18 months to complete.
"We need a minimum of 220 purchasers to come forward to sign the agreement with us. So far 127 purchasers have signed with us.
"We believe about 90% of Phase 2A's 342 three-bedroom units, costing between RM72,000 and RM90,000, were sold then. Phase 2A also consisted of 22 light industrial units and six shoplots. Altogether it consisted of 370 units," she said.
Early this year, following a series of discussions with the state government, PLB Engineering's construction arm PLB KH Bina Sdn Bhd was tasked to revive three blocks of low-medium-cost units in Phase 2A, she said.
"Purchasers are required to pay RM10,000, half of which will be released when the commencement of work certificate is received and the remainder when the certificate of completion and compliance is issued," she said.
Ong added that a conceptual plan on the affordable housing section which included high-rise apartment blocks and one commercial lot was submitted to the state planning committee last month for approval.
PLB Engineering posted a marginally higher net profit of RM12.8 million, or 15.59 sen per share, for the financial year ended Aug 31, 2014, compared with RM12.55 million, or 15.28 sen per share, a year ago. However, its revenue was lower at RM191.7 million against RM229.7 million previously.
Shares in PLB Engineering closed up 0.61% to RM1.66 yesterday, giving it a market capitalisation of RM136.38 million.
According to theedgemarkets.com, PLB Engineering has a valuation score of 1.8, with 3 suggesting a company gives higher-than-market average returns and is trading at a lower-than-average valuation. Its fundamental score, which measures a company's balance sheet strength and profitability, stood at 0.8, while the stock's volatility was 2, with 1 being the least volatile.
This article first appeared in The Edge Financial Daily, on December 24, 2014.