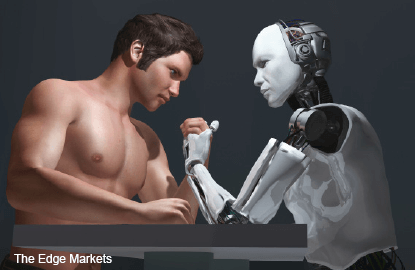 This article first appeared in Personal Wealth, The Edge Malaysia Weekly, on Jan 18 - 24, 2016.
Investors around the world are turning to computer algorithms, big data and robo-advisers to manage their wealth. How have these global trends affected the Malaysian wealth management industry? 
Technology is changing the wealth management industry. With the emergence of robo-advisers and the greater availability of data streams that allow investors to do their own analysis and research, how are financial planners adapting to the new environment to stay relevant?
Malaysia, however, is playing catch-up where technology is concerned. In fact, the current regulatory framework is still not conducive to some of these changes. 
The next step for the country's wealth management industry will be going online, says Gavin Teoh, advisory and practice director at Standard Financial Adviser Sdn Bhd.
This has happened in many parts of the world, but it is still at the nascent stage in Malaysia, he says. Online is just another channel like banca or financial advisers, and the financial institutions are just going to have to accept it and make it work.
He says rather than looking for the next hot thing in the market, investors should focus on risk-adjusted returns, and not just the returns while ignoring the risks. "There are many types of software out there which can do the simulation to show you how a well-diversified portfolio behaves after five years. The volatility is reduced if you are willing to hold on for a certain number of years. 
"Last year, I attended a talk given by a fund manager. The market was a bit turbulent at the time and people were nervous, but he told all 7,000 investors there that if they were not willing to leave their money for at least five years, to take it back. He said, 'I am not a trader, I am a financial planner. Our focus is different, our role is different.'"
 Teoh also believes that robo-advisers are not going to replace financial planners because wealth management is an art rather than a science. Accounting and finance have always been arts subjects at university, he points out. 
Also, there are a myriad of factors to consider in coming up with an investment plan for a client. There is not only his risk appetite to consider. Some clients may behave irrationally. A computer algorithm, or robo-adviser, would not be able to step into the breach and deal with the situation, but a flesh-and-blood financial adviser would be able to.
Besides, it will take some time for this to happen in Malaysia, he says. First, it involves a major investment and second, the regulations here do not allow it.
Teoh, who was in the US recently for a financial planning conference, says the emergence of robo-advisers was one of the hottest topics there. Yet, what he saw did not impress him. "I thought they were using artificial intelligence for their systems, but none of them are doing that yet. What they are doing at this stage is very easy. Any of us could replicate it if our regulations permitted.
"First, they do the risk profiling like we do, except that in this case, it is web-based. Then, once they have ascertained your risk profile, there are certain asset allocations and they help you to invest. Along the way, they may rebalance your portfolio and introduce some funds to you. But that's it, at this stage."
Right now, only the large investment companies have managed to launch robo-advisers without capital injection from outside. "Last year, Vanguard launched its robo-advisory service, followed by Charles Schwab. There are a few big names and some smaller companies that have come in with the help of venture capital," says Teoh. 
"If a Malaysian company wanted to do it, there would be two issues - our regulations and it requires huge capital. Also, we have things like the Personal Data Protection Act, which makes it hard to start such a service in Malaysia."
He says robo-advisers in the US work in two ways - they are either B2B (business-to-business entities) or B2C (business-to-consumer companies). "Over 40% of the planners are using robo-advisers to deal with the customer. A company like Charles Schwab is actually a hybrid version, where the practitioner is using that as well to deal with clients. It actually helps them cut down on meeting hours and things like that."
When will Malaysia be ready for this? "I think our regulators are very sensitive to these kinds of things. It will only take place at the appropriate time. And to be honest, our industry is better regulated than the US financial planning industry," says Teoh.