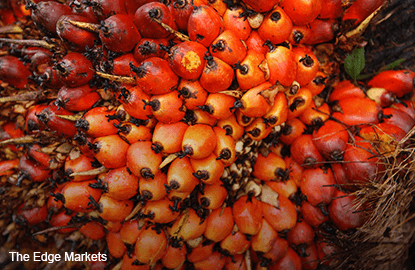 This article first appeared in
The Edge Financial Daily,
on February 17, 2017.
PUTRAJAYA: Plans to make the Malaysian Sustainable Palm Oil (MSPO) certification mandatory for palm oil players in the country have been met with complaints about the costly path to obtaining certification, with some players being reluctant to be audited, says Plantation Industries and Commodities Minister Datuk Seri Mah Siew Keong.
In terms of costing, the main issue is the cost of ensuring the environment in which a company operates, together with its workers, complies with the sustainability requirements, which means employee training and audit costs.
MSPO is a national certification scheme implemented in 2015 to help oil palm plantations and palm oil processing facilities, specifically small- and medium-sized industry players, to be certified for sustainable oil palm cultivation, as provided for under MSPO standards.
In view of the players' reservations, Mah said the ministry, together with the Malaysian Palm Oil Certification Council and various stakeholders, are now discussing whether the ministry will go ahead to make the certification mandatory or not, and will announce its final decision in about one to two weeks.
At present, out of some 5.74 million ha of oil palm plantation areas in the country, comprising both big and small players, only some 4% of that or 222,778ha are MSPO-certified.
"The MSPO meets international standards and assures foreign importing countries that our palm oil products are of high quality. Industry players are worried about costing and audits but [making the certification mandatory for all players] is something that needs to be done," Mah told reporters during a press conference at a MSPO consultation session yesterday.
He added that the MSPO certification — which would further complement the globally recognised and widely adopted Roundtable on Sustainable Palm Oil certification — will be tailored for greater practicality to cater to the needs of smallholders.
Mah stressed that it is vital to make the MSPO mandatory, as the move helps in the branding and positioning of Malaysia's palm oil, which has been subject to heavy scrutiny from environmental organisations as well as consumer advocacy groups, as a sustainable commodity.
He cited the Malaysian Timber Certification Scheme (MTCS), which has been fully recognised and accepted by the Netherlands government, as an example of successful sustainable certification.
"Our palm oil industry has been around for a hundred years and it is time to have our own certification, according to our own standards.
"[So] we are appealing to all sector players, as they need to know this initiative is necessary if we want our [palm oil industry] to move forward and prosper," he added.
Based on the ministry's fact sheet, palm oil and palm-based products' total export value last year grew 6.9% to RM67.58 million from RM63.2 million in 2015. It expects this year's growth to come in between 5% and 10%.
The ministry also anticipates average selling price of crude palm oil (CPO) this year to range between RM2,700 and RM2,800 per tonne. At press time, Bursa Crude Palm Oil future was trading at RM3,163 per tonne.
"CPO prices fluctuate throughout the year. Of course we hope the average selling price would be higher than our estimates as this would bode well for the industry, but we want to be conservative," Mah said.