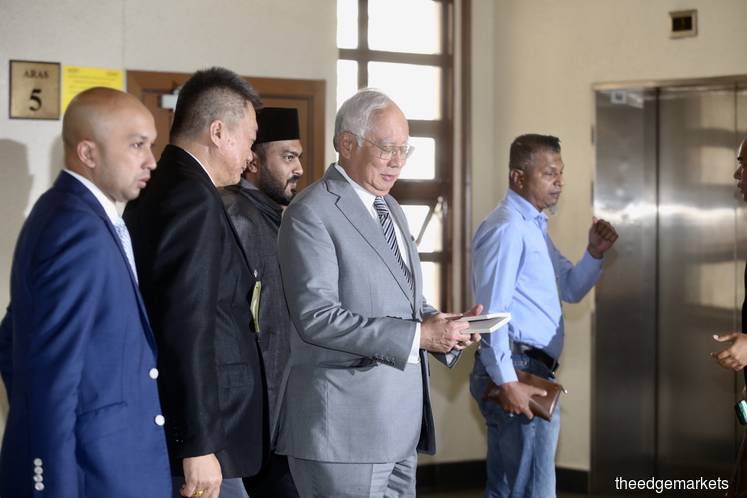 KUALA LUMPUR (April 16): Former prime minister Datuk Seri Najib Razak today questions the decision by the new government to include part of Negeri Sembilan in the new route for the East Coast Rail Link (ECRL) project.
Najib, while welcoming the continuation of the project, said Negeri Sembilan is supposed to get the KL-Singapore High Speed Rail (KL-SG HSR) project, adding that the re-route of ECRL to the state will increase the journey time between the two ends of the project.
"The new route which avoids Bentong and the Titiwangsa Range means that the target of reducing the journey time from Kuala Lumpur to Kota Bharu to four hours is not achievable.
"This is because passengers have to utilise the [newly proposed] Putrajaya station. And the journey goes down south… the journey time may increase by one hour or two [from previously intended]," he said.
"For Negeri Sembilan, the plan was HSR. If that is developed, it will benefit many states such as Negeri Sembilan," he added.
The re-booted ECRL project now has a shorter distance of 648km from 688km previously, with the price tag reduced to RM44 billion.
Due to financial constraints, the current government has also postponed the construction of the KL-SG HSR to end-May 2020 at a penalty of S$15 million to the Singapore government, with the date of service commencement moved to January 2031.
Najib said switching the connecting hub for the ECRL from Gombak to Putrajaya will mean that the project will not be able to significantly reduce the time to travel from Kuala Lumpur to Kelantan.
"We actually want Gombak to be a connecting hub [between ECRL and] LRT, and our proposal to link them to MRT3 will provide a connectivity that is more comfortable," he said.
To avoid the expensive RM10 billion, 18km tunnel through Bentong, the ECRL's route has been changed. It will now pass Jelebu and Putrajaya, among others, in exchange for stations such as Gombak.