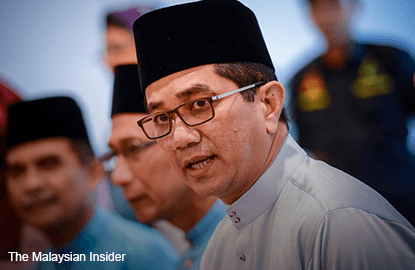 (Nov 27): PKR said it remained committed to cooperate with PAS in their fight against Barisan Nasional (BN) to win the next general election, at the same time join forced with Amanah under the Pakatan Harapan banner.
"PKR welcomes the birth of Amanah and accept them into our big family," said PKR deputy president Mohamed Azmin Ali at the party's 11th Annual National Youth Congress today.
"PKR will continue its cooperation with PAS and PSM (Parti Sosialis Malaysia) as well as political parties in Sabah and Sarawak, and NGOs that fight for the people's rights and agenda," said Azmin in his speech to officiate the congress.
Azmin later told reporters that he was optimistic of working with PAS despite having no formal cooperation.
"I am optimistic with Pakatan Harapan, together with PKR, DAP and Amanah, and we will continue our cooperation with PAS. What is important is that we want to guarantee one-on-one fights (in the next general election).
"We can talk about these things although we are in two different platforms. And this happens in developed countries," he said, adding that what was important was bringing down Umno and BN.
In his speech, the Selangor menteri besar reminded members, particularly the Women and Youth wings, to stay focused and plan strategies to win the next general election.
"A fighting spirit is an important factor, but we should remember that fighting is a marathon.
"We need to have energy, persistence, patience and discipline to go through the narrow roads, waves and thorns as well as the tsunami in our struggles," he added.
Azmin said PKR members must not to get involved with outsiders who want to see a split in the party.
"Let us never allow an outsider to determine our party's future. I am confident the young generation in the Women and Youth wings would be able to fulfill the people's aspirations and bring the party to the community in uplifting the dignity of the country."
Also present at the congress today were DAP Youth chief Wong Kah Woh and his Amanah counterpart Sany Hamzah. – The Malaysian Insider