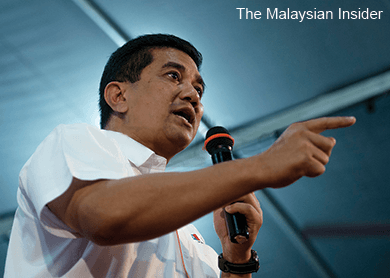 (Dec 7): PKR is opposed to the idea of two opposition pacts contesting the next general election, its deputy president Azmin Ali says today.
He said discussions would continue between PAS, DAP and Parti Amanah Negara (Amanah) on the 14th general election (GE14).
"We have to be inclusive, only then, we can get to Putrajaya, we can't do it alone," he said.
"We need to keep discussing. We can't solve this in one meeting."
Azmin, who is Selangor menteri besar, said this after officiating the monthly assembly of Selangor departments in Shah Alam today.
Azmin quoted United States President Barack Obama who said democracy was a "noisy process".
"Every party needs to have humility, accept differences in opinion. Democracy is noisy process."
PAS has indicated that it would go on its own in GE14 after opting not to join Pakatan Harapan, comprising PKR, DAP and Amanah.
The previous opposition pact Pakatan Rakyat was dissolved after PAS passed a motion at its June assembly to sever ties with DAP. – The Malaysian Insider