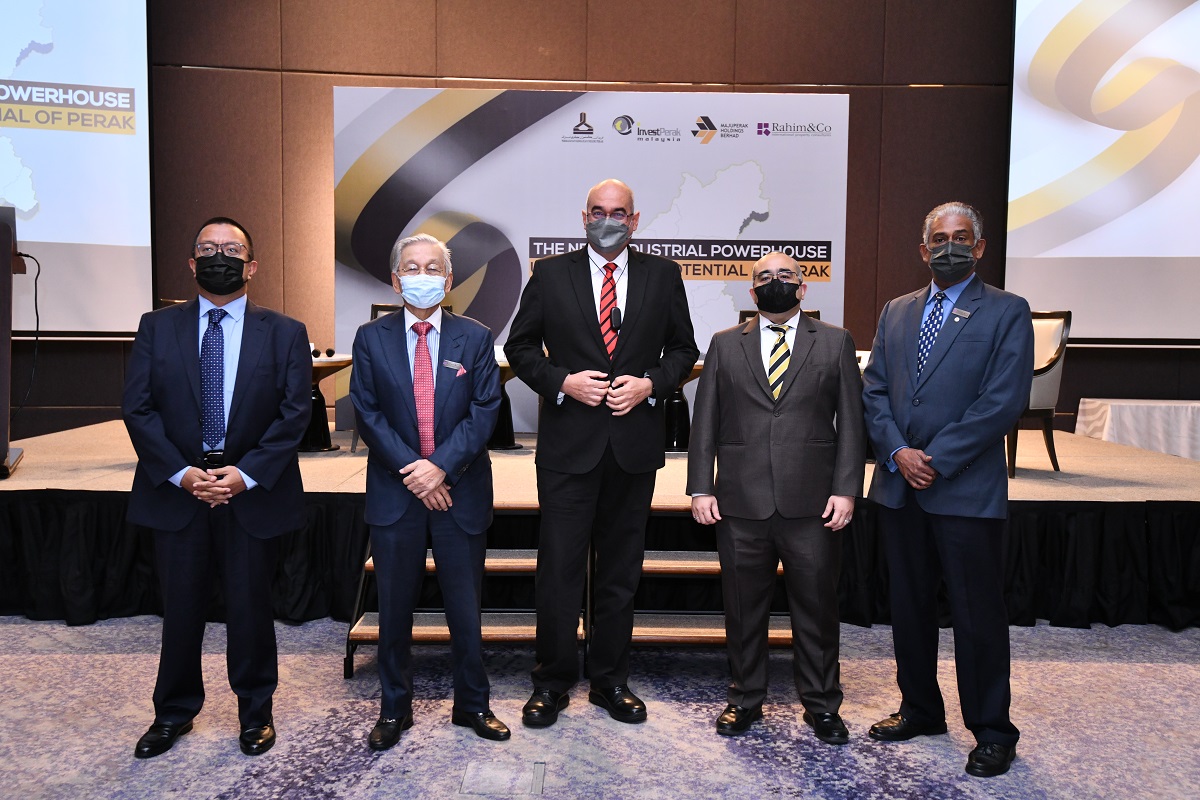 BUKIT DAMANSARA (April 22): Kumpulan Perbadanan Kemajuan Negeri Perak (PKNP), Perak Investment Management Centre (InvestPerak), Majuperak Holdings Bhd and Rahim & Co International Sdn Bhd have come together to explore potential investment in Perak, with emphasis on the industrial sector. 
In a press conference on Friday (April 22), Majuperak, PKNP and InvestPerak announced they will explore opportunities together to drive investments into Perak. The three parties have engaged Rahim & Co to identify and negotiate with potential partners. 
"Perak is open for business, and we have put in place the plans to encourage private sector participation in the state. We strongly believe in Perak's potential to attract investors into the state to participate in our next phase of growth. We are confident of Majuperak's strategy of growth to take advantage of the stability of the industrial market and are looking forward to receiving offers from potential industrialist and joint venture partners," said PKNP chief executive Datuk Redza Rafiq Abdul Razak during his presentation.
With over 3,000 acres of land bank and having delivered over 2,000 affordable residential properties in Perak since 2014, Majuperak has identified several strategic parcels of land with good potential for development into high-end and modern industrial parks. One such land is the 470-acre Silver Valley Technology Park 2 (SVTP 2) located in Kanthan, Ipoh.
SVTP 2 is poised to be the catalyst for the growth of high value manufacturing activities and the digital economy, as well as generate new job opportunities, boost inflow of domestic talent and contribute to making Perak a high-income state. 
"Majuperak has previously been predominantly involved in residential housing development. We intend to expand our development strategy by taking advantage of the current strong growth of the industrial market. We believe this strategy will lead to solid economic growth and development potential and we want to take advantage of this opportunity," said Majuperak chief executive officer (CEO) Nizran Noordin.  
He added that Rahim & Co has been appointed as the consultant, exclusive marketing agent and transaction manager to roll out requests for proposal exercise, as well as identify and negotiate potential partners to develop SVTP 2 together. 
Commenting on the Perak industrial property market, Rahim & Co CEO of real estate agency Siva Shanker said the industrial market has remained steady and has, in fact, thrived. "The increase in online shopping and the huge demand it has created bodes well for the industrial sector of the property market."
Meanwhile, InvestPerak CEO Izran Abdullah is committed to transforming Perak into the foremost industrial state in Malaysia. 
"InvestPerak stands ready to assist PKNP and Majuperak in their objective of growing Perak as a foremost industrial state in Malaysia. We have various strategies in place to assist PKNP and are prepared to make the entry of industrialists and joint venture partners into Perak as smooth and as painless as possible. We encourage potential partners to take advantage of the opportunists being created and explore how they can be part of the next growth phase of Perak," Izran noted.