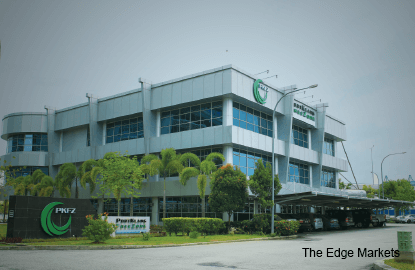 THE Port Klang Free Zone is set to ink an agreement with Intercontinental Exchange, Inc (ICE) for the provision of warehousing space for commodities by the end of this year, a source tells digitalEdge Weekly. "An announcement will be made as early as next month. However, there are still key issues that need to be ironed out, especially those concerning the Goods and Services Tax (GST)."
The zone, which already serves as a warehousing hub for aluminium via an agreement with the London Metal Exchange (LME), is set to bring in another major player. ICE operates 11 regulated exchanges and offers as much as 12,000 types of contracts and securities across all major asset classes. It is also a market leader in derivatives trading for agricultural products, or the so-called soft commodities.
The agreement entails an accreditation for PKFZ to ensure the security of the deliverable commodities that will be housed in its 1,000-acre complex. As an accredited depository, the facility will be subject to stringent audit checks, similar to PKFZ's existing arrangement with the LME, which stocks its aluminium ingots at the zone.
"The commodities that will be stored include cotton, cocoa and coffee. ICE has been looking for a strategic spot in Asia for warehousing, and PKFZ fits the criteria," says the source.
However, the GST may be a key stumbling block for the storing of commodities at the free zone.
While precious metals are supposed to be GST-exempt, there are no clear guidelines on their warehousing. However, the LME has not stopped issuing warrants for the metals, which hold the holders responsible for the payment of storage charges.
"The stakeholders and ministry representatives hope to reach an agreement on the guidelines for commodity warehousing. It is normal for foreign parties such as ICE to wait for greater clarity before they commit," says the source.
Previously mired in scandal, PKFZ has finally taken off with nearly all of its land taken up by international firms. Prominent names that are operating there include Singapore-based CTW Holdings Ltd, Cargill, Inc and Aker Solutions Ltd.
Port Klang Authority (PKA) chairman Tan Sri Kong Cho Ha recently said that to date, the zone has seen investment of some RM2 billion. He adds that PKFZ currently brings in revenues of RM50 million to RM60 million per annum and is targeting RM100 million in the next three to five years.
From a fundamental standpoint, the recent selldown in commodities to multi-year lows are beneficial for the owners of storage space. This is because companies are incentivised to hold on to their inventory until a price recovery occurs.
Given the scarcity of land and escalating costs in Singapore, foreign firms are looking to Malaysia as a cheaper and longer-term solution for their storage and logistics needs. The weaker ringgit is also beneficial for the foreign parties that now have greater purchasing power.
ICE was founded in 2000 by Jeffrey Sprecher, who remains the company's founder, chairman and CEO. While it was initially focused on creating a trading platform for energy products, ICE has expanded into creating markets for soft commodities, foreign exchange as well as equity index futures.
This article first appeared in digitaledge Weekly, on August 3 - 9, 2015.