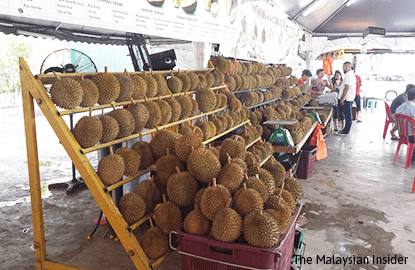 KUALA LUMPUR (Feb 5): Residents and durian lovers have questioned a Petaling Jaya City Council (MBPJ) decision to allow a fruit trader to operate in SS2 next to a site that had been cleared of durian traders last year.
They said MBPJ should have been consistent and not allowed a trader to operate from the site.
Petaling Jaya councillor Lee Suet Sen confirmed that a fruit trader had been given licence to sell tropical fruits on Jalan SS2/24, next to SS2 Police Station.
"The trader sent a proposal to the council last year, stating that he wanted to sell durians, mangoes, papayas and other seasonal fruits.
"We have no right to reject his request because the site he is doing business on is a proper commercial lot.
"The owner of the site can also question us if we deny the request, because the owner is receiving revenue from renting the space," he said.
Lee said the previous durian traders at SS2 were relocated to Section 19, because they had operated from parking bays and also by the side of the road and this had caused traffic congestion in the area.
He said that MBPJ had only approved a temporary licence, valid for six months, to the current trader and if the trader failed to follow guidelines, then the licence would not be extended.
"The licence expires in March this year and we will be reviewing it. Only Petaling Jaya mayor Azizi Mohd Zain has the power to approve it," he said.
Community activist Lau Bing had asked why MBPJ had allowed a trader to operate from the old site at SS2 when others were not allowed to do so.
It was reported that the traders, who had been doing business for more than 10 years in SS2, were ordered to move by MBPJ because of traffic congestion.
The traders, who were relocated to Section 19 on May 28, last year, had complained that their new stalls were too small and their seating area was cramped.
They were also unhappy with the location, claiming that the area was secluded, as opposed to SS2 where there were a lot of people. The traders were also upset with MBPJ for its ultimatum of move immediately or have their stall demolished.
"MBPJ has to either issue a notice to the current trader in SS2 to stop operating or to send out an official letter to all those durian traders who had been relocated, asking them to come back to SS2.
"Then, it will be clear that there is nothing untoward going on, and that every former SS2 durian trader will be treated fairly," he said.