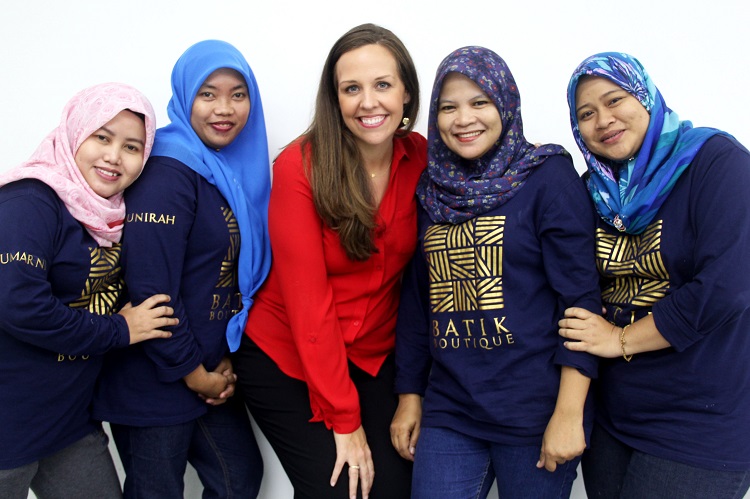 Blair and her team at Batik Boutique. (Photos by Batik Boutique)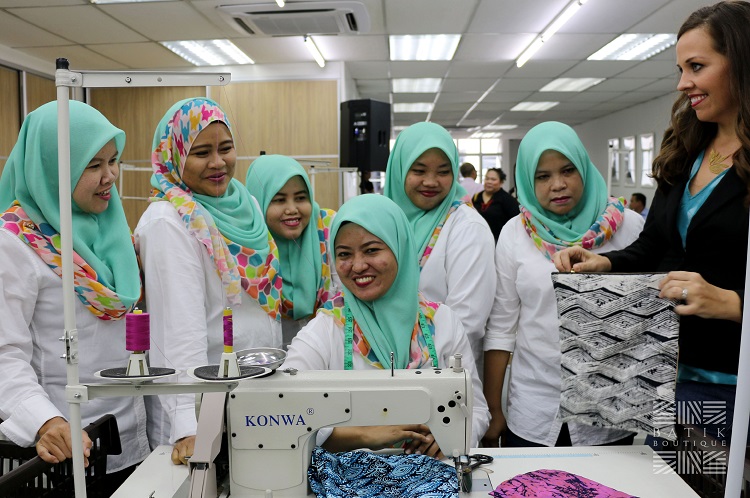 Blair showing the seamstresses what to do.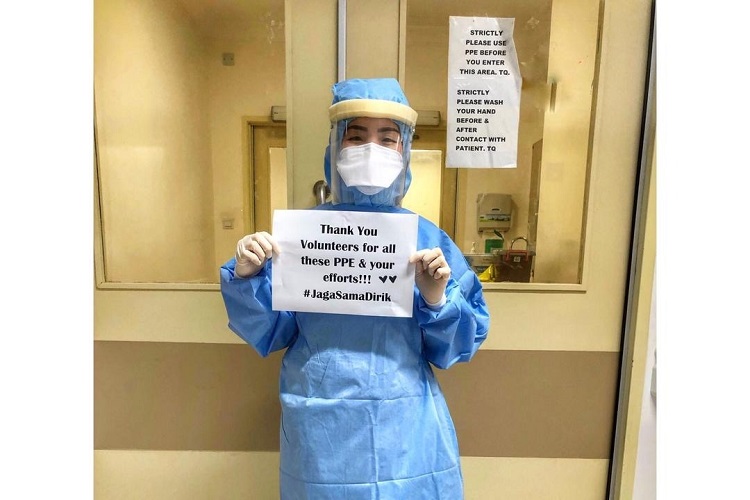 Hospital staff acknowledge contributions.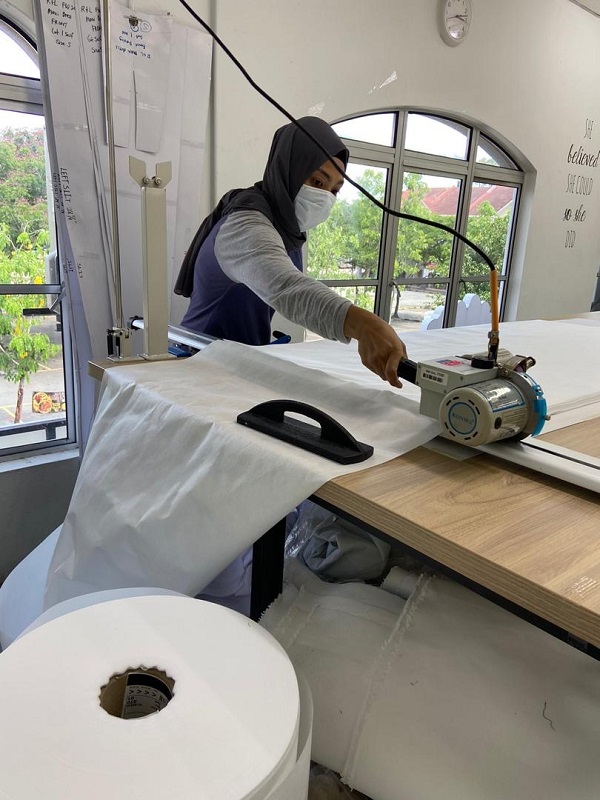 Using industrial cutters.
When the Movement Control Order was announced, Batik Boutique, like all the other companies, scrambled to shut down its operations within a day and comply. The social enterprise, which empowered women from the PPR flats and batik artisans, was thrown for a loop. 
The enterprise, which among other things, manufactured gifts for corporates who wanted to participate in this mission of empowerment and poverty eradication, saw its orders cancelled and its machines judder to a halt.
Its founder, Amy Blair, who hails from the US was at her wit's end. The women who worked for her depended on the wage she could provide and she found herself delivering food parcels to the artisans who would otherwise go hungry. These were the economically vulnerable, one disaster away from starvation and they could not afford to not work.
But Blair is an entrepreneur by nature and her go-to response in a crisis is to solve problems. Even while trying to figure out how to continue paying her rental and staff, with no income coming in, she learned about shortage of personal protective equipment (PPE) and realised that the company's equipment, now lying idle, could be commissioned into use for this purpose.
Basically Blair was simply being true to herself. She sees entrepreneurs as people who solve problems, and who are put on their most creative incentive, when the going gets tough.
Blair is American with a background in tourism. She started Batik Boutique in 2013 when she met a single mother with two children living in the PPR flats nearby who was teaching her to speak Bahasa Malaysia.
They had tea every day and became friends and it was then that Blair learned that her "teacher" was beset with difficulties. With her skill sets, the only option open to her was factory work but with two small children to take care of, the demanding 12-hour shifts were out of the question.
"She had no money, no support and no resources. There were so many obstacles in front of her that we couldn't see how she could get out of this," Blair tells Enterprise.
She considered various ideas such as baking but then she learned that the woman in question had a sewing machine. "So I thought, maybe we can make some gifts and souvenirs that we could sell to people. We decided to use batik because that is part of the Malaysian heritage."
Before she took time off to start a family, Blair had worked in the tourism sector and as she travelled through the different countries in the region, she came to realise that unlike, say, Thailand or Indonesia, there was difficulty in sourcing authentic Malaysian souvenirs made by crafters and artisans. 
She started Batik Boutique in 2013. It was a wholly-owned subsidiary of her company, Blair & Associates Sdn Bhd.
Fast forward five years, the company had expanded considerably and was exporting its products all over the world and working with large corporate customers. 
"We do gifts with purchase, we manufacture for international brands and about 80% of my revenue comes from the corporates," she says.
She says the corporates wanted to be involved as Batik Boutique's stated mission is about empowering and uplifting women from marginalised communities. They were keen to be part of that story.
Blair also had a greater vision to bring village artisans to the world. "Village artisans don't have market access. So I was figuring out how we could customise textiles and bring design experience and market access to help their business expand. Then they could employ people from their villages and keep this art going."
From its humble beginnings in 2013, Batik Boutique has produced over a million products and worked with 100 artisans in Malaysia.
"Over time, I knew that to really have an impact and be sustainable, you couldn't just have one little woman working on her machine. So, we ended up having a sewing centre that was walking distance from their flats with industrial cutting machines and industrial sewing machines that move really fast. That's how we can produce products for corporates."
Because she wanted to have an impact on the B40 community, she hired women, some of whom had never seen a sewing machine before, and trained them from scratch.
Batik Boutique also works with 100 artisans from the villages, paying them 40% more than minimum wage. "We partner with batik artists from all over Malaysia and we also run our own sewing centre in PPR flats. We train the women there with skill sets and give them income opportunities."
She says the company has two retail outlets, as well as an online store and a large part of its revenue comes from corporate gifts.
Blair says the women measure their empowerment by what they are able to purchase. "And the first thing they buy is a handphone. We also teach them financial literacy, so they learn about budgeting their money and are able to get out of debt. The first lady, the one I started Batik Boutique for, even bought a motorcycle for herself and, now, her kids are grown up and working and supporting her."
Blair points out that entrepreneurs have a different cast of mind from other people. They exist to solve problems. "When the MCO happened, we had to shut down everything in 24 hours and had to pivot all our staff to work remotely. We lost the contracts that we had with the shopping malls because in a crisis, the first thing to go is the extras. And we lost the ability to manufacture."
This was more of a problem for her than most because her staff are from the B40. "They don't have savings; they're poor."
The income stopped but as with every other business during this MCO, the expenses didn't. "I've got rentals, staff, people living in poverty. So we started brainstorming about all that and it took us a week or so to transition from all of that.
"Then I read all these articles about doctors and nurses who were out of personal protective equipment (PPE) and I wondered why they didn't have that. Then I realised that normally, these products come out of China and there is a bottleneck in the supply chain because everybody wants these products at the same time."
Blair saw that people were trying to handle this demand on a piecemeal basis, sewing what they could at home and while that was admirable, it wasn't very practical because they could only manage a few per day. While this was better than nothing, it was a drop in the ocean of demand.
"Hospital KL alone required 1,600 pieces a day," she says.
It was a light bulb moment for Blair. "This is why we exist as a company. We can't do other production but we do have industrial cutters and we can cut through 20 pieces of a gown in a lot less time. We cut in stacks. We have already trained our people and we're equipped with the skills to deal with this emergency. We've got something to offer and it's crucial."
Even if it was just for uplifting staff morale, the project was important. ""We always prefer to be part of the solution. Our team got excited about this and we started to put our heads together to figure it out."
Blair found a few other social enterprises also interested in helping and they started a chat group to see what each could bring to the table. "So Biji-biji is handling logistics and fabric supply and Earth Heir is working with refugees to sew the products. 
"The hospitals and clinics can contact us to request for PPEs," she says.
She says the social enterprises are working together as a group to produce the PPEs. Each PPE set consists of three piece — gown, hood and shoe cover. "Our (Batik Boutique) production capacity is about 1,000 sets per week. But our group's whole capacity is 3,000 sets per week.
"So, we're [compiling] this list of who needs it and how many. The staff in hospitals and clinics are writing in to tell us how many they need. 
"A random doctor from a clinic called me to say they're not getting any PPEs from the government but they're testing patients every day and if the patient is found positive, one of his staff transfers them to the hospital. But none of the team has protective gear because they can't find any. They asked if we could help. And that's just one story. This is happening every day," she points out.
Who is paying for all this? "Corporates and individuals. The corporates are feeling helpless right now and want to be part of the story. And what's more, they have funds to help in causes like this."
The money donated goes towards the fabric and workmanship and the PPEs are then donated to the hospitals. "I think it's really cool to see the citizens showing up for our medical staff."
Blair appeals to anyone who wants to help in this effort either through cash donations or starting their own production lines. "The more people we can get sewing, the faster we can move this."
Those who want more information can contact her at [email protected] and depending on how they want to contribute, Blair can direct them to the right place.
She points out that Batik Boutique is still facing survival issues but this has not stopped its capacity to respond to the crisis. "Even as we try to survive as a company, we're still contributing to the frontlines."