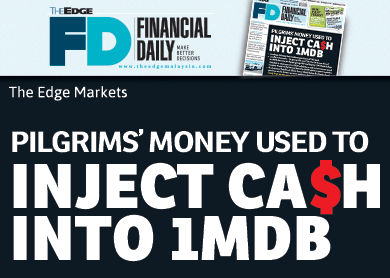 KUALA LUMPUR: Lembaga Tabung Haji (Tabung Haji) yesterday admitted to buying a 1.56-acre (0.63ha) of land within the Tun Razak Exchange (TRX) from 1Malaysia Development Bhd (1MDB) for RM188.5 million, a move that critics say is to inject cash into the controversial debt-stricken company owned by the Ministry of Finance.
This confirmation by Tabung Haji came a day after its  chairman Datuk Seri Abdul Azeez Abdul Rahim denied via his Twitter account an article by a blog called The Benchmark that the pilgrims'fund will spend over RM700 million to buy land in TRX from 1MDB which is facing an acute cash flow problem.
In a statement yesterday, Tabung Haji said the purchase of another bigger parcel of land was just a proposal.
"Leakages of proposed papers are not proof of approved investment decisions," said Datuk Johan Abdullah who is Tabung Haji deputy group managing director and deputy chief executive officer.
Nonetheless, according to the blog post citing leaked documents, the seller (1MDB) "has now requested for the full payment of the purchase consideration upon signing of the sales and purchase agreement".
This is according to Note 2.4 of a "Special Investment Panel Paper" dated April 20, 2015 with the reference number SIP/A1-M3/2015 posted on the blog that Tabung Haji has not said to be fake or untrue.
Incidentally, the purchase price of RM188.5 million (US$52.5 million) is similar to the next half-yearly payment for 1MDB debt papers due mid-May.
While Johan insists the investment "is a commercial decision which fits Tabung Haji's risk appetite and has gone through all internal due processes accordingly" and Tabung Haji Properties Sdn Bhd will develop a residential tower that "is expected to contribute positively to the group's future earnings", no timeline was provided.
He said the purchase price "was at a discount to the current market value as appraised by an independent professional valuer". However, he did not name the third party valuer, the size of the discount or the basis of its valuation.
But according to the leaked documents, Tabung Haji's internal risk assessment had classified the purchase as high-risk because of the oversupply in residential and office space in the city.
According to Johan, he has lodged a police report against the blog post yesterday.
He also claimed that Tabung Haji expects to see RM177.5 million gross development profit or 27% returns over three years (9% per annum) from the residential land with RM828 million gross development value (GDV), and is expected to cost around RM462 million (gross) to develop.
Johan's statement yesterday also did not specifically answer questions on how Tabung Haji manages potential conflict of interest to ensure its members benefit from all its investment decisions.
Tabung Haji group managing director and chief executive officer Tan Sri Ismee Ismail is also a director of 1MDB. A member of its investment panel, retired accountant Tan Sri Abdul Samad Alias is a member of 1MDB's advisory panel, and Johan himself is chairman of 1MDB subsidiary Edra Energy Sdn Bhd.
The TRX land was originally supposed to go to Pelaburan Hartanah Bumiputera Bhd, a government agency. But it was instead sold by the government to 1MDB to be used for the development of TRX.
The 70 acres of land was sold by the government to 1MDB in 2010 at around RM63 per sq ft (psf) or a total RM194 million.
Now 1MDB has sold part of the land (1.56 acres) to Tabung Haji at RM2,780 psf for a total of RM188.5 million cash. This is 44 times more than the price sold by the government to 1MDB.
As Johan himself said, Tabung Haji is also considering buying another parcel at RM3,900psf or a total consideration of RM578 million.
This article first appeared in The Edge Financial Daily, on May 8, 2015.