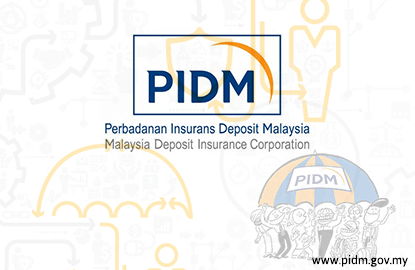 KUALA LUMPUR (Feb 29): Perbadanan Insurans Deposit Malaysia (PIDM) recently released the organisation's Corporate Plan 2016–2018, a three-year rolling plan to ensure long-term sustainability in achieving its vision of becoming a best practice financial consumer protection and resolution authority.
The Summary of PIDM's Corporate Plan 2016–2018 outlines its key initiatives for the next three years. For the planning period, the corporation's efforts are focused on enhancing its internal processes, supporting the growth and development of its employees, and continued engagement with its stakeholders.
"A key initiative in 2016 is the research and development of a resolution plan framework, so that a member institution can be resolved in an orderly manner, without severe systemic disruption and without exposing taxpayers to loss, while protecting vital economic functions," said Jean Pierre Sabourin, Chief Executive Officer of PIDM in a press release today.
PIDM will also focus on the development of its employees in line with the Strategic Human Capital Plan, so that they will be adaptable, as well as open to new ideas and better ways of doing things. This is to ensure they will continue to grow and work successfully as a team, which is key to the corporation's continued operational readiness.
"Stakeholder engagement and enhancing public awareness about PIDM and its protection systems remain a priority for us. PIDM will continue to engage with its stakeholders and promote best practices in corporate governance, thereby contributing towards confidence and trust in the financial system stability," added Sabourin.
Over the last decade, PIDM has worked diligently to ensure a firm foundation as a well-governed and well-managed Government agency, mandated to protect depositors and takaful and insurance policy owners against the failure of any PIDM member institution. PIDM administers the statutory Deposit Insurance System and the Takaful and Insurance Benefits Protection System in Malaysia.
"As the financial services landscape continues to evolve, we must remain in a constant state of readiness to carry out our mandate efficiently and effectively. We must always be ready for any eventuality, which means having all critical elements in place to deal with all key risks," said Sabourin.
"Through the Corporation's annual strategic planning process, new developments and their ensuing challenges are monitored, while our systems and operations are continuously reviewed and enhanced to ensure we are proactive, adaptable and flexible enough to respond promptly," he added.
As to its financial plan 2016, the Corporation has budgeted revenues of RM 604 million and operating expenses of RM 121 million, with a projected net surplus of RM 483 million.
By the end of 2016, the surpluses in its Deposit Insurance Funds (DIFs) and the Takaful and Insurance Benefits Protection Funds (TIPFs) will total RM 1.7 billion and RM 1.4 billion respectively. The DIFs and TIPFs are reserves accumulated to cover future losses that may arise from providing protection to depositors and policy owners, respectively.