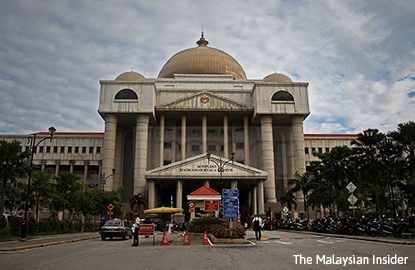 (Dec 2): It is the end of the road for the widow of P. Balasubramaniam, a key witness in the murder trial of Mongolian Altantuya Shaariibuu, in her attempt to restore a RM2 million suit for losses suffered during the family's five-year exile in India.
This follows the Federal Court's decision today to dismiss A. Santamil Selvi's application to amend her court papers.
She wanted the bench to convert her earlier application to review a Court of Appeal decision into a leave application.
A three-man bench, chaired by president of the Court of Appeal Tan Sri Raus Sharif, said her application to make the change was insufficient for the court to use its discretion.
"The reason advanced by counsel (for Santamil) is insufficient for us to use our discretion to allow the amendments," he said.
Raus also ordered costs of RM10,000 to be paid to each of the seven respondents, including Prime Minister Datuk Seri Najib Razak and his wife Datin Seri Rosmah Mansor.
On April 25, the Court of Appeal struck out Santamil's appeal from the High Court on grounds she had only one notice of appeal against all the respondents.
Lawyers for the respondents said the widow should have filed seven notices of appeal which the appellate agreed.
Since the notice of appeal only arose in the Court of Appeal, her lawyers proceeded to file a review application in the Federal Court.
Later, an application was made to obtain leave of the Federal Court against the striking out Santamil's appeal as a result of a defective notice of appeal.
Today, Santamil's counsel Datuk Seri Gopal Sri Ram told the court the respondents would not be prejudiced if the amendment was allowed in the interest of justice.
"It is a bona fide application. It is mistake of fact and not law," he said.
Lawyer Americk Sidhu appeared for Santamil in the High Court and Court of Appeal.
Lawyer Datuk Mohd Hafarizam Harun, appearing for Najib and Rosmah, in his submission said the application was filed with bad faith and counsel for Santamil had made a mistake.
"There is no justification to allow the amendment for a mistake by her lawyer," he said.
He said leave could not be given as the dispute (defective notice of appeal) originated in the Court of Appeal.
"The Federal Court only hears leave application (under section 96 of the Courts of Judicature Act) on matters that arose from the High Court."
In early January, Santamil filed her notice of appeal after the High Court struck out her suit.
However, Najib, Rosmah, the prime minister's brothers Datuk Johari and Datuk Nazim, senior lawyer Tan Sri Cecil Abraham, his son Sunil Abraham, commissioner for oaths Zainal Abidin Muhayat and lawyer M. Arulampalam filed an application to strike out Santamil's notice of appeal as it was defective.
High Court judge Datuk Hasnah Mohamed Hashim, in dismissing Santamil's suit last December, said she lacked the capacity to file for action on behalf of the estate of her late husband.
The suit would have exposed the respondents' roles in sending her family into exile following controversies surrounding two statutory declarations made by Bala involving Altantuya and Najib.
It would also include why Bala was forced to retract his first sworn statement highlighting Najib's involvement with Altantuya, and why he and his family were forced to leave the country in 2008 for almost five years.
Bala died of a heart attack on March 15, 2013, weeks after he and his family returned from India.
Bala and his family left Malaysia after he signed a second statutory declaration in 2008 to denounce the first one he made, implicating Najib in the murder.
The second statement purported to clear the prime minister of involvement in the case.
Bala came into the limelight after political analyst and Najib's associate, Abdul Razak Baginda, hired him to monitor Altantuya, and when he retracted his first sworn statement on July 4, 2008.
The Federal Court on January 12 this year sentenced two former police commandos, Azilah Hadri and Sirul Azhar Umar, to death for Altantuya's murder. – The Malaysian Insider