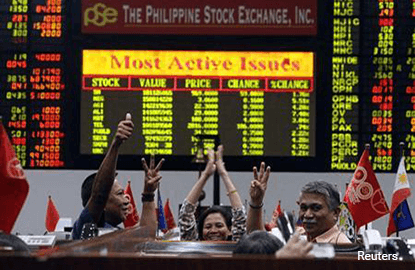 (Feb 16): Philippine shares on Thursday recouped previous session's losses to end higher as industrials and financials rallied, while Indonesia closed lower after the much-watched first round election for Jakarta governor produced no clear outcome.
Unofficial sample vote counts pointed to a second round between the incumbent Basuki Tjahaja Purnama and Anies Baswedan, a former education minister, after neither appeared to win a majority in Wednesday's election.
The General Elections Commission is expected to announce official results in around two weeks, and the earliest a second round will be held is April.
The Jakarta SE Composite index ended the session 0.1% lower, dragged down mainly by financial stocks.
PT Bank Mandiri Tbk fell 2% to close at its lowest level in nearly two weeks. The biggest Indonesian bank by assets reported a 32% drop in its 2016 net profit on Tuesday. Trading volumes were nearly thrice the 30-day average.
Bank Negara Indonesia (Persero) Tbk PT fell 1.6% in heavy trade.
Philippine shares closed 1.5% higher. The index had fallen significantly in the last two trading sessions.
"We are the outlier in the region, but again it's a technical rebound," said Victor Felix, equity analyst at AB Capital Securities.
"There is a lack of catalysts right now ... starting end of this month or beginning of next month we should see a downtrend coming up to the (US Federal Reserve) meeting."
Conglomerate SM Investments Corp gained 2.9%, while JG Summit Holdings Inc rose 3.8% to its highest close since Jan 30.
Singapore index extended gains to close 0.3% higher, boosted by financials and industrials.
Top lender DBS Group Holdings Ltd gained 1.7% despite posting its lowest quarterly profit in two years.
Thai Beverage PCL extended gains to rise 2.1% to its highest close in three months.
Vietnam stocks snapped four sessions of gains to close 0.3% lower, off from the nine-year high hit earlier in the session.
Banks, which led the previous session's rally, were the biggest drags on the index. Vietcombank fell 1% to its lowest close in more than three weeks.   
SOUTHEAST ASIAN STOCK MARKETS
Change on the day
| | | | |
| --- | --- | --- | --- |
| Market             | Current        | Prev close    | % move |
| Singapore          | 3096.69        | 3088.48       | 0.27 |
| Bangkok            | 1576.05        | 1573.37       | 0.17 |
| Manila             | 7283.25        | 7174.3        | 1.52 |
| Jakarta            | 5377.998       | 5380.67       | -0.05 |
| Kuala Lumpur       | 1707.59        | 1709.79       | -0.13 |
| Ho Chi Minh        | 709.35         | 711.57        | -0.31 |
Change this year
| | | | |
| --- | --- | --- | --- |
| Market             | Current        | End 2016      | % move |
| Singapore          | 3096.69        | 2880.76       | 7.50 |
| Bangkok            | 1576.05        | 1542.94       | 2.15 |
| Manila             | 7283.25        | 6840.64       | 6.47 |
| Jakarta            | 5377.998       | 5296.711      | 1.53 |
| Kuala Lumpur       | 1707.59        | 1641.73       | 4.01 |
| Ho Chi Minh        | 709.35         | 664.87        | 6.69 |