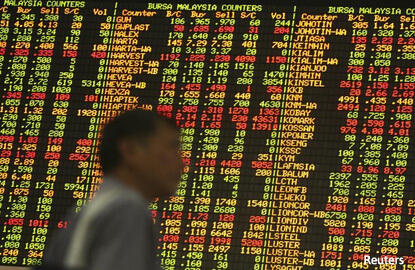 (March 10): Philippine shares fell 2% on Friday in their steepest drop in three months, dragged down by industrials, while Singapore climbed 0.5% on the back of gains in real-estate stocks, after the city-state lowered stamp duties on sale of residential properties.
Industrials accounted for more than half of the fall in the Philippines, with SM Investments Corp shedding 9.2% and JG Summit Holdings Inc declining 2.4%.
Fund managers realigned their portfolios to reflect the rebalancing of the PSEi index by Monday, said April Lee-Tan, head of research department at COL Financial Group.
For the week, the index lost 1.4% in its second straight weekly decline.
Singapore's Straits Times Index recovered from early falls to gain as much as 0.9%, after news that the city-state eased property curbs slightly. 
The government cut stamp duties that sellers are required to pay on residential properties and eased some rules on borrowing thresholds, in an effort to relax property curbs imposed since 2009 to rein in the market.
CapitaLand Ltd and City Developments Ltd rose 3.6% and 5.6% respectively.
For the week, the stock index gained 0.4% in its fifth consecutive weekly gain.   
Most other regional markets fell ahead of the closely-watched U.S. non-farm payrolls report due later in the day.
The U.S. employment report is drawing particular interest as any improvement would underline the U.S. economy's strength, paving the way for more interest rate hikes this year.
"Fed hike next week is already a certainty. It would probably require a disastrous miss in payrolls to change the market's mind," DBS Group Research said in a note.
"The more interesting aspects lie with the guidance the Fed is likely to give next week."
Thai shares ended 0.6% lower, dragged down by financials and materials, and posted a fall of 1.7% for the week. Group Lease PCL finished nearly 30% lower, while Siam Cement PCL declined 2.2%.
Vietnam shares lost 0.5%, with consumer staples and financials leading the fall. Saigon Beer Alcohol Beverage Corp and Petrovietnam Gas were the top drags.
SOUTHEAST ASIAN STOCK MARKETS:
 Changes on day
  Market           Current       Prev Close   Pct Move
  Singapore        3133.35       3118.84      0.47
  Bangkok          1539.91       1549.24      -0.60
  Manila           7146.27       7295.45      -2.04
  Jakarta          5390.677      5402.386     -0.22
  Kuala Lumpur     1717.58       1717.42      0.01
  Ho Chi Minh      712.21        715.8        -0.50
                                              
  Change on year                              
  Market           Current       End 2016     Pct Move
  Singapore        3133.35       2880.76      8.77
  Bangkok          1539.91       1542.94      -0.20
  Manila           7146.27       6840.64      4.5
  Jakarta          5390.677      5296.711     1.77
  Kuala Lumpur     1717.58       1641.73      4.62
  Ho Chi Minh      712.21        664.87       7.1