This article first appeared in Personal Wealth, The Edge Malaysia Weekly, on July 9, 2018 - July 15, 2018.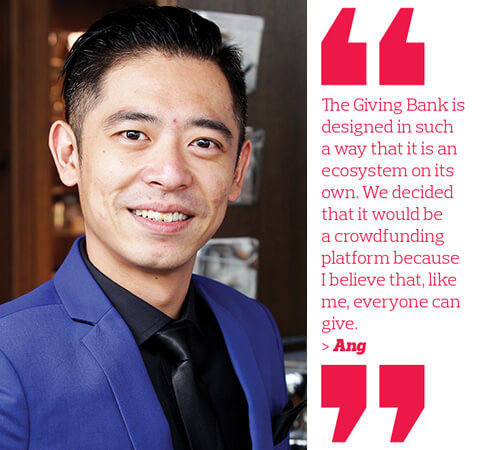 Janson Ang has been donating money to charity since he received his first paycheque. He would give small amounts to several organisations on a monthly basis and occasionally made one-off donations.
However, the 35-year-old entrepreneur began to have doubts about the disbursement of the funds as many of the charitable organisations in Malaysia are not transparent about the way the money is spent.
Ang decided to do something about it and set up The Giving Bank Organisation in December 2016 by leveraging the capabilities of his IT and software development company — Webclixer Creatives Sdn Bhd, a subsidiary of The Janson Group of Companies.
The Giving Bank is a platform that combines crowdfunding and philanthropy. On the platform's website is an inspirational quote by holocaust victim and renowned diarist Anne Frank on the value of generosity: "No one has ever become poor by giving."
In the 18 months since it was set up, the platform has completed 45 projects through which 3,600 individuals have benefited and raised nearly RM500,000 via customisable solutions and instantaneous philanthropy.
The Giving Bank is the embodiment of Ang's beliefs about giving and ethics. He started the not-for-profit platform chiefly to address the issue of transparency and to lend credibility to the process of giving.
The home-grown start-up makes it possible to give money to charity quickly, as well as to the charitable causes of individuals or non-profit organisations, for a modest processing fee. The platform also provides a trove of information on the charitable organisations, making it easy for donors to assess and support causes or volunteer for projects that require manpower support.
"I have been giving from the time I drew my first salary. But at one point, I felt tired and troubled with giving and not knowing how the funds were used. So, I came up with this idea," says Ang.
"I was thinking about it for a while … and when our businesses had sort of stabilised and we were making a profit, I figured that it was time to see how we could effectively contribute to society. I wanted to be involved in the process. So, the best way I could think of was by setting up The Giving Bank."
He was also prompted to pursue the idea by the grouses of some people in his business circle that there was a possibility of "hidden agendas" and that "in order to give, one needs to be rich and powerful". "I believe the greatest opportunity for change lies in the hands of everyday people who want to help others. So long as you have the heart, it is not the amount that is important. But this is not the common mentality," he says.
"Before I started this, I spoke to some friends and their approach to charity was not very good. Some said they were sceptical because of the hidden agendas and scams. That was when I realised that transparency and integrity would be the main things we would need to stress upon when running such a platform.
"The other feedback I got was that charity was only for the rich and powerful. Then again, the people who said this were mostly exposed to charities that conduct fundraising dinners where you need to buy a table for RM10,000, RM20,000 or RM30,000. But if I do not have RM10,000 to buy a table, it does not mean that I cannot make a meaningful contribution."
Thus, The Giving Bank is built on the premise that it is accessible to everyone, be it donations of RM10, RM30 or RM180. "For most people in the city, giving RM10 to charity is probably just having to forgo a cup of coffee. This way, I do not need one person to come on board and donate RM1,000 for a cause, but I am able to get more people to give RM10 to achieve that RM1,000 target. This flexibility makes it is more meaningful for everyone and anybody who is willing can do his part," say Ang.
Whether one is contributing RM10 or RM1,000, the system is designed in such a way that it sends out reports on how the funds are used automatically to all the donors. "Assuming that you have donated RM10 to The Giving Bank and you are not picky about which fundraising projects you want to fund, that amount remains in our system, floating," says Ang.
"The first thing you get is an automated official receipt in your email to acknowledge that we have received your RM10. It is tax deductible as we are registered.
"Say the next day, we encounter someone who needs a wheelchair to move about. After thoroughly vetting the person and whether his needs are legitimate, we will use the donated funds to buy the wheelchair and document the process by taking photos and videos. If the RM10 that you donated went to that particular case, you will receive a full report on how the money was used."
This automation not only enables transparency but also takes away the pain points for charities that lack the necessary manpower and reduces bottlenecks in the distribution of funds. "The reporting system is something I am proud of as it took a while to develop in-house," says Ang.
Combining crowdfunding with charity
While The Giving Bank is a registered not-for-profit organisation, there is a transparent fee structure on gross donations, where 5.5% goes to the platform's operational expenditure, 5% to marketing, 5% for development fees and 2.5% for the payment gateway's transaction fees.
The platform is cause-agnostic. Anyone and any organisation that has been vetted and given the green light by the team running The Giving Bank can champion their causes on the platform. The public is welcome to donate to causes that appeal to them. This could be anything from supporting an underprivileged person living with disabilities to environmental programmes.
On his part, Ang contributes 30% of his companies' net profit to The Giving Bank. "Before establishing the platform, we used to do a lot of corporate social responsibility (CSR) programmes. People would ask us to support their fundraising exercises by buying tables or issuing cheques. Now that we have The Giving Bank, we can channel our CSR funds to the platform. So, nowadays, if my companies are approached for funds, we direct the requests to The Giving Bank and process the requests from there," he says.
Ang says he is able to maintain a lean outfit as he is able to harness the technological capabilities of his 12-member team. "We are trying to move away from the conventional way of running a non-governmental organisation, where one has to do a lot of manual solicitation of funds. It is a very tiring and painful process — everything from issuing receipts to reports has to be done manually.
"Nowadays, it is the Uber-style [on demand applications and services] of doing things. Menial work, trivial paperwork and other manual functions can be easily automated.
"The Giving Bank is designed in such a way that it is an ecosystem on its own. We decided that it would be a crowdfunding platform because I believe that, like me, everyone can give — a tagline inspired by low-cost carrier AirAsia."
Crowdfunding is one of the many innovative financial tools that people can use to raise funds to actualise ideas or projects in return for a reward, typically in the form of a product or service that a company offers. According to a 2016 study commissioned by the World Bank, the crowdfunding industry is expected reach the US$93 billion mark by 2025.
The power of social fundraising is such that it gives everyone an opportunity to give, feel good about it and make an impact on lives, says Ang.
This cultural shift in the way people give to charity can be seen in the numbers compiled by US-based NextGen Crowdfunding, which helps investors explore equity crowdfunding. According to Forbes, there are now more than 3,500 social giving crowdfunding platforms globally. These are any fundraising initiatives that support a specific cause or goal that people can contribute to.
This is obvious from the kind of mileage local social giving crowdfunding platforms such as Skolafund and Give.my — which mainly raise funds to support education-related causes — have been getting since their inception in 2015. Last year, the Charities Aid Foundation listed Malaysia as one of the top 20 most generous nations out of the 139 countries on its World Giving Index.
Another local set-up that is similar to The Giving Bank is the crowdfunding platform launched by NGOHub in January. The platform was set up by Science of Life Studies 24/7 (SOLS 24/7) Malaysia and 7-Eleven Malaysia in 2014 to enable, empower and serve non-governmental organisations. There are currently more than 100 NGOs on the platform.
Ang says charitable crowdsourcing is the way forward as it is a far more effective way for people to garner financial support for their causes as it expands the universe of potential donors beyond their own circle. To ensure that the causes are correctly identified, The Giving Bank has teams in the Klang Valley, Penang, Sabah and Sarawak to conduct the necessary due diligence.
"My due diligence team does the groundwork before we bring a case on board. We will know everything about the beneficiary even before thinking about bringing them on board and whether we are confident enough to raise sufficient funds for them," says Ang.
"We not only help source monetary contributions but also carry out voluntary activities on a monthly basis. This could be anything from spending time at orphanages to doing monthly ration runs. Sometimes, we work with sponsors such as hypermarkets like Tesco and household brands such as Top Detergent, which give us products that we keep in our warehouse. These things come in handy when we go for home visits.
"We are focusing heavily on volunteering activities as we are starting to build teams of volunteers in every region of Malaysia. This helps us to build a network so that it is easier to go out and do community work. This is also to engage more youths and get them started on volunteering."
What's next for The Giving Bank? Ang says its next goal is to complete a mobile application that will make the entire process even more seamless. "The dream is to be able to
donate with a click or a swipe."
The long-term goal is to get more consistent and sustainable funds. "Some weeks ago, I had the idea of getting some of my business friends to donate some of their fixed-deposit dividends," he says.
"For example, you could put RM1 million in a fixed deposit and get 4% interest on that. Maybe you could agree to give half of the interest earned to The Giving Bank. Yes, you may make less from the idle money, but you know that your 2% has helped someone. You don't feel much of a pinch because you are not giving from your own pocket. It is just earnings from interest given by the bank. I am still working on the concept though.
"But do not underestimate the amount because if 50 people donate 2% from the RM50 million in fixed deposits, that amounts to RM20,000 each. That could help us do a lot more and sustain many projects."
There are restrictions though. The Giving Bank does not solicit funds from overseas so as to avoid being trapped in issues such as money laundering. Ang says he has been approached by interested parties from Singapore, Hong Kong and South Africa asking him to replicate the brand and platform overseas, but it is something he is still considering.
"For one, we have to make sure the money stays in the country it is solicited from. And I have to protect the reputation of the brand. If there is genuine interest, I am willing to transfer the whole thing for free because all we need to do is put in the language capabilities and change the payment gateway," he says.
Starting young
Volunteering to do community work was what got Janson Ang interested in charity. "My parents and my upbringing were instrumental to this initiative. Both my parents are charitable and were actively involved in activities organised by groups such as the Rotary Club, Lions Club and the Taiwan-headquartered Tzu Chi Foundation.They instilled these attributes in my sister and I from a young age, to always find ways do good," he says.
After graduating with a double degree in engineering and marketing, Ang took over the family's engineering firm, which he had been helping out with since he was a teenager. "We started with a trading business, under The KEU Group, in terms of engineering-related equipment. But we also did turnkey projects, where we would do the mechanical and electrical work, and offered fully automated solutions or semi-auto solutions to the manufacturing industry or factory owners to automate their production lines and make their processes more efficient," he says.
"My dad started the business, and when I was in my teens, I offered to help out because my parents were running the business themselves. So, everyone had to chip in whenever possible.
"My father made me start right at the bottom, the lowest you can think of. I have done everything from store management to checking the inventory. I even have a lorry driver's licence. So, instead of outsourcing to a lorry company to send goods to clients, I did it.
"My dad made sure that I was well versed in running the business and that I knew every aspect of it — just as my parents made sure that we were equally involved community work."
It was this strict and traditional upbringing that helped him develop his people skills. Ang eventually discovered a love for engaging with people in addition to dealing with engineering blueprints.
Later, he established the Janson Group, which does events management, and the Eways Group, which focuses on education and training. "I am a business owner, but I am also entrepreneurial. I am really into entertainment and events. I like anything that deals with lifestyle. I also see the future in IT and software development," says Ang.
"I have my own events management company, entertainment company and artist management company. These are the hip and happy things that gets me going. This is how I invest, into other businesses. Whatever I make in one of my companies, I try to invest some of it in the others. It is a hedging model basically. So, I hedge with different baskets."
Despite being a risk taker, he says he avoids the stock market entirely. "Honestly speaking, these types of investments have never crossed my mind because of previous traumatic events. My mother invested in the stock market many years ago and made a very big loss. After that, as a principle, our family decided that we would not play this game anymore.
"High-risk opportunities have some advantages as well. It is not that it is all bad. If you are a risk taker, you can still go for it. Normally, it takes a lot of effort and understanding of the market. If you are not really educated in that arena, it would be better not to take the chance, especially when you do not know how to time the entries and exits.
"This is just my personal view, seeing how much we lost. Although it has been a long time, none of us really got over it because it was a large amount of money and we could have used it to expand the business. My parents have since banned those kinds of investments, and my sister and I just stuck to it.
"My parents are also very particular about not going into certain types of businesses no matter how lucrative the returns are. We are banned from anything to do with gambling, weapons manufacturing or any other shenanigans."
However, Ang will not miss the opportunity to invest in a good property or a good savings plan. "I not only buy commercial and residential properties but also do land acquisitions. This is mainly to increase my land bank. That is the main focus in terms of my personal portfolio," he says.
"I have a few agricultural plots in Penang, Hulu Selangor and Bentong, Pahang. In 2016 and 2017, we managed to buy a few properties as it was the best time to invest because the property market went down and the people who could not hold on their properties sold them off.
"I find that land and property investments are not very high risk, but are definitely something we can make money from in the long term. I do not believe in getting anything that depreciates."