This article first appeared in The Edge Malaysia Weekly, on December 24, 2018 - December 30, 2018.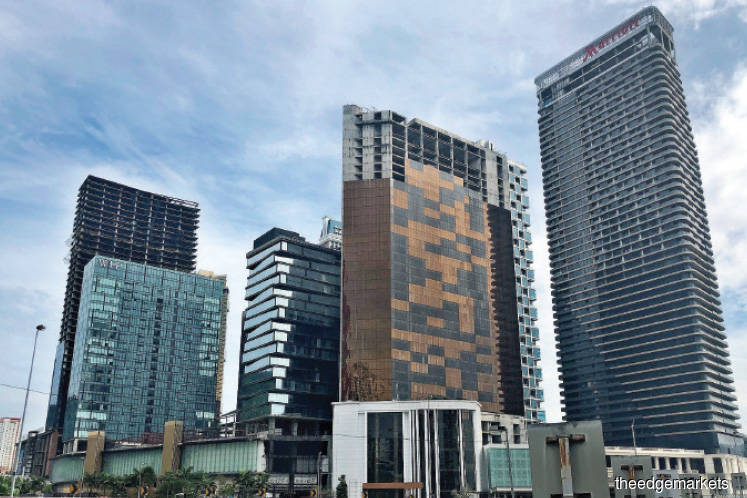 RECENT negative publicity about an office building in Empire City Damansara in Petaling Jaya, Selangor, may be a cause for concern for its owner, real estate investment company Pelaburan Hartanah Bhd (PHB).
This has happened just when the building's developer, Mammoth Empire Holding Sdn Bhd (MEH), seems to be coming out of a difficult few years. Now, it has to deal with the fact that Block H in ECD has many defects.
On Dec 13, the Campaign Asia-Pacific magazine published an article that said a tenant of Block H — British multinational advertising and public relations firm WPP — was forced to move out just months after moving in because of unsuitable working conditions and safety issues.
The article, quoting sources and Facebook posts by WPP group employees, said the firm was faced with several power outages, a rat infestation as well as building and construction faults, such as plummeting lifts and shattering windows.
To recap, Block H was developed by MEH's unit, Cosmopolitan Avenue Sdn Bhd, but it was sold, prior to construction, to PHB for RM130 million. However, the management of the building remained with Cosmopolitan Avenue, which engaged the services of building manager LDS International Asset Manager Sdn Bhd.
PHB group managing director and CEO Datuk Kamalul Arifin Othman did not respond to emails, WhatsApp messages or calls from The Edge for comments on the article.
When contacted to verify the article, an MEH official said, "We have sought legal advice."
It is noteworthy that MEH is also a tenant of Block H, having moved its headquarters there from Empire Subang last June after the building had obtained the certificate of completion and compliance (CCC). Three months later, ride-hailing firm Grab moved into the building, followed by WPP in July.
Block H is an 18-storey building with a net lettable area of 184,591  sq ft and 319 parking bays. WPP took up 10 floors. As the largest tenant in the building with a workforce of 1,200, WPP was given the naming right to the block. MEH and Grab, meanwhile, occupy four floors each.
It is learnt that neither MEH nor Grab has moved out. The WPP group agencies located in Block H included Group M, Ogilvy, Grey, Geometry and Young & Rubicam. The Edge understands that some of these agencies have moved to Starling Mall in Petaling Jaya, WORQ in Subang and Menara Standard Chartered in Kuala Lumpur. Interestingly, a call to the WPP Campus at ECD reveals that there are still people stationed at the location, which begs the question as to how serious the safety issues are. 
The article entitled "WPP's 'deathtrap' Malaysia campus" has raised many questions, one of which is whether PHB had made a bad investment decision by purchasing the office building.
Last year, PHB, as the sponsor of the Amanah Hartanah Bumiputera (AHB) investment fund, entered into an agreement to sell the beneficial interest in Block H to AmanahRaya Trustee Bhd (ART) as the trustee of the fund. PHB also entered into a leaseback agreement with ART on Block H for a rent of RM6.5 million a year for 10 years from September 2017.
PHB executed the same arrangement for Empire Shopping Gallery with an annual rent of RM21 million. Together, these assets were sold to ART for RM550 million.
Do the recent problems mean PHB will lose its rental income from Block H? If the allegations are true, what kind of rectification does the building require? Will PHB have to fork out the funds for the repairs? Will it be difficult for PHB to secure a tenant in the future? How was a CCC issued if the conditions were not met? Did the authorities, for example Majlis Bandaraya Petaling Jaya or Bomba, check the building after the article highlighted the issues?
Over the past few years, MEH has delivered several components in ECD, including serviced apartments (Halo Sunday, Colonial Loft and MyLoft) and office blocks (Iconic Tower, Signature Tower G and Soho Block M). Have these buildings encountered similar quality and safety complaints?
On the tenant's side, did WPP notice problems, such as the stairwell and parking, before deciding to rent the office building? How thorough was its due diligence?
The article also said WPP's decision to relocate to temporary facilities was to ensure the continuity of service and well-being of its staff while it continued to work closely with the building owner to review the issues and ensure it resolved them. WPP, the article added, planned to move back to Block H once the flaws had been rectified.
Last month, The Edge reported that MEH had initiated measures and schemes that will help it raise RM800 million to pare down debt, complete its long-delayed projects and put the group on a sound financial footing by mid-2019. MEH has sold a 65-acre site opposite ECD to two parties — Aset Kayamas Group (20 acres) and a joint venture (JV) between Exsim Development Sdn Bhd and Binastra Construction Sdn Bhd (45 acres). The JV is said to have also purchased 4.55 acres next to ECD while Binastra is expected to complete the remaining projects.
 
Save by subscribing to us for your print and/or digital copy.
P/S: The Edge is also available on Apple's AppStore and Androids' Google Play.