This article first appeared in City & Country, The Edge Malaysia Weekly, on February 10, 2020 - February 16, 2020.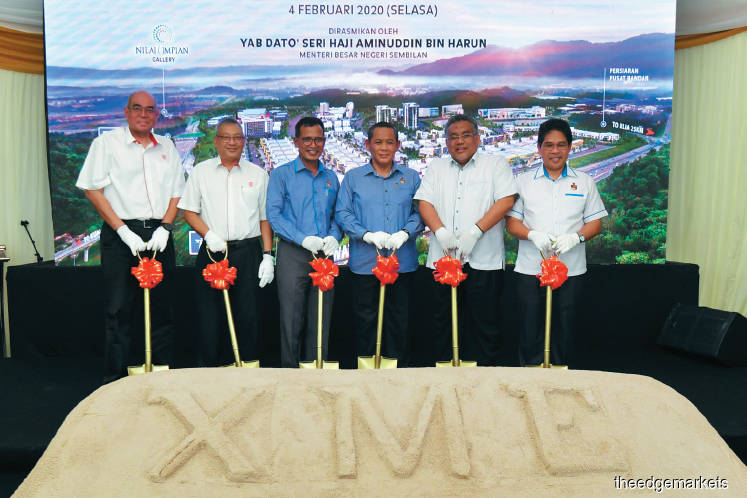 From left: Sime Darby Property director of investment and MVV 2.0 CEO Datuk Redza Rafiq, Wan Hashimi, state secretary Datuk Razali Abdul Malik, Aminuddin, state speaker Datuk Zulkefly Mohamad Omar and State Investment, Industry, Entrepreneurship, Education and Human Capital committee chairman Datuk Mohamad Rafie Ab Malek. Photo by Sime Darby Property
Sime Darby Property's XME Business Park in Nilai Impian, Negeri Sembilan, has achieved a take-up rate of over 50% for Phase 1, which comprises 75 industrial units launched last December. This was announced at the development's groundbreaking ceremony in Nilai on Jan 4.
The ceremony was officiated by Negeri Sembilan Menteri Besar Datuk Seri Aminuddin Harun.
The semi-detached and detached industrial units will have built-ups of 5,600 to 29,000 sq ft and are priced from RM2.5 million to RM18.5 million. Phase 1 has a gross development value of RM307 million and is targeted to be completed by 3Q2022.
Occupying over 69.72 acres of freehold land at the developer's Nilai Impian township, the XME Business Park is the first project under the Malaysia Vision Valley 2.0 (MVV 2.0) development and will be the first managed industrial park in Negeri Sembilan, said Sime Darby Property acting group CEO Datuk Wan Hashimi Albakri Wan Ahmad Amin Jaffri during his speech.
The entire development, which will comprise 149 units over two phases, has a gross development value of RM520 million. The gated-and-guarded development will offer ample green lungs, versatile designs and 24-hour security.
According to Wan Hashimi, the developer has received interest from companies in industries such as logistics and warehousing, food and beverage (central kitchens), engineering, food processing and packaging and metal fabrication.
"The project (MVV 2.0) is expected to attract close to RM249 billion worth of investments from around the world and create close to 600,000 jobs and new business opportunities," he said.
"As the master developer of MVV 2.0, our aspiration is to spur projects that have the potential to contribute to the growth of the economy and the development of the community. To fulfil our aspiration, we are starting off with the XME Business Park, a benchmark development for all future industrial and commercial projects in MVV 2.0," he added.
The XME Business Park is strategically located at the gateway of Negeri Sembilan and MVV 2.0.
"The MVV development begins in earnest with the XME Business Park. We are confident of the [business] park's [success] due to its great location and the impending enhancements to the infrastructure with major projects such as the East Coast Rail Link," Wan Hashimi said in a press release.
The business park is connected to major highways such as the North-South Expressway, Elite Highway and Lekas Highway, allowing easy access to Kuala Lumpur, Kuala Lumpur International Airport, Putrajaya, Seremban, Johor and Singapore. The development also enjoys optimum visibility from the North-South Expressway.
During the media briefing, Wan Hashimi said earthworks in Phase 1 are ongoing and its construction is slated to begin in June while earthworks in Phase 2 are slated to start in 3Q2020. He added that the developer is hoping to sell the remaining units in Phase 1 within the year.