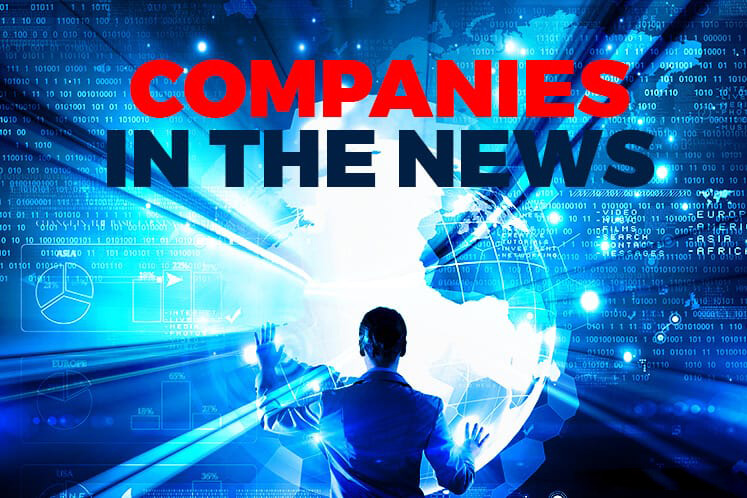 KUALA LUMPUR (May 16): Based on corporate announcements and news flow today, stocks in focus for Friday (May 17) may include the following: Pharmaniaga Bhd, Petronas Chemicals Group Bhd, S P Setia Bhd, Carlsberg Brewery Malaysia Bhd, Sunway Construction Group Bhd, Tropicana Corp Bhd, AirAsia X Bhd, Perdana Petroleum Bhd, Gas Malaysia Bhd and OSK Ventures International Bhd.
Pharmaniaga Bhd saw a 12% rise in first quarter net profit thanks to stronger demand from Government and private hospitals in both Malaysia and Indonesia.
Net profit for the quarter ended March 31, 2019 rose to RM19.62 million from RM17.59 million a year earlier, as revenue increased 27% to RM786.11 million from RM617.92 million.
The pharmaceutical company said despite increased marketing and promotional expenses as well as higher finance costs, the group recorded a profit before tax (PBT) of RM30 million, a growth of 5.4% compared with the same quarter last year.
It added that its Indonesia division marked a turnaround, registering a PBT of RM400,000, an improvement compared with a deficit a year ago.
Petronas Chemicals Group Bhd (PetChem) is buying Netherlands-incorporated Da Vinci Group BV from its shareholders, who include, among others, funds managed by Bencis Capital Partner, for €163 million (about RM760.8 million), to venture into the specialty chemicals business.
Da Vinci is a private limited liability company with global operations involving own-brand reselling, formulating and manufacturing of silicones, lube oil additives and chemicals.
S P Setia Bhd is confident of achieving the RM5.65 billion sales target for FY19 despite registering lower property sales in 1QFY19 of RM718 million, down 35% y-o-y.
This is largely due to the upcoming RM6.4 billion worth of property launches from now until the end of the year as only RM339 million worth of projects was launched in 1Q2019 as well as the bookings the developer has received from potential homebuyers.
Meanwhile, it said it is expecting a delay of around one year in phase 2 and phase 3 of the Battersea Power Station project.
Phase 2 and phase 3 of the Battersea Power Station project are now targeted to be completed and open to the public by 2021.
Carlsberg Brewery Malaysia Bhd reported an 8.4% net profit rise in its first quarter, thanks to higher sales recorded in both its Malaysia and Singapore operations during the Chinese New Year festive period, which boosted earnings.
Its net profit for the quarter ended March 31, 2019 climbed to RM87.6 million from RM80.82 million a year ago, as revenue grew 20.3% to RM659.92 million from RM548.47 million.
The stronger 1Q lifted earnings per share for the quarter to 28.65 sen from 26.43 sen previously. The group declared a first interim dividend of 21.5 sen per share — representing a 75% payout of its consolidated net profit for 1QFY19 — to be paid on July 31.
Sunway Construction Group Bhd (SunCon) has reported a slightly lower net profit by 8% for the first quarter ended March 31, 2019 (1QFY19) at RM40.13 million compared with RM43.62 million a year ago, on lower revenue.  
Its quarterly revenue declined by 17% to RM440.04 million from RM529.23 million in 1QFY18, due to its construction and precast segments.
SunCon reported it has secured 67% of its targeted order book replenishment of RM1.5 billion for FY19 in its first quarter, bringing its outstanding order book to RM5.7 billion. The group said this provides good earnings visibility for the next two years.
Lower sales dragged Tropicana Corp Bhd's revenue for its first quarter ended March 31, 2019 down by 53.7% to RM209.77 million, from RM453 million a year ago.
Despite this sharp fall in revenue, net profit for 1QFY19 slipped just 0.73% to RM46.06 million, versus RM46.4 million recorded in the previous year's corresponding quarter.
As at March 31, 2019, Tropicana had total unbilled sales of RM736.9 million and an existing landbank of 1,071 acres, with a total potential gross development value of RM48.6 billion.
AirAsia X Bhd said its first quarter net profit rose 4.42% to RM43.33 million from RM41.5 million a year earlier, helped by an unrealised foreign exchange gain as a result of the ringgit strengthening against the US dollar.
Revenue for the quarter ended March 31, 2019 decreased 8.11% to RM1.69 billion from RM1.27 billion previously, on the back of a 5% drop in the number of passengers carried to 1.51 million from 1.59 million previously.
This follows a 5% fall in available seat kilometres (ASK) due to shorter stage routes in operation following the airline's termination of its Tehran, Kathmandu, Male and Auckland routes, the group said in a statement.
Perdana Petroleum Bhd announced today that its subsidiary Perdana Nautika Sdn Bhd has received work orders from Petronas Carigali Sdn Bhd for the provision of three anchor handling tug & supply (AHTS) vessels.
Perdana Nautika received two work order awards for the provision of two units of its AHTS vessel, expected to commence in the second quarter of 2019, for a duration of six months with the option to extend for another six months.
Separately, Perdana Nautika will provide one unit of its AHTS vessel to Petronas Carigali for 184 days, starting from March 23, with an option to extend another 182 days.
Gas Malaysia Bhd, having reported an encouraging set of earnings in its first quarter, expects continued growth for the rest of its financial year ending Dec 31, 2019 (FY19).
It also plans to ramp up its capital expenditure (capex) for the next three years by at least 20%, compared with the RM500 million it spent collectively in the last three years.
Gas Malaysia chief executive officer Ahmad Hashimi Abdul Manap said that the group, which is a member of MMC Corp, has similar — if not better — outlook for FY19, and that demand from the industrial sector will continue to drive its earnings growth this year.
OSK Ventures International Bhd returned to the black with a net profit of RM1.34 million for the first quarter ended March 31, 2019. The group had reported a net loss of RM13.82 million in the previous corresponding quarter.
Revenue increased to RM15.8 million from RM11.91 million a year earlier.
OSK Ventures said its net fair value gain on financial assets totalled RM1.77 million during the quarter. This compared to a net fair value loss on those assets of RM12.47 million in the fourth quarter of the previous year.
The group said its improved earnings was also due to increases in market value in quoted investments held by the group.