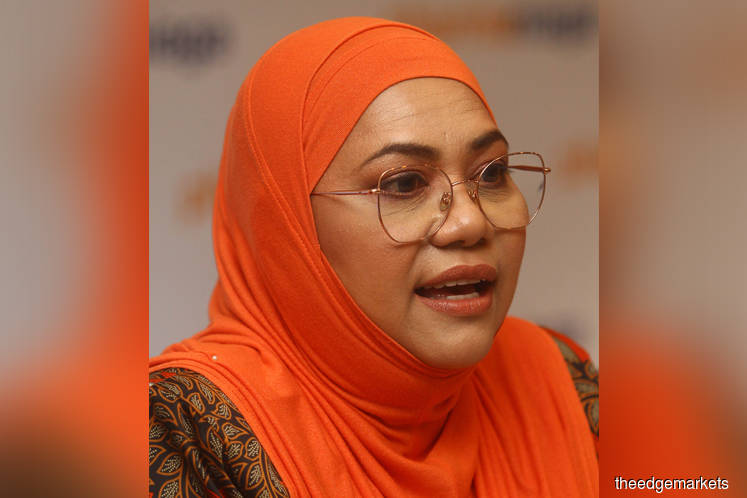 KUALA LUMPUR (Jan 21): Pharmaniaga Bhd, the country's largest pharmaceutical company, is slated to announce the departure of its managing director (MD) Datuk Farshila Emran (pictured) after nine years at the helm.
A person with knowledge of the matter told theedgemarkets.com that the board of directors will not be extending Farshila's contract when her current contract expires in April. Farshila, 54, was appointed to the board of directors of Pharmaniaga on March 25, 2011, prior to becoming its MD on April 1, 2011.
It is understood that Mohamed Iqbal Abdul Rahman, the current chief operating officer of Pharmaniaga, will assume the role of acting MD following Farshila's departure.
As at Feb 28, 2019, Pharmaniaga is 67.32% owned by Lembaga Tabung Angkatan Tentera, of which 56.09% is held through Boustead Holdings Bhd.
According to Pharmaniaga's Annual Report 2018, Farshila founded Idaman Pharma Sdn Bhd (IPSB) in 2001 and started her venture in the highly regulated pharmaceutical industry. Under her leadership, IPSB developed a synergistic partnership with Boustead and facilitated the acquisition of Pharmaniaga by Boustead in 2011.
Since December 2018, Pharmaniaga has seen several changes to its board.
On Dec 31, 2018, Pharmaniaga announced the resignation of its chairman Tan Sri Che Lodin Wok Kamaruddin, 69, citing early mutual termination of his service agreement with Boustead as MD on the same day.
Subsequently, it saw four other board resignations, namely Tan Sri Dr Mohamed Ismail Merican, 71, Fahmy Ismail, 42, Ebinesan @ Daniel Gnanakkan, 73, and Izzat Othman, 57.
On July 17 last year, Datuk Dr Hafsah Hashim, 61, was appointed as independent and non-executive chairman of Pharmaniaga. Hafsah has served the government for 36 years before retiring on Aug 15, 2018, during which she held several senior positions, including chief executive officer of SME Corp Malaysia.
Other new appointments to the board included Datuk Koo Hock Fee, 68, Datuk Mohd Zahir Zahur Hussain, 44, and Brig Gen (R) Datuk Mohd Shahrom Mohamad, 66, as directors.
More recently, on Dec 24, 2019, Pharmaniaga announced the appointment of Dr Salmah Bahri, 61, as its independent and non-executive director effective Jan 1. She was the senior director of pharmaceutical services at the Health Ministry from Nov 1, 2016 to July 18, 2018.
On Nov 18, 2019, Pharmaniaga's wholly-owned subsidiary, Pharmaniaga Logistics Sdn Bhd (PLSB), received a letter from the Health Ministry for an extension of its services for the provision of medicines and medical supplies to the ministry's facilities for an interim period of 25 months, from Dec 1, 2019, to Dec 31, 2021.
In addition, PLSB secured a five-year contract to continue providing logistics and distribution services for the Health Ministry for five years ending Dec 31, 2024.
Pharmaniaga shares closed up 2 sen or 0.97% at RM2.09 today, bringing it a market capitalisation of RM545.97 million.
Read also:
Pharmaniaga confirms MD Farshila Emran to step down on March 31