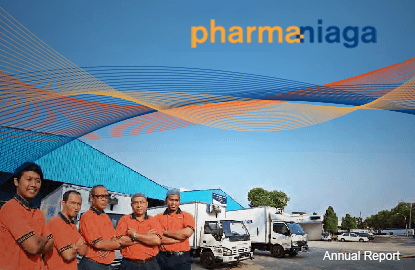 Pharmaniaga Bhd
(Aug 18, RM5.72)
Upgrade to buy with an unchanged target price (TP) of RM6.93: The first half of financial year 2015 (1HFY15) turnover of RM984.7 million was translated into a core net profit of RM19.8 million, making up 47% and 49% of ours and consensus full-year estimates, respectively.
We consider this as within expectations as the second quarter (2Q) is normally weaker than 1Q. Historically, 1H represents 45% to 56% of full-year earnings.
The company declared a second interim dividend of seven sen per share (2QFY14: four sen; 1QFY15: seven sen), with year-to-date's 14 sen accounted for 47% of our dividend per share estimates. The ex-date is on Sept 1; the payment is on Sept 15.
1HFY15 sales decreased marginally by 0.9% year-on-year (y-o-y) from RM993.7 million to RM984.7 million due to lower demand in the concession segment.
Its profit before tax (PBT), on the other hand, improved 1.4% to RM63.7 million versus RM62.8 million for 1HFY14, attributable to higher profit margin from the manufacturing segment.
The logistics and distribution segment charted a lower revenue of RM509 million (-2.4% y-o-y) and suffered a loss before tax of RM1.3 million caused by lower orders from the government, coupled with higher expenses and amortisation from pharmacy information systems implementation (PhIS).
Thanks to its economies of scale which reduce its manufacturing costs as well as higher profit margins, Pharmaniaga's manufacturing division achieved a higher PBT of 15% y-o-y.
We believe the group should benefit from the Indonesian market as well as the teaching hospitals, and expect it to contribute positively towards the group's long-term earnings.
However, post FY15, earnings could be dragged down by the higher amortisation costs of PhIS.
In accordance with the general market, Pharmaniaga's share price has plummeted 19% to RM5.65. With a potential upside of 23%, excluding its dividend return of 5.3%, we upgrade the stock to "buy".
We upgrade the stock with an unchanged TP based on an unchanged FY16 price-earnings multiple of 15.8 times, and a 15% discount to US peers. — Hong Leong IB Research, Aug 18
This article first appeared in digitaledge Daily, on August 19, 2015.