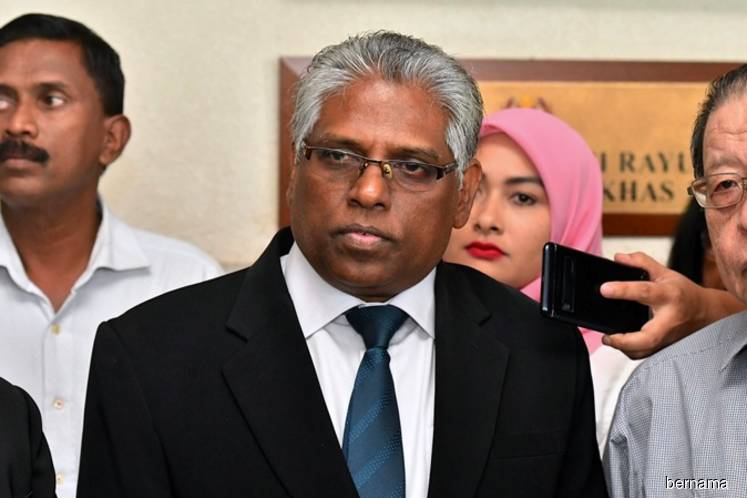 KUALA LIPIS (Jan 14): Pakatan Harapan (PH) is still receiving "friendly and continued support" from the local electorate amid claims that it has a slim chance of winning at the upcoming Cameron Highlands by-election, said its candidate M. Manogaran.
"I feel that the PH is still receiving friendly support from the local electorate," Manogaran told reporters after visiting Felda Sungai Koyan in Jelai, here, today.
Accompanying Manogaran's election trail today, which is entering the third day, is his wife S. Thanaletchumi and Morib state assemblyman Hasnul Baharuddin together with his wife and supporters from Parti Amanah Negara.
Yesterday, two top PH leaders Senator Liew Chin Tong and Deputy Prime Minister Datuk Seri Wan Azizah Wan Ismail had said DAP has a slim chance of winning at the upcoming Cameron Highlands by-election after Barisan Nasional (BN) fielded one of the former top cops of Orang Asli origin, Ramli Mohd Noor, as its candidate.
To this, Manogaran said: "We agree that BN has a strong presence here but we will continue to work hard and gain support from the locals."
On the election trail, Manogaran said he will continue to focus on local issue plaguing the electorate such as the Orang Asli land rights issues, transfer of land and concerns related to farming and agricultural activities.
Last year, the Election Court had declared the Cameron Highlands parliamentary seat as vacant after it had found elements of bribery and corruption.
With 32,048 registered voters, the upcoming Cameron Highlands by-election will be held on Saturday (Jan 26), which is this year's first by-election that will see a four-corner fight among DAP, BN and two independent candidates.
There are two state assembly seats (DUN) which falls under the Cameron Highlands parliamentary constituency: Jelai and Tanah Rata.
According to the latest data from the Election Commission, a total of 19,505 voters are registered under DUN Jelai, while 12,543 voters are registered under DUN Tanah Rata.
Currently, Pahang Menteri Besar Datuk Seri Wan Rosdy Wan Ismail is the incumbent at DUN Jelai, while DAP's Chiong Yoke Kong is the incumbent at DUN Tanah Rata.