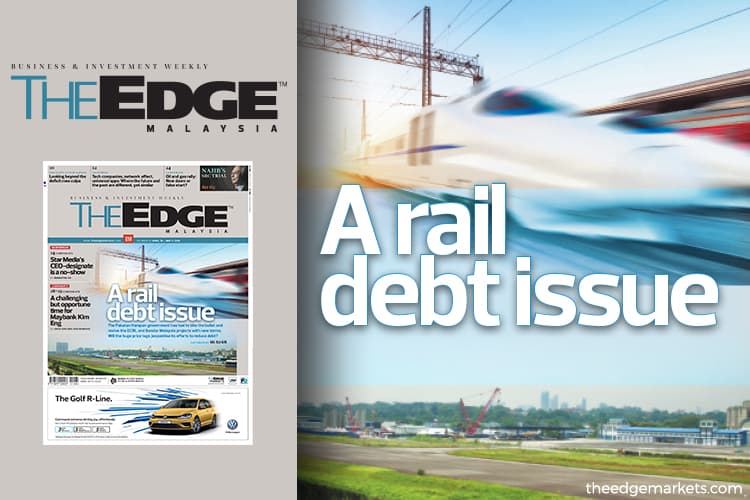 Perhaps the most defining point of Pakatan Harapan's (PH) election manifesto was that Malaysia is going to be a bankrupt nation if Barisan Nasional (BN) was allowed to extend its 60-year reign over the country. 
It vowed to get to the bottom of many projects, especially those that required huge sums of public investments. 
Alas, after winning the 14th General Election, PH found itself saddled with the near impossibility of scrapping the mega infrastructure projects that it inherited from BN. 
First, the coalition, which is now the Federal government, reviewed all contracts that only involves Malaysian contractors and funds. 
MRT3 was postponed indefinitely, while the Bandar Utama - Johan Setia LRT was downsized.
However, as it got to the bigger projects involving foreign funds and contractors, PH found that by hook or by crook, these contracts will have to be honoured. 
After successfully postponing the start of the Kuala Lumpur - Singapore high speed rail (HSR) project to May 2020, all eyes were trained on the RM66 bil East Coast Rail Link (ECRL).
The previous BN government had signed the contract to develop the ECRL with China Communication Construction Company Ltd (CCCC) and a RM50 billion soft loan with the Export-Import Bank of China. These are internationally recognised contracts that PH, as a responsible government, cannot simply ignore. However, the government is very much aware of the big hole inside the nation's coffers. 
With little choice left, in early April it decided to revive the bicoastal rail line, albeit at a lower cost of RM44 billion.
Later that month, a lapsed share sale agreement for the acquisition of a 60% stake in the massive RM140 billion Bandar Malaysia development signed by BN with a joint venture of Malaysian and Chinese interests was also reinstated. 
Now that the Bandar Malaysia project is revived, speculations arose about the restoration of the HSR as well, given that the massive real estate development was meant to house a terminus along the rail.
But the question now is: With our current sluggish economic growth, can Malaysia afford to foot the bills for these projects, despite their reduced cost? 
What has changed between May 9, 2018 and now with the current government debt and liabilities, that allowed Malaysia to undertake these massive projects? 
One market watcher aptly described the government's predicament, inheriting mega projects initiated by the previous administration as being caught between a rock and a hard place. 
Our cover story this week (April 29-May 3, 2019) discusses these projects and lists the companies and places poised to benefit from the restoration of these megaprojects.