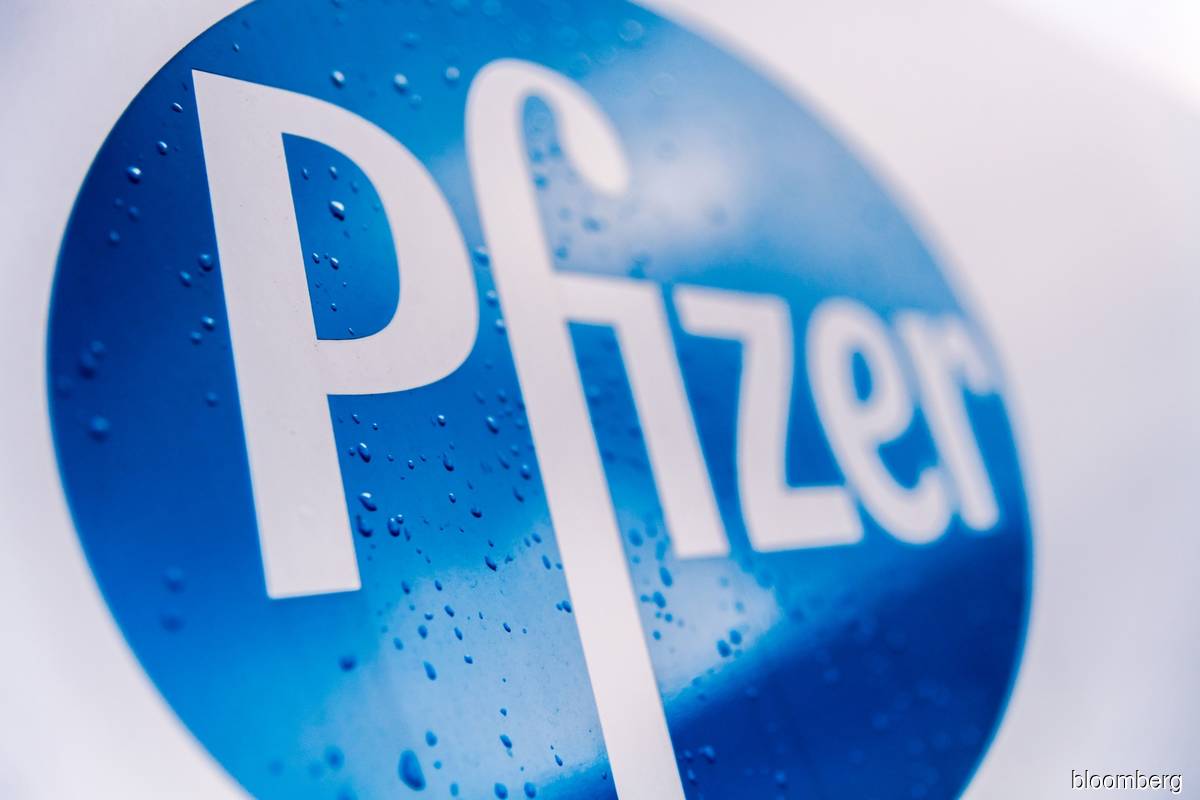 NEW YORK (Nov 2): Pfizer Inc raised its forecast for the year on the strength of sales of its Covid-19 vaccine, although the company sees revenue from the shot falling next year. 
Annual revenue from the shot developed with BioNTech SE will be US$36 billion, up from an earlier forecast of US$33.5 billion, and the companies now have agreements to supply 2.3 billion doses in 2021, New York-based Pfizer said Tuesday in a statement. 
That will help raise yearly adjusted profit to US$4.13 to US$4.18 a share, up from the earlier view that topped out at US$4.05. Revenue will be US$81 billion to US$82 billion, compared with an earlier forecast as much as US$80 billion. The shares rose 3.2% in premarket trading. 
Pfizer's vaccine has become a major driver of profit and revenue, as it continues to lead rivals in clearances. US public health experts will consider recommending the shot as the first for use in young children later Tuesday. 
Still, revenue from the vaccine will taper in 2022, bringing in about US$29 billion from sales of about 1.7 billion doses, according to prepared remarks from Chief Financial Officer Frank D'Amelio  in a company presentation. That's higher than the average Wall Street estimate of US$23 billion, and the companies could continue to clinch deals with governments for additional orders, D'Amelio added. The partners anticipate being able to make up to 4 billion doses next year.
Quarterly profit was US$1.34 a share, trouncing analysts' expectation of US$1.08. Pfizer booked US$13 billion in third-quarter sales from the vaccine, beating analysts' expectation of US$11.5 billion. The company said it expects to have made a total of 3 billion doses by the end of 2021. 
Excluding the vaccine, drug revenues grew 11% in the quarter from a year ago. The company slightly decreased the upper end of its forecast for non-vaccine products to US$46 billion, after a recall of tobacco-cessation drug Chantix. Investors are closely watching demand for Covid booster doses and shots for kids. Pfizer expects to report early data from a trial of its vaccine in those 2- to 4 years old this quarter, and anticipates getting data from those 6 months to less than 2 years old next quarter.
Already, some additional supply agreements being reached to serve these groups. The US to date has purchased 115 million pediatric doses of the Pfizer-BioNTech vaccine, more than enough to vaccinate every child in the country.