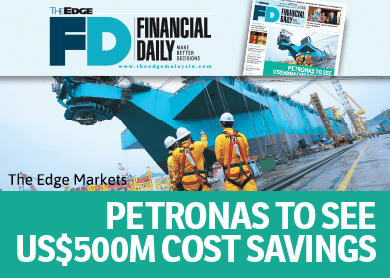 KUALA LUMPUR: Petroliam Nasional Bhd (Petronas) is looking for cost savings of US$500 million (RM1.825 billion) with the commissioning of its maiden floating liquefied natural gas facility (PFLNG1) — the world's first — that is slated for the first quarter of next year (1Q16).
The national oil corporation's vice-president and venture director of domestic LNG projects Datuk Abdullah Karim said the savings are made from not building a full onshore LNG facility.
"We save the cost of building a 180km pipeline that could cost about US$500 million. We also won't need to build a jetty or a berth that could cost another US$150 million," he told a media briefing on the new facility yesterday.
"After 10 to 15 years when the gas field is depleted PFLNG1 will move to another field and we won't have to scrap anything," he said.
"In comparison, with an onshore plant, if we don't have a continuous supply of gas we would have to scrap the jetty and pipeline. That would be half a billion dollars spent," said Abdullah.
He said the construction of the PFLNG1 is 91% complete and the facility will start commissioning in 1Q16. The facility will be located in the Kanowit gas field some 180km off Bintulu, Sarawak for five years at most as that is the expected lifespan of the gas field.
"We plan for the PFLNG1 to set sail around February next year and it should be on site in March. It will take about a month to commission and within 1Q we will have the first LNG cargo [from the project].
"We have not identified the market [buyers] yet, but that one cargo will be part of the 400 cargoes that Petronas is selling today from its other LNG plants. Petronas already has commitments in South Korea, Japan, Taiwan and also Malaysia, so the market can be anywhere," Abdullah said.
With the new facility, Petronas is looking to produce an additional 1.2 million tonnes of LNG per year. This will increase its production capacity to 32 million tonnes of LNG per year by 2018, making Petronas one of the leading LNG players globally.
The engineering, procurement, construction, installation and commissioning (EPCIC) of the PFLNG1 is undertaken by a joint venture between Technip SA and Daewoo Shipbuilding & Marine Engineering Co Ltd.
Note that the PFLNG1 was initially slated for commissioning by the end of this year. When asked on the matter, Abdullah said: "Actually we originally planned to set sail in September this year."
He cited as reasons for the slight delay the approaching monsoon season and that "to be on the safe side" it is now better in March after the season has changed.
Remaining tight-lipped about the total investment made by Petronas in the project, Abdullah gave assurance that the development is still profitable at current commodity prices.
"We are still optimistic about this project. Our projection number is not for oil prices to be at US$110 and even today with prices at US$62, it is still viable for Petronas," he said.
He added that at current oil prices, while it may still be challenging, Petronas may still be looking at a double-digit internal rate of return when oil prices rise to US$70 per barrel.
Petronas senior vice-president of technology and engineering Dr Colin Wong said the reason why Petronas is developing a FLNG is to monetise stranded gas fields which are too small or too expensive to develop into an onshore facility.
"It's a monetisation of marginal gas fields. With the development, we are able to monetise this field, and as for the economics of a project we don't look at one or two years, we look at the life over a 20-year period," said Wong.
Abdullah said PFLNG2, meanwhile, is about 30% complete, having gone through the engineering and procurement process. Construction is expected to begin in 3Q15 and it is slated for completion in 2018.
The EPCIC for PFLNG2 was awarded to Japan's JGC Corp and South Korea's Samsung Heavy Industries Co Ltd early last year.
This article first appeared in The Edge Financial Daily, on April 22, 2015.