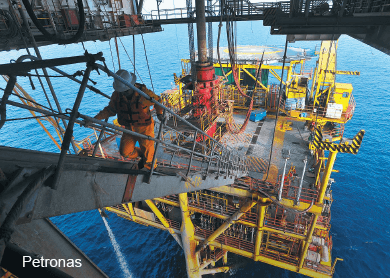 KUALA LUMPUR: Petroliam Nasional Bhd (Petronas) is said to be scaling down its exploration activities by June in view of the soft crude oil prices, while maintaining its current production level.
"Petronas will be scaling down its exploration activities. Many companies who are involved in drilling have been notified that it (Petronas) will stop drilling activities come June this year," said a source familiar with the matter.
He said Petronas will not retract current jobs that are contracted with the national oil firm, but it will not start any new drilling jobs for the time being.
The source said no timeline has been given as to how long Petronas will hold off on its exploration activities. 
Asked to comment by The Edge Financial Daily, Petronas said it will not be making any statement on the matter at this point in time.
In February, The Edge Financial Daily reported that Petronas was likely to postpone the second phase of the Balai Cluster marginal field risk service contract until crude oil prices recover to above US$80 (RM287.20) per barrel. 
As at last Friday, Brent crude was trading at US$65 per barrel while Tapis was at US$71 per barrel.
If the exploration halt drags on for long, it will be a major concern for drilling companies with assets nearing contract expiration, as well as those who have new assets under construction that are almost completed but yet to be contracted.
"It is negative for sure because some of them (the companies with exposure to drilling) are dependent on drilling activities in Malaysia or Petronas to a certain extent," said Alliance DBS Research analyst Arhnue Tan.
But for drillers like UMW Oil & Gas Corp Bhd (UMW-OG), which has exposure in Southeast Asia and has been considering entering the Middle East, options won't be limited by Petronas' move, said Arhnue.
UMW-OG has four out of seven rigs on spot charter contracts with Petronas that will expire this year. Two of the seven — Naga 1 and Naga 4 — are long-term charters.
Its Naga 7 jack-up rig is currently not contracted after Manila-listed Frontier Oil Corp failed to execute its contract with the group. UMW-OG is also expecting the delivery of Naga 8 in September, which is yet to be contracted.
MIDF Research analyst Aaron Tan said UMW-OG has diversified its source of revenue with regional/international contracts.
Perisai Petroleum Teknologi Bhd — which currently has one out of three jack-up rigs contracted — is not as well-diversified as it does not have much traction outside of Malaysia, noted Arhnue.
Perisai's (fundamental: 0.45; valuation: 1.10) Perisai Pacific 101 (PP1) jack-up rig is chartered to Petronas Carigali Sdn Bhd until 2017 while PP102 and PP103 are under construction and due for delivery this year and in mid-2016, respectively; both are also contractless.
So, as many oil majors tighten their belts, one way for rig owners to survive could be a play on charter rates.
"They could probably play on charter rates. Some companies would rather sacrifice margins because to have an asset idle would probably cost them more. At lower margins, at least their assets are chartered out and they are earning revenue," said Arhnue.
She added that the average margin of jack-up rig owners is now about 40% to 50%. Jack-up drilling rates are currently at an average of US$140,000 to US$150,000 per day. 
Having an asset idle in dry dock, on the other hand, costs several hundred million dollars, depending on the asset, she noted.
Aaron,meanwhile, is of the view that these companies could diversify in other sub-segments of the value chain or, in the worst-case scenario, sell their idle assets.
"But at this point, every segment is shaky as rates are being cut," he said, adding that there is always a willing buyer for these assets, but the companies are unlikely to profit.
Note that Coastal Contracts Bhd sold its maiden jack-up drilling rig for RM807 million last month to avoid asset ownership risks in view of the weak drilling market environment.
It has one more rig due for delivery by year-end. Coastal (fundamental: 2.60; valuation: 1.80) is said to be in negotiations for contracts but may consider selling the rig if there is a buyer.
"The year 2015 will be a hard one for everyone with a drilling rig, especially those with heavy debt commitments," said Arhnue.
Apart from rig owners, other oilfield service providers such as Scomi Energy Services Bhd, Deleum Bhd and Uzma Bhd may see a spillover effect from a scale-down in exploration activities.
Scomi Energy (fundamental: 1; valuation: 0.50) provides drilling fluids and drilling waste management services while Deleum (fundamental: 1.70; valuation: 2.10) provides downhole services and Uzma (fundamental: 1.30; valuation: 1.50) provides well pressure enhancing solutions.
This article first appeared in The Edge Financial Daily, on May 11, 2015.