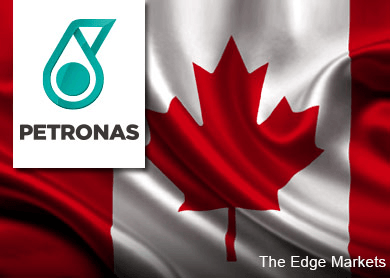 KUALA LUMPUR (May 22): Petroliam Nasional Bhd-led (Petronas) consortium is expecting to reach a conditional final investment decision (FID) for its Pacific Northwest LNG (liquefied natural gas) project by next month.  
After the rejection from the native Lax Kw'alaams First Nation group, the national oil company's president and group chief executive officer Datuk Wan Zulkiflee Wan Ariffin said Petronas will continue to have constructive engagements with the aboriginal community and keep all avenues open, as it moves forward for FID approval.
"The British Columbia government remains strongly committed to the project... In fact, an important indication of this commitment was activated two days ago, where the British Columbia government signed the project development agreement," he added.
Two days ago, Pacific Northwest LNG and the British Columbia government signed a project development agreement which provides assurances on issues like infrastructure and aboriginal consultation, and measures to ensure the project will not face tax or fee increases through the contract term.
"With this recent development, we are looking to achieve the conditional FID in the coming weeks," said Wan Zulkiflee.
On the negotiation progress between the Petronas-led consortium and the aboriginal groups, the First Nations, Petronas' executive Vice President and chief executive officer for upstream Datuk Wee Yiaw Hin said it is something the group will continue to negotiate and assess.
"That is why it is (the FID is) conditional, we have to put all aspects into consideration," said Wee.  
"Like many of our projects, we are involved in many constructive engagements with the First Nations and all the communities there... The government of the federal and provincial British Columbia is also very supportive in assisting us in exploring how to take the project forward," said Wan Zulkiflee.  
The hiccups faced by the Petronas-led consortium raises concerns as to whether the national oil firm would incur higher investment costs in the project in Canada.
To recap, earlier this month, the Lax Kw'alaams First Nation group had rejected Petronas' plan to build a gasification terminal to export LNG at the Price Rupert port, western Canada. The project will liquefy and export natural gas produced by Progress Energy Canada Ltd, in which Petronas also holds a controlling stake.
It was reported the Petronas-led consortium offered more than C$1.1 billion to the Lax Kw'alaams First Nation group, which represents over 3,000 natives.
Wee said that currently there are five Nation bands, and Petronas has completed the deal with three. One is seen as completing soon and the other is still going through discussions.
Currently, Petronas owns 62% of Pacific NorthWest LNG. Other stakeholders include China Petroleum & Chemical Corp Limited (15%), Japan Petroleum Exploration Company Limited (10%), Indian Oil Corp Ltd (10%) and Brunei National Petroleum Company Sendirian Berhad (3%).