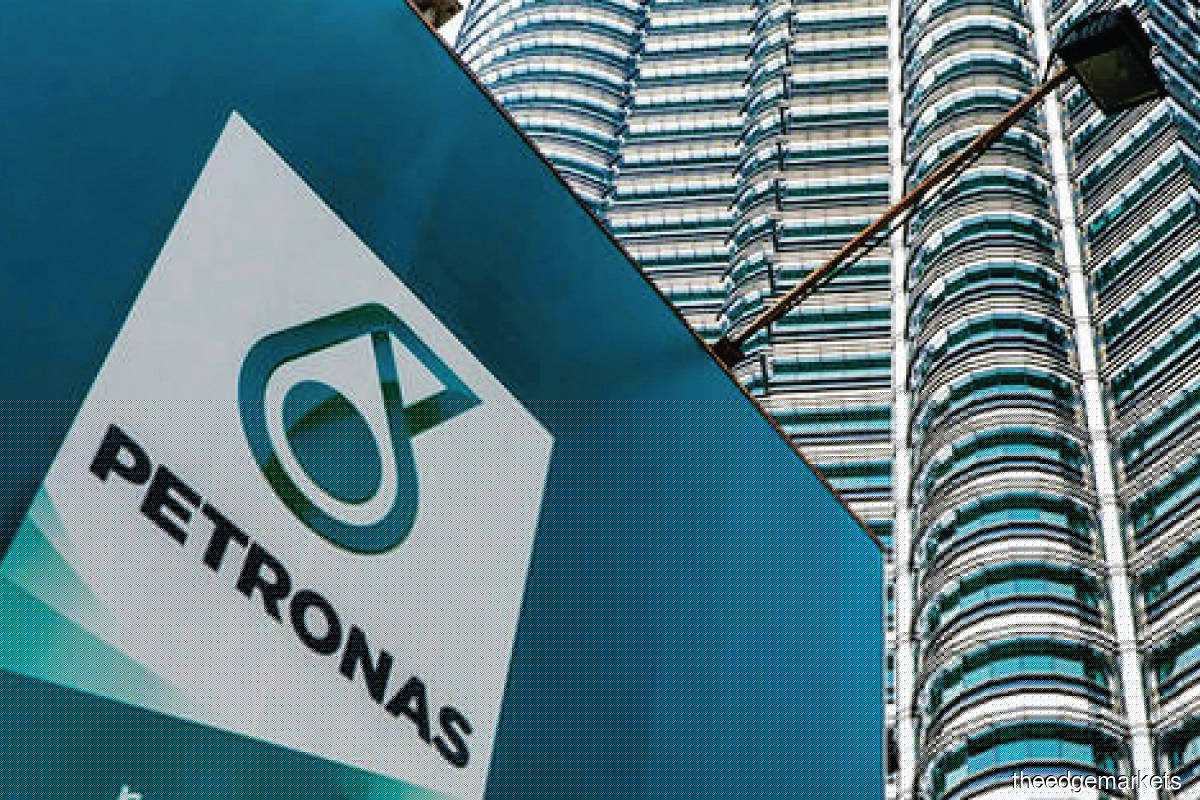 KUALA LUMPUR (May 31): Petroliam Nasional Bhd's (Petronas) profit after tax more than doubled year-on-year to RM9.3 billion in the first quarter ended March 31, 2021 (1QFY21), from RM4.52 billion thanks to a swing to impairment write-back.
The better overall bottom line was achieved despite quarterly revenue falling 11.8% to RM52.55 billion from RM59.59 billion in 1QFY20.
This is as all segments posted weaker performances, led by gas and new energy segment. The national oil firm attributed the lower revenue to lower sales volume and a stronger ringgit.
In the quarter under review, Petronas booked a write-back of RM183 million, as opposed to RM5.64 billion written off last year on improved crude oil prices.
The group also recorded improved gross profit margins on lower costs, coupled with lower administrative expenses.
"Earnings before interest, tax, depreciation and amortisation (EBITDA) grew by 13% to RM22.9 billion from RM20.3 billion in the corresponding period last year," Petronas said.
Across segments, the bottom line's gain was led by the over threefold increase in the upstream segment, whereas the downstream segment turned to the black. However, the gas and new energy segment's contribution fell 28.7%.
For the upstream segment, Petronas saw operational setbacks in Malaysia and curtailment in Iraq although Peninsular Malaysia saw higher gas production while other markets also saw a ramp-up in production.
The gas and new energy segment's weaker performance was due to lower average realised prices as a result of lagging effects coupled with lower demand locally and overseas.
Meanwhile, the downstream segment also saw lower demand but it was more than offset by improved margins and favourable prices.
In the quarter, the national oil firm's net cash position improved by 6% to RM55 billion, from RM52.1 billion. Its capex fell 21% y-o-y to RM6.7 billion, from RM8.5 billion, which it attributed primarily to project delays due to the Movement Control Order.
It also recorded its first liquefied natural gas cargo delivered from the Petronas Floating LNG Dua (PFLNG Dua) in the quarter.
Petronas president and group chief executive officer Tengku Muhammad Taufik said: "Petronas' financial performance in the first quarter of 2021 reflects our continuing commitment to commercial and operational excellence while preserving a healthy level of liquidity to strengthen our resiliency.
"The deliberate steps taken throughout 2020 have provided the group with a stronger foundation to better withstand volatile market conditions while we contend with the global energy transition," Tengku Muhammad Taufik said.
"Even as PETRONAS navigates the significant challenges and uncertainties posed by the ongoing Covid-19 pandemic, it will continue to intensify efforts to achieve its Net Zero Carbon Emissions by 2050 aspiration.
"In doing so, Petronas remains committed to executing its three-pronged growth strategy to become a progressive energy and solutions partner enriching lives for a sustainable future," he added.