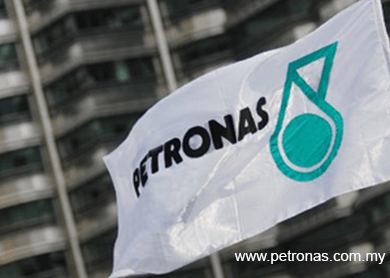 KUALA LUMPUR (Feb 27): State-owned oil major Petroliam Nasional Bhd (Petronas) reported its first quarterly loss in the fourth quarter ended Dec 31, 2014 (4QFY14), mainly due to declines in global oil prices and significant asset impairment losses of RM20 billion, particularly in the upstream business.
It posted a net loss of RM7.3 billion for the October-December 2014 quarter compared with a net profit of RM12.8 billion a year ago.
Revenue for 4QFY14 fell 6% to RM79.4 billion from RM84.8 billion in 4QFY13.
Petronas said the Dated Brent averaged US$76.27 in 4QFY14, a decline from US$109.27 a year ago.
The poor quarterly results pulled down its net profit for the 12 months period ended Dec 31, 2014 (FY14), which declined 27% to RM47.6 billion.
Revenue for FY14, however, improved 4% to RM329.1 billion. Dated Brent averaged US$98.99 in FY14, 9% lower than the previous year.
With these results, Petronas said it will pay a dividend of RM2 billion for 4QFY14, bringing the whole year's payout to RM26 billion.
Petronas' lower net profit for FY14 comes on the back of a 5% increase in production to 2,226 kilo barrels of oil equivalent per day.
"The increase in production was a result of the group's optimisation or enhancement initiatives, new production areas in Malaysia, Iraq and Vietnam andcontinuous production in South Sudan," its outgoing president and group chief executive officer Tan Sri Shamsul Azhar Abbas told a news conference to announce the group's 4Q and FY14 financial results today.
"Higher production was also a result of higher demand during the winter period in Turkmenistan and higher production in Canada," he added. 
On prospects, Shamsul said 2015 will likely be "bad" as average crude oil prices will be "significantly lower than 2014 and this will impact (Petronas') profitability".
He said Petronas will be working on a revised budget for FY15 based on an oil price of US$55 a barrel.
For one, the group is expected to further reduce its capital expenditure (capex) budget for the year, after an initial capex cut of 10% in FY14.
Petronas will also make cuts in its operating expenditure by 30% this year.
Nevertheless, Shamsul has assured that there will not be any job cuts at Petronas.