This article first appeared in The Edge Malaysia Weekly, on July 23, 2018 - July 29, 2018.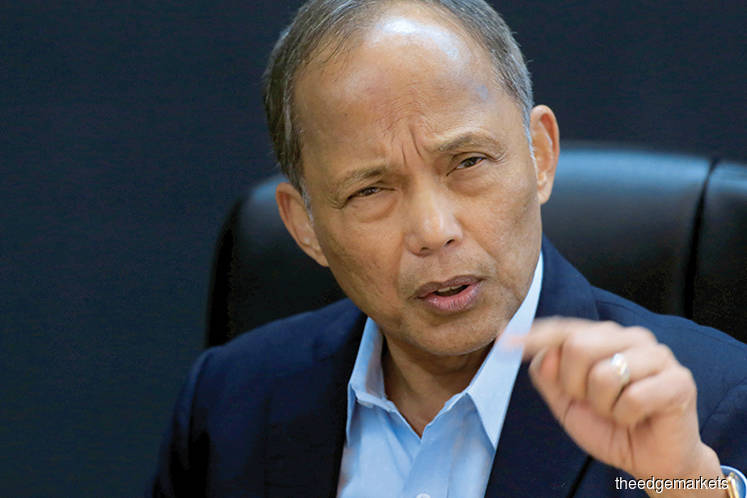 PETROLIAM Nasional Bhd (Petronas) has held initial discussions with the Philippine National Oil Company (PNOC) to invest in a planned US$2 billion liquefied natural gas (LNG) hub in the Philippines, says the country's Energy Secretary Alfonso Cusi.
State-owned PNOC is spearheading the LNG project.
"Petronas [has] expressed interest in our LNG hub … to invest in it. It is looking to partner PNOC. We are especially keen to leverage Petronas' expertise in commercial trading," Cusi tells The Edge in an interview in Kuala Lumpur.
Petronas officials held a meeting with PNOC in the Philippines on July 11, he says.
In an email to The Edge, Petronas says it is "actively exploring LNG opportunities in the Philippines through collaboration with strategic partners in line with the country's LNG import plans."
The Philippines wants the hub, located in the Batangas province, south of Manila, to be built and operational before its natural gas reserves at Malampaya, off Palawan island, deplete in 2024.
According to its Department of Energy, the LNG hub will be built piecemeal, starting with a floating storage and regasification unit, which will have an initial capacity of 200mw, scalable to 800mw. This first phase of the LNG's development is meant to be completed by 2021.
The second phase, by 2024, will include onshore facilities, including storage, regasification, power plant and distribution facilities.
The move to establish the Philippines' first LNG hub project comes as the country's demand for energy is projected to increase significantly.
"From now until 2022, we need an additional capacity of 10,000mw. Then, from 2022 to 2040, we'll be needing an additional 34,000mw. So, from now until 2040, we're looking at around 44,000mw additional capacity," Cusi explains.
It needs foreign help to achieve this and, as such, has been encouraging foreign power generation companies to set up plants in the country, even allowing them to have 100% ownership of conventional plants.
Cusi, who was part of President Rodrigo Duterte's working trip delegation to Kuala Lumpur last week, is understood to have held meetings with Tenaga Nasional Bhd (TNB) and a few other power players while here.
He also met with Yeo Bee Yin, Malaysia's minister of energy, technology, science, climate change and environment.
"The Philippines is now open for business to attract investors in the field of energy, power generation. I understand that Malaysia has sufficient power supply already, and it has something like 30% of reserve [capacity], so your power companies must be looking for [other] places to invest in. I'm taking the opportunity since I'm here to highlight the opportunities that are available in the Philippines," says Cusi.
Indeed, more than ever, Malaysian power generation companies may need to look abroad as growth opportunities at home slow.
Less than two weeks ago, Yeo announced that the federal government, which is cutting back on spending, had decided to cancel four independent power producer (IPP) contracts awarded by the previous administration, and warned that there will be more terminations to come.
Yeo said Malaysia does not need that many power plants given its reserve capacity of 30%, which is relatively high compared with many other countries, including some developed ones.
Back in December 2014, TNB was reported to be eyeing power plant repair and maintenance contracts in the Philippines. However, it is unclear if anything came out of it.
Cusi says he is not aware of any Malaysian energy company operating in the Philippines currently.
"The Philippines is an attractive place for foreign investors to invest in because of our projected power demand. We allow 100% ownership of conventional power plants. For renewable energy, we allow 40% foreign ownership. As a landscape, we are technology neutral, which means we don't discriminate any power source. Our concern is more on the sustainability and affordability of the source," he points out.
Of its current power sources, 32% is from renewable energy while 35% is from coal-fired plants.
Electricity tariffs in the Philippines are the highest in Asean and the second highest in Asia. "Unlike in Malaysia, where electricity is subsidised, we are charging the true cost," he remarks.
Cusi says regulations have been made easy for foreign investors in the power space.
"Specifically for the energy sector, we have an executive order that states that getting a permit takes up to 30 days. The moment we declare that a project is of national significance, the permit is [issued] within 30 days, so that has reduced a lot of administrative documentary requirements," he explains.
The Philippines requires much more power capacity mainly because the Duterte administration is rolling out a massive US$180 billion "Build Build Build" programme to construct new roads, bridges, railways, airports and seaports.
"Our president would like to finish all the projects that we are starting before his term ends in 2022. These will require power, hence, power is of significance," says Cusi.
The Philippines' power reserve capacity is thin at around 1% currently, he adds.
The Philippines has the fastest growing economy in Asean, and one of the fastest in the world. Its gross domestic product grew 6.8% year on year in the first quarter of this year, which was its eleventh straight quarter of growth of above 6%.
Save by subscribing to us for your print and/or digital copy.
P/S: The Edge is also available on Apple's AppStore and Androids' Google Play.