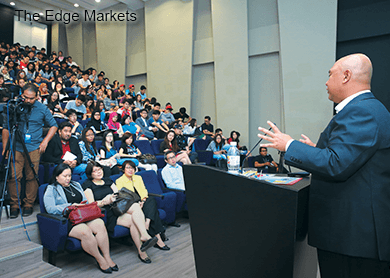 A just-in-time (JIT) inventory isn't only meant for manufacturers.
Facing volatile crude oil prices, which have tumbled from a peak of US$115 in June last year to US$63 (RM230) now, Petronas Dagangan Bhd, the country's largest petrol station operator, needs to adopt a JIT inventory strategy to sustain its profit margin.
Petronas Dagangan chief executive officer (CEO) and managing director Mohd Ibrahimnuddin Mohd Yunus notes that it is crucial to look for the optimal inventory level to make sure that its retailing segment does not keep too much stock as the possibility of a further fall on oil prices lurks.
"We order our supplies at the right moment and right time to ensure our stocks are not too high if there's a plunge in oil prices in the future," Ibrahimnuddin explained to 180 students at The Edge Billion Ringgit Club "Meet the CEO" event at the KDU University College Glenmarie campus last Friday.
"Meanwhile you have got to be very careful because you don't want to disappoint your customers to a point that there's no stock in your retail store," he said, adding that the company also needs to ensure the efficiency of its supply and distribution.
In fact, Petronas Dagangan, the marketing arm of national oil major Petroliam Nasional Bhd (Petronas), has slashed its operating costs and ensured its inventory to be at the optimum level to stay profitable.
In light of the low oil prices, Ibrahimnuddin said Petronas Dagangan has cut its operating costs by 30% to stay resilient.
"This (the dip in oil prices) has an adverse effect on our margins," he says, adding that the bulk of the company's earnings are from the retail business.
He acknowledged that it was a difficult time for Petronas Dagangan during the fourth quarter of financial year 2014 ended December (4QFY14).
"When that (drastic fall of crude oil prices) happened, we lost a lot of money. Normally, we register [quarterly] profit between RM150 million and RM200 million every quarter. For the fourth quarter of 2014, we were really lucky that we managed to make some profit."
Net profit for 4QFY14 plunged 99.7% year-on-year to RM445,000 from RM151.32 million. Revenue came in 11% lower at RM7.45 billion from RM8.39 billion a year earlier. Earnings per share fell to 0.04 sen from 15.2 sen a year ago.
The deterioration of its 4QFY14 results was mainly because of the decrease in sales volume and average selling price, Petronas Dagangan explained in its results note.
For the full FY14, Petronas Dagangan's net profit slumped to RM501.57 million from RM811.75 million the year before, although its revenue was flat at RM32.34 billion.
On its product Primax 95 with advanced energy formula, Ibrahimnuddin highlighted that it was developed from the Formula One track.
"We have Lewis Hamilton as our technical professional consultant and he gave us input for his car to perform better for every race. The fuel that made him [Hamilton] the world champion came from us," he said.
With the theme "managing new realities", Ibrahimnuddin, 51, attracted some 180 students to the event organised by The Edge Communications Sdn Bhd.
Ibrahimnuddin has been with Petronas for 26 years. His experience cuts across many fields, from public affairs to oil and gas marketing and trading, as well as human resources. He took over the helm of Petronas Dagangan in February last year.
Ibrahimnuddin reveals that the shared values in Petronas Dagangan are CLIP, which are cohesiveness, loyalty, integrity and professionalism.
Responding to a question on how he overcame the challenges during his tenure with Petronas, Ibrahimuddin said, "In my journey to become a CEO, I have failed many times but [I] do not give up."
His advice students is to know your target, focus on execution, and always think positively.
Ibrahimnuddin said the most important thing in managing new realities is actually to make changes. "If you are static, and people are going to change, you will be left behind."
Petronas Dagangan has four core businesses — retail (sold in petrol stations), commercial (supply of diesel, jet fuel and so on.), liquefied petroleum gas and lubricants. It owns over 1,000 petrol stations nationwide. It has the biggest network in terms of petrol stations in Malaysia with 750 Petronas Kedai Mesra, its one-stop convenience centre.
This article first appeared in The Edge Financial Daily, on June 1, 2015.