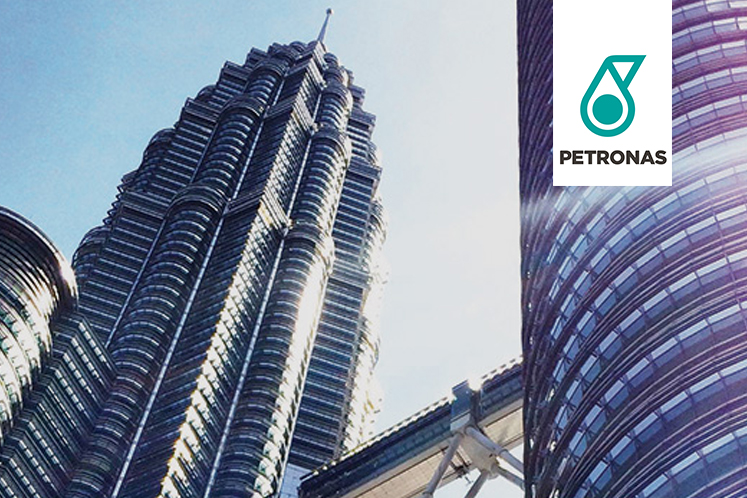 KUALA LUMPUR (May 22): Petroliam Nasional Bhd, which reported a 68% year-on-year fall in its first quarter profit after tax (PAT) today, is slashing its capital expenditure for the financial year ending Dec 31, 2020 by 21% from its initial estimate of around RM50 billion, as it faces challenges driven by the pandemic outbreak that has led to a supply-demand shock in the oil market this year.
The national oil giant said it will strive "as far as practically possible" to minimise the impact of the cuts to its Malaysian capex programme, previously planned at RM26 billion-RM28 billion this year.
"While the group continues to invest domestically, it anticipates that there will be constraints in the supply chain as a result of the pandemic," Petronas said. The group earlier said in March that it would try to keep to its domestic capex this year, but later hinted that it might not be able to do so as the pandemic spread.
It is also reducing its operating expenditure (opex) by 12%, though it did not state its FY20 opex target. For reference, Petronas's selling, distribution and administrative expenses in FY19 stood at RM20.2 billion.
The announcement came in a statement on its latest quarterly results for the three months ended March 31, 2020 (1QFY20), which showed its PAT dropping from RM14.25 billion a year ago to RM4.52 billion — its second lowest quarterly bottomline since 2QFY16, when it booked a net profit of RM1.62 billion when oil prices averaged US$47 per barrel. Revenue fell 4% from RM61.99 billion to RM59.59 billion. 
Its earnings for 1QFY20 were dragged by low prices of oil, gas and condensates, as crude oil prices fell to 20-year lows, as well as lower revenue in the period. Brent crude oil price averaged at US$50.26/bbl in 1QFY20, down 20.47% from US$63.20/bbl in 1QFY19, Petronas said.
Still, the group signalled that the latest PAT was a slight improvement from the immediate preceding quarter of 4QFY19, when PAT came in at RM4.11 billion, also dragged by low prices.
Notably, Petronas booked an impairment of RM4.5 billion in 1QFY20, compared with a small write back in 1QFY19 of RM84 million. This was partially offset by lower taxes incurred of RM2.97 billion versus RM4.69 billion previously.
Of its three core businesses - which all recorded weaker performance during the quarter - the upstream segment was the worst hit, with PAT falling 63.1% to RM1.93 billion from RM5.22 billion, despite segment revenue climbing 6.22% to RM9.7 billion from RM9.13 billion.
Petronas also noted that while its upstream production rose slightly on higher volume from its Brazilian venture, its Malaysian gas volume fell on lower consumption by the power sector in Peninular Malaysia - likely because the MCO halted business and office operations nationwide.
Meanwhile, its downstream segment turned to a loss of RM1.17 billion from a profit of RM1.43 billion, following inventory losses and lower margins. Revenue retreated 1.77% to RM26.71 billion from RM27.2 billion, despite higher sales volume. Industry watchers attributed the higher volume to clients increasing inventory ahead of the global lockdowns triggered by the coronavirus.
As for its gas and new energy segment, PAT fell 39% to RM2.91 billion from RM4.77 billion, as revenue declined 9.47% to RM19.99 billion from RM22.08 billion.
Moving forward, Petronas expects a very challenging outlook for the rest of FY20, said president and group chief executive officer Tan Sri Wan Zulkiflee Wan Ariffin.
"Currently, dated Brent hovers at around US$30/bbl. If the market situation persists and oil prices remain low, the year 2020 might run the risk of being a lost year for the oil and gas industry," said Wan Zul.
"All players will be adversely impacted and Petronas will also not be spared," he said.
"Indeed this is a challenging time for us. For Petronas, our focus is to preserve cash and maintain our liquidity, continue our cost compression efforts and respond with pace to current market conditions," he added.