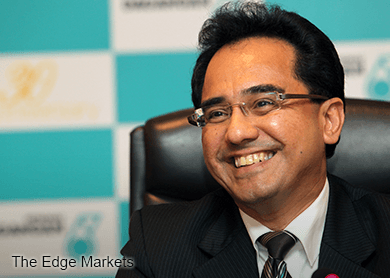 KUALA LUMPUR (May 22): Datuk Wan Zukiflee Wan Ariffin, who is new at the helm of Petroliam Nasional Bhd (Petronas), is trimming the national oil firm's dividend paid to the government this year, in view of weaker earnings.
Wan Zulkiflee, the president and CEO of Petronas, said the national oil firm has allocated a full year dividend of RM26 billion for the government, as compared to the RM29 billion last year. In 2013, Petronas paid a dividend of RM27 billion.
"I think the dividend for this year have been decided upon, it's slightly lower than what was paid last year. And going forward, of course it is a factor of profits that we make for 2016, but this year, it is lower than last year," he told the press conference in conjunction with the release of the first quarter financial result.  
For the quarter under review, Petronas has declared and paid a dividend of RM4 billion to the government.
In terms of earnings, Petronas saw a 39% decline in its net profit to RM11.4 billion for the first financial quarter ended March 31 (1QFY15), compared with RM18.8 billion in the previous corresponding period.
Revenue dropped 21% to RM66.2 billion for 1QFY15, from RM84 billion a year ago.  
In comparison to the preceding quarter ended Dec 31, 2014, Petronas recorded a net loss of RM7.3 billion, against a revenue of RM79.4 billion.
The national oil firm attributed the weak earnings to lower crude oil prices. This is the second consecutive quarter in which low crude oil prices have taken a toll on Petronas' earnings.    
"This (the lower profits) is mainly due to the lower average realized prices recognized across all products. However, this is partially offset by higher crude sales volume, high production achieved from domestic fields, higher processed gas trading and higher LNG (liquefied natural gas) trading," said Wan Zulkiflee.  
He said Petronas had also seen favourable US dollar exchange rates against the local currency.  
Wan Zulkiflee also noted that in 1QFY15, Petronas recognised a savings of RM200 million, from its contract negotiations with contractors. The savings figure is expected to increase as the year progresses, according to him.  
Going forward, he said: "We are focused on things that we can control, for instance our plants and our production facilities, to make sure it is reliable.  
"Essentially, (oil) prices we can't control, and the outlook will be dependent on what is the realized price for crude and products," said Wan Zulkiflee.