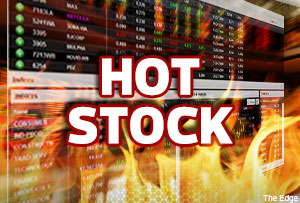 KUALA LUMPUR (Dec 1): Petronas Gas Bhd (PetGas), Petronas Dagangan Bhd (PetDag) and Petronas Chemicals Group Bhd (PChem) led a decline among oil & gas (O&G) counters today following Petroliam Nasional Bhd's (Petronas) announcement last week it was looking to cut by as much as 15% to 20% of its capital expenditure (capex) budget for next year.
An O&G research analyst told TheEdge Markets.com that market sentiment has been hit "pretty bad" by the national oil firm's announcement.
"Petronas counters are down due to the capex news. And it is not just these counters, but other O&G stocks as well," he said over the telephone.
The research analyst, however, maintained his "neutral" rating for the sector.
Today, PetGas declined RM1.52 or 6.7% to RM21.20. The top decliner saw trades of 124,500 shares.
This was followed by the second top decliner, PetDag, which lost 80 sen or 5% to RM15.28 on trades of 270,400 shares.
PChem also fell 50 sen or 8.9% to RM5.13. The fifth top decliner saw some 1.5 million shares changed hands. It had earlier fallen to a low of RM5.09.
Among the other falling O&G stocks are SapuraKencana Petroleum Group Bhd and Dialog Group Bhd.
In a note today, TA Securities said the move to cut capex was expected, but noted Petronas had indicated its exploration and production (E&P) programme would remain intact by optimising costs.
The research house sought clarity on whether the cut affects the upstream E&P or downstream segment, or both and whether local or international capex would be impacted.
The TA research team maintained its "neutral" view for the sector.
"We believe uncertainty in the direction of oil prices will continue to weigh down on sentiment," it said.
"Prospects of O&G companies remain downcast, afflicted by the cocktail of adverse news alluding to suppressed oil prices," it said.