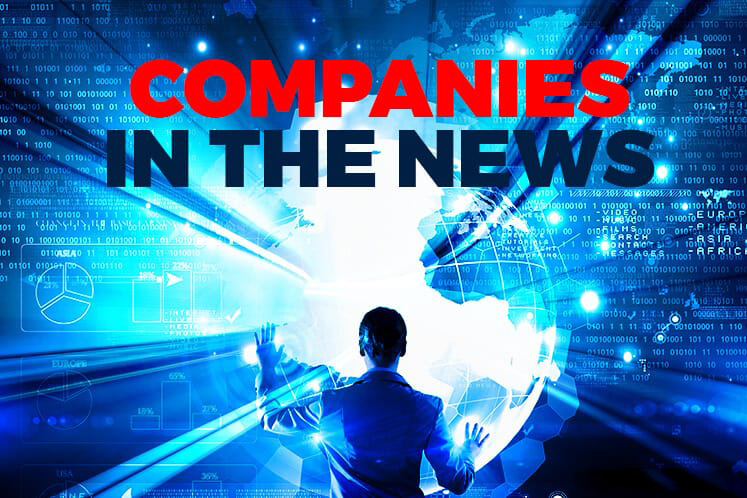 KUALA LUMPUR (Nov 13): Based on corporate announcements and news flow today, companies that may be in focus tomorrow (Nov 14) may include: Petronas Chemicals Group Bhd, S P Setia Bhd, AirAsia X Bhd, MISC Bhd, Malayan Flour Mills Bhd, KKB Engineering Bhd, KNM Group Bhd, Sime Darby Property Bhd, Daibochi Bhd, Mega First Corp Bhd, BTM Resources Bhd, NetX Holdings Bhd, PUC Bhd and Apex Equity Holdings Bhd.
Petronas Chemicals Group Bhd's net profit more than halved to RM553 million for the third quarter ended Sept 30, 2019 (3QFY19) from RM1.21 billion last year on lower earnings before interest, tax, depreciation and amortisation. Quarterly revenue dropped 24% to RM3.67 billion from RM4.83 billion in 3QFY18.
The group's net profit for the cumulative nine months (9MFY19) fell 34.6% to RM2.47 billion from RM3.78 billion a year ago, while revenue declined 16.4% to RM12.14 billion from RM14.51 billion.
 
S P Setia Bhd's net profit for the third quarter ended Sept 30, 2019 (3QFY19) jumped 67.1% to RM108.93 million from RM65.19 million last year on higher property development revenue. Quarterly revenue slipped to RM932.07 million from RM993 million.
For the nine-month period, S P Setia's net profit fell to RM300.48 million from RM569.41 million last year, though revenue rose to RM3.13 billion from RM2.57 billion.
AirAsia X Bhd's (AAX) net loss widened by 16.4% to RM229.89 million for the three months ended Sept 30, 2019 (3QFY19) from RM197.47 million a year ago as it recognised depreciation on the assets leased under the Malaysian Financial Reporting Standard 16 (MFRS 16). Quarterly revenue fell 6.4% to RM1.01 billion, from RM1.08 billion.
For the nine-month period, its net loss also widened to RM393.67 million from RM213.43 million a year ago, while revenue was down 6.4% to RM3.2 billion from RM3.42 billion.
MISC Bhd's net profit for the third quarter ended Sept 30, 2019 (3QFY19) fell 22% year-on-year to RM266.1 million from RM341 million, due to loss in its heavy engineering division. Quarterly revenue dipped to RM2.15 billion from RM2.23 billion. MISC declared an interim dividend of 7 sen per share, payable on Dec 10.
For the nine months ended Sept 30, MISC's net profit rose to RM1.18 billion from RM972.8 million, as revenue expanded to RM6.59 billion from RM6.39 billion.
Malayan Flour Mills Bhd (MFM) returned to the black with a net profit of RM20.7 million in its third quarter ended Sept 30, 2019 (3QFY19) from a net loss of RM5.19 million last year, on higher sales in its flour and grains trading segment, as well as its poultry integration segment. Quarterly revenue rose 9.1% to RM701.21 million from RM642.75 million.
Its net profit for the nine-month period ballooned to RM39.99 million, about 34 times the RM1.18 million it achieved last year, while revenue grew 12% to RM1.96 billion from RM1.75 billion.
KKB Engineering Bhd's net profit grew 2.8 times to RM19.34 million for the third quarter ended Sept 30, 2019 (3QFY19) from RM6.93 million last year on higher revenue from its steel fabrication and construction divisions, coupled with improved margins in the engineering sector.
Quarterly revenue was up 47.5% to RM165.48 million from RM112.18 million in 3QFY18.
Its nine-month period net profit was up 179% to RM28.05 million from RM10.04 million a year ago while revenue increased 49.3% to RM403 million from RM269.94 million.
KNM Group Bhd has bagged an additional purchase order worth US$5.18 million (RM21.51 million) from PSS Netherlands B.V. Sharjah Branch, which will last till Oct 10, 2020. The contract is for the supply of shell and tube heat exchangers lot-2 for a clean fuels project at a major oil refinery in Sriracha, Thailand, that is operated by Thai Oil Pcl.
Sime Darby Property Bhd has partnered with Mitsui & Co Ltd and Mitsubishi Estate Co Ltd — via a joint venture — to develop Bandar Bukit Raja Industrial Gateway (BBRIG), which will offer land lease and Built-to-Suit (BTS) services to business owners. Through the JV, both parties will invest a total of RM100 million in the initial stage.
Daibochi Bhd has appointed Chang Chee Siong as its new managing director (MD), replacing Lim Soo Koon who is retiring on Dec 13. Lim had been serving the company as its MD since February 2005.
Mega First Corp Bhd's 51% indirect unit Serudong Power Sdn Bhd is planning to sell its power plant in Tawau and all related assets, which will contribute a profit increase of RM9.65 million to Mega First's financial year ending Dec 31, 2019.  
BTM Resources Bhd, which is principally involved in the wood-based industry, is partnering with Markmore Energy (Labuan) Ltd (MELL), which is controlled by Tan Sri Halim Saad, to participate in the proposed production of liquefied petroleum gas (LPG) using natural gas supplied from the Rakushechnoye Oil and Gas Field. BTM sees it as an opportunity to diversify and expand its source of income.
NetX Holdings Bhd has inked a Memorandum of Understanding with PUC Bhd to explore a potential collaboration to jointly expand, promote and strengthen their presence in the e-commerce and financial technology (e-payment) industry. NetX, through this collaboration, expressed its intention to invest in a micro-financing credit industry.
Apex Equity Holdings Bhd's shareholder Pinerains Sdn Bhd, which holds 4.17% stake, is seeking to adjourn the planned extraordinary general meeting (EGM) in relation to the proposed merger of its unit JF Apex Securities Bhd with Mercury Securities Sdn Bhd. The EGM was planned to be held next Monday (Nov 18).