This article first appeared in The Edge Financial Daily, on December 16, 2019.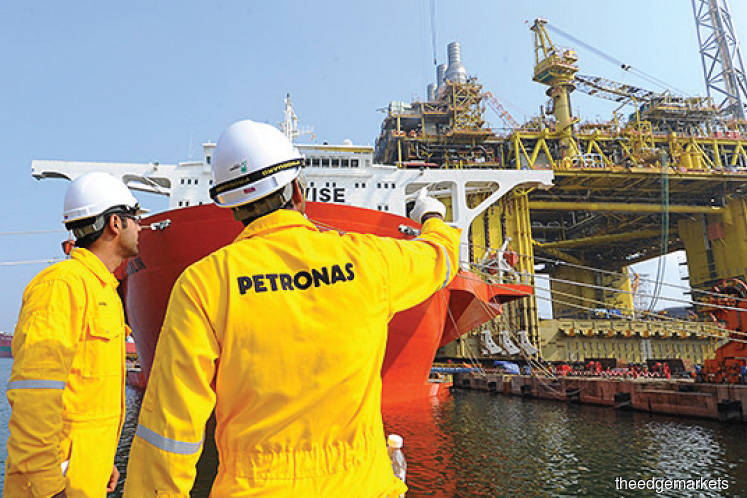 KUALA LUMPUR: Petroliam Nasional Bhd (Petronas), the locomotive of the domestic oil and gas (O&G) industry, is expected to award more jobs in the next three years, bringing hope that the recovery of the domestic O&G industry, hit hard by the severe downturn, could be gaining strength.
However, in The Petronas Activity Outlook for 2020-2022 released last Friday, the national oil firm underlined the outlook to remain challenging next year amid a persistent downward pressure and volatility of crude oil prices.
In the report, Petronas highlighted that many contracts are due for retendering in the next three years. "This would be an opportune time for players to strategise on resources, new technology offerings and strategic partnerships," Petronas said in the report.
The dwindling number of jobs as a result of the soft crude oil prices has stressed many local O&G companies badly.
Analysts opine that any additional jobs will certainly help lead the O&G companies out of the woods, in addition to their efforts to revive financial health.
A fund manager commented no doubt that it is good Petronas is giving out more jobs, better than none.
Nonetheless, he noted Petronas has been mindful of the cost management to defend its profit margin in the current low oil price environment. Hence, he expects the margin of the contracts (given out by Petronas) could be thin. Companies will have to be efficient to be decently profitable.
In an interview with The Edge Malaysia weekly recently, Petronas president and group chief executive officer Tan Sri Wan Zulkiflee Wan Ariffin revealed that the group has budgeted a capital expenditure of about RM255 billion between 2020 and 2024, of which RM50 billion has been allocated for next year.
Not a blue-sky scenario yet
The industry outlook remains challenging because geopolitical upheavals, prolonged trade tensions and a global economic slowdown will result in demand disruptions, Petronas vice president of group procurement Liza Mustapha said in the report.
"Given the persistent market volatility, the challenging landscape would require Petronas and all its partners to continue to be conscious in managing costs, implement activity levelling to sustain offshore activities and pursue innovative solutions to unlock value in our supply chain," she added.
The average crude oil price (Jan 1 to Nov 18) stood at US$64 (RM264.96), lower than US$71 in 2018. Still, it was higher than US$54 in 2017 and US$44 in 2016.
The report highlighted that the robust supply coming from non-Opec producers predominantly from the US has caused a build-up in oil inventories. "The US, currently the largest producer of crude oil, is targeting to be a net energy exporter by 2020, a first for the US in nearly 70 years," said Petronas.
In addition, there are other projects being ramped up in Canada, Brazil, Guyana and Norway. The International Energy Agency in its November 2019 report indicated that non-Opec production was expected to continue to grow; adding 2.3 million barrels per day of oil supply in 2020, said Petronas.
Meanwhile, it pointed out that crude oil price volatility will continue due to supply disruptions in major oil-producing countries like Libya and Nigeria, coupled with tensions jittering the oil market — particularly in the Middle East.
"While US sanctions on Iran and Venezuela have driven oil production from both countries to the lowest points in decades, the sanctions, however, only caused ripples in the oil market since every barrel displaced is substituted by other oil producers," said the report.
Steady job flow in 2020
The local upstream industry can expect steady job flows in key segments next year including pipelines and pipe-laying; offshore fabrication; maintenance, construction and modification; offshore support vessels (OSV) and decommissioning.
Petronas is expecting around 26 drilling rigs and hydraulic workover units (HWUs) in 2020, according to the report.
In the pipeline, Petronas underlined a steady outlook for offshore fabricators. It expects between 10 and 13 wellhead platforms, and one central processing platform to be fabricated in 2020, while the outlook for 2021 is largely preconceptual.
Meanwhile, Petronas expects 79km of carbon steel line pipes to be laid using pipelay barges, while more than double the distance is expected in 2021.
HUC works are deemed steady with 4.6 million man-hours expected in 2020 — most of which are for brownfield HUC — before picking up further in 2021 in anticipation of more brownfield projects.
There are a combined 37 subsea facilities and wells to be decommissioned in 2020, from 38 wells and one platform in 2019. Activities could increase further in 2021 with 54 wells to be abandoned in the pipeline.
On underwater services, Petronas sees 10-18 support vessels to be utilised in 2020, compared with 11 in 2019. The outlook is stable in 2021 and 2022, Petronas said.
In the OSV category, demand is steady in 2020 for anchor handling tug supply boats with nearly 150 vessels for all weight categories, fast crew boats (70), platform/straight supply vessels (56) and 30 landing craft tanks, to name a few. The demand outlook is positive for production operations, the report added.