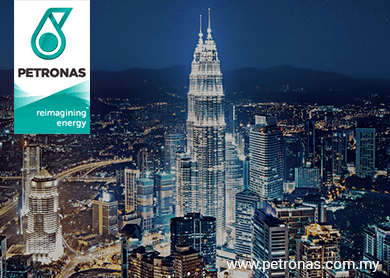 KUALA LUMPUR (Feb 29): National oil company Petroliam Nasional Bhd (Petronas) reported a net loss of RM4.69 billion for the fourth quarter ended Dec 31, 2015 (4QFY15), down 52% from RM9.87 billion a year earlier.
It attributed the lower net loss to lower product and production costs, favourable foreign exchange impact and lower net impairment on assets.
However, its latest quarterly revenue fell 24% to RM60.1 billion, from RM79.37 billion in the previous year, as the group realised lower average realised prices across all major products, in line with the slump in crude oil prices, and lower sales volume of petroleum product, crude oil and condensate and processed gas.
Meanwhile, its unaudited net profit for the 12 months to Dec 31 (FY15) plunged 64% to RM13.16 billion from RM47.04 billion a year earlier, on the back of lower cumulative revenue of RM247.66 billion, which is down 25% from the RM329.15 billion recorded in FY14.
Petronas president and group chief executive officer Datuk Wan Zulkiflee Wan Ariffin said 2015 was "an extremely difficult year" for the group, as Brent crude prices continued its decline during the year, averaging at US$52 per barrel for the year.
"Despite the daunting challenges faced by the industry, Petronas has weathered 2015 intact. The group remained profitable, and was able to fulfil our dividend commitments to our shareholders. Moving forward, however, we are facing an even tougher year ahead," he said during Petronas' 4QFY15 results briefing today.
He said the group's cash flow from operations will not be able to cover the remaining capital expenditure (capex) and its RM16 billion commitment to the government, so Petronas will raise some debt in order to meet these obligations.
He said the amount of debt to be raised will depend on the movement of crude oil prices throughout the year.
Further, he said Petronas is also stepping up its cost-optimisation measures, which includes additional reduction in its capex and operating expenditure (opex) of RM50 billion over the next four years, starting with a cut of approximately RM15 billion to RM20 billion in 2016.
"These cuts will impact some of our capital projects. At this point, we have taken the decision to re-phase the Petronas Floating LNG 2 project, to be commissioned at a later date than originally planned," he said.
The group has also undergone a review of its business operating model, to ensure Petronas remains competitive amid the low oil price environment while also ensuring long-term sustainability.
"As oil prices continue to decline and we begin to see a long drawn out period of low oil prices, my leadership team and I have decided to launch a deliberate and concerted effort to counter any further impact to the business," he said.
Through these efforts, Wan Zulkiflee said the group saw cost savings of up to RM1.4 billion in FY15, which helped cushioned the impact of the challenging environment on its bottom line.
He added that these initiatives are expected to generate an additional RM6 billion to RM7 billion in savings over the next three years.
Meanwhile, he said Petronas will be introducing a new organisational structure that will come on board April 1.
However, he declined to reveal the details of the restructuring, saying only that the announcement will be made at a later date.