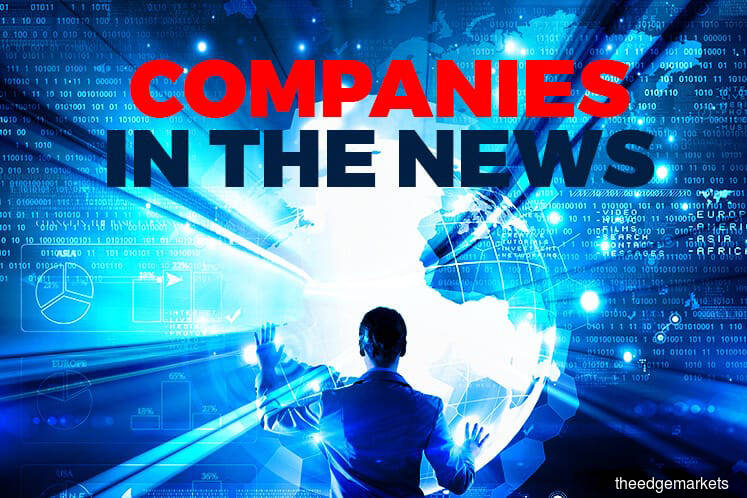 KUALA LUMPUR (Feb 17): Based on corporate announcements and news flow today, stocks in focus on Tuesday (Feb 18) may include: Petra Energy Bhd, Scomi Energy Services Bhd, Scomi Group Bhd, Malayan United Industries Bhd (MUI), Malpac Holdings Bhd, Kuala Lumpur Kepong Bhd (KLK), Batu Kawan Bhd, Sinmah Capital Bhd, HLT Global Bhd, Eversendai Corp Bhd, Luxchem Corp Bhd and Icon Offshore Bhd.
Petra Energy Bhd's net profit grew 3.42% to RM21.68 million in the fourth quarter ended Dec 31, 2019 (4QFY19) from RM20.96 million a year ago, helped by lower finance costs, administrative expenses, and impairment on trade and other receivables. Revenue fell 35.17% to RM124.37 million from RM191.83 million.
The oilfield services provider announced an interim dividend of two sen per share, payable on May 15, 2020. This marks a total dividend declared to-date of six sen, with respect to FY19.
For the full-year ended Dec 31, 2019 (FY19), the company returned to black with a net profit of RM62.55 million, versus a net loss of RM20.92 million a year ago, as revenue climbed 26.84% to RM592.88 million from RM467.42 million.
Former Renong Bhd managing director Datuk Mohd Zakhir Siddiqy has emerged as a substantial shareholder in Scomi Energy Services Bhd, with an 18.1% stake in the oil and gas company. This follows an off-market trade of 423.96 million Scomi Energy shares on Friday (Feb 14) to Gelombang Global Sdn Bhd, a wholly-owned unit of United Flagship Sdn Bhd which in turn has Mohd Zakhir as its sole shareholder.
The shares were transferred to Mohd Zakhir pursuant to a loan agreement with Scomi Group Bhd dated July 17, 2019. Scomi Group had defaulted on a RM21 million loan from Mohd Zakhir last month, which was securitised against an 18.6% stake in Scomi Energy, owned by Scomi Group.
Malayan United Industries Bhd (MUI) is reportedly in talks with its lenders to secure a fresh drawdown to keep its fashion and homeware retail chain Laura Ashley afloat, according to a news report.
Laura Ashley reportedly confirmed in a statement that talks were ongoing about adjusting the rules, in order for the retailer to "meet the group's immediate funding requirements, and to draw down additional amounts to meet ongoing working capital needs", London-based business newspaper City A.M. reported on Sunday (Feb 16).
Besides the London Stock Exchange-listed Laura Ashley Holdings Plc, MUI owns Metrojaya Bhd, one of Malaysia's oldest department store operator.
Malpac Holdings Bhd announced today that it has been declared an affected listed issuer, as the company has been recording zero revenue since its financial year ended Dec 31, 2012 (FY2012).
Kuala Lumpur Kepong Bhd (KLK) and its parent Batu Kawan Bhd are optimistic of posting a stronger set of results for its financial year ending Sept 30, 2020 (FY2020), despite starting the year with weaker first quarter results.
Both KLK and Batu Kawan's net profit for the three months ended Dec 31, 2019 (1QFY20) fell year-on-year, despite quarterly revenue holding largely steady with stronger plantation profit, mainly due to lower manufacturing and investment holdings income, according to their stock exchange filings on Monday.
For KLK, this resulted in a 33% year-on-year (y-o-y) net profit decline to RM167.2 million from RM250.92 million, though revenue was little changed at RM4.08 billion versus RM4.09 billion previously. Similarly, Batu Kawan, which counts KLK as its largest investment with a 47% stake in the business, recorded a 24% y-o-y decline in its 1QFY20 net profit to RM103.43 million from RM136.67 million, though revenue was only marginally lower at RM4.21 billion versus RM4.22 billion previously.
Regardless, both KLK and Batu Kawan expect to see improved profits for FY20, as they anticipate stronger plantation earnings, in view of recovering crude palm oil and palm kernel prices, amid declining crude palm oil stocks and production. 
Sinmah Capital Bhd has scrapped plans to acquire two pieces of land together with a three-star hotel and a six-storey commercial building sited on them in Bandar Nilai Utama, Seremban, for a combined RM27 million. It said the termination is due to a breach of agreement by the vendor, who had removed various fittings, furnishings and furniture on the properties, which had resulted in the value of the properties being devalued 
In a separate filing, Sinmah said Sime Darby Property (City of Elmina) Sdn Bhd (SDP Elmina) had last Friday (Feb 14) accepted an offer from Sinmah Amegajaya to acquire a 5-acre piece of land in Sungai Buloh, Selangor, for RM32.67 million. 
Sinmah Amegajaya intends to build a university hospital and a hospital-related building on the land.
HLT Global Bhd's wholly-owned subsidiary HL Advance Technologies (M) Sdn Bhd has today signed a patent licence agreement with AF Solution and the inventor, which grants exclusive rights to HL Advance Technologies to market and use the high density triple former holder assembly technology.  
HLT Global executive director/chief executive officer Chan Yoke Chun said HLT Global foresees rising demand for rubber gloves, particularly from China due to the Covid-19 outbreak. The company is now negotiating with clients on new enquiries regarding HLT Global's products, said Chan.
Eversendai Corp Bhd's subsidiary has secured RM330 million worth of projects in India. With the new wins, its total contract wins to-date in 2020 amount to RM653 million, bringing its order book to approximately RM2.2 billion.
Luxchem Corp Bhd's net profit for the fourth quarter ended Dec 31, 2019 rose 11.5% to RM9.57 million from RM8.58 million a year earlier, mainly due to higher profit in the trading segment. This is despite revenue falling 9% to RM187.16 million from RM206.25 million on lower sales in the trading segment.
Luxchem declared an interim dividend of 1.25 sen per share for the financial year ended Dec 31, 2019 (FY19), payable at a date to be determined later.
For FY19, Luxchem's net profit slipped marginally to RM37.65 million from RM37.79 million a year earlier, on the back of lower revenue of RM765.48 million versus RM814.09 million in FY18.
Icon Offshore Bhd's share price hit limit up today after surging as much as 30 sen or 127.66% in morning trades following Bursa Malaysia's decision to uplift the offshore support vessel provider's designated securities status today. The designated securities status was intended to mitigate excessive speculation observed in the trading of Icon securities.
The stock closed six sen or 25.53% lower today at 17.5 sen, after 59.57 million shares were traded.