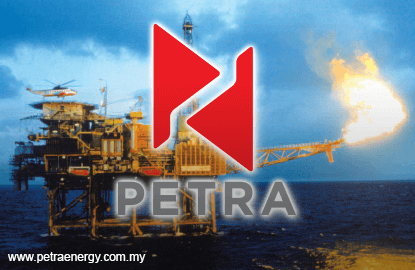 This article first appeared in The Edge Malaysia Weekly, on February 15 - 21, 2016.
The recent news that oil and gas major Dialog Group Bhd mutually terminated its small field risk service contract with Petroliam Nasional Bhd (Petronas) has sparked concerns about the viability of the other RSCs with local oil and gas players.
Shareholders of Petra Energy Bhd, which is also one of the RSC recipients, however, should have little to worry about.
A brief look at the company's earnings in the third quarter ended Sept 30, 2015, would be enough to tell that Petra Energy has already recovered the capital expenditure incurred for the RSC, given that it posted its first profit of RM15.1 million with contributions from its 30% associate company, Coastal Energy KBM Sdn Bhd (CEKBM).
"This suggests [that CEKBM] has recouped all its capital costs, and the remuneration fee has started to kick in in 3Q2015, which was earlier than what management had [initially] guided. Therefore, future allocated revenue — 70% of KBM cluster field's revenue — will only be used to cover the operating cost, with the remaining sums available to be used to pay remuneration fees to CEKBM," states Affin Hwang Capital in a Jan 20 research report.
Petra Energy has a 30:70 joint venture with an oil and gas company with assets in Thailand — Coastal Energy Co — operating the Kapal, Beranang and Meranti (KBM) cluster under the RSC, which achieved first oil in December 2013 and is currently producing 13,000 barrels per day.
Reports have indicated that the KBM cluster is estimated to contain recoverable resources of 15 million to 35 million barrels. It is understood that its cumulative production is approaching 10 million barrels.
It is noteworthy that the small field RSC for the KBM cluster is for eight years, commencing June 2012.
Market experts say the estimated production cost at KBM is US$20 per barrel, which indicates that it is still profitable for the joint venture to continue production despite the depressed crude oil prices.
Last Thursday, Brent crude traded at US$30.83 per barrel. At its peak in July 2008, the crude oil price was at US$145 per barrel.
Nevertheless, Petra Energy's success in the oil production and development segment is only one aspect of it bucking the trend.
Petra Energy's net profit for the nine months ended Sept 30, 2015 (9MFY15), increased 32.3% to RM36.89 million from a year ago. Revenue rose to RM449.65 million from RM417 million previously. The higher profit was aided by increased contributions from its RSC project and marine assets segment.
Petra Energy's marine assets segment registered a profit of RM7.23 million for 9MFY2015, compared with a loss of RM4.84 million previously. This, says the company in its results notes, was due to the higher utilisation rate of its vessels.
Currently, the utilisation rate of its vessels is about 50%. Market experts say the segment will continue to be profitable as long as the company is able to keep the utilisation rate at above 40%.
Petra Energy's services segment saw a decline in revenue and profit in the third quarter due to unrealised foreign exchange losses from its US dollar-denominated borrowings.
However, the segment's 9MFY2015 profit was higher, at RM23.93 million, compared with RM21.49 million previously. This was due to higher contributions from the hook up, commissioning and top-side major maintenance (HuC and TMM) contract from Petronas Carigali Sdn Bhd (PCSB), says the company in its notes.
According to Affin Hwang Capital's estimates, Petra Energy has realised only RM880 million worth of orders out of the RM2.5 billion contract from PCSB. The contract was awarded on May 21, 2013, for the provision of HuC and TMM services in offshore Sabah and Sarawak for five years.
"This (the remaining RM1.62 billion worth of orders) is sufficient to tide the segment over through 2018, even if Petra Energy fails to win any new contracts," says the research house.
However, the research house also highlights that there could be a risk that the RM2.5 billion contract may be deferred due to depressed crude oil prices.
"We see limited risks in the pan-Malaysian order book under normal circumstances as maintenance activities for ageing brownfield facilities are a prerequisite for PCSB to sustain oil production at an optimal level. But, we cannot be so sure now, given the recent plunge in crude oil prices to below US$29 per barrel," it says.
That said, Petra Energy's balance sheet looks healthy with its net gearing ratio at only 0.38 times as at Sept 30, 2015 — one of the lowest in the industry — which will place it in a better position than its peers in withstanding industry headwinds.
It is worth noting that all three research houses covering Petra Energy have "buy" calls on the stock with an average 12-month target price of RM1.62.
Petra Energy's net asset per share of RM1.73 as at Sept 30, 2015, is also 51.75% higher than its last Thursday's closing share price of RM1.14, translating into a market capitalisation of RM365.88 million. The company's share price has declined 15.44% over a one-year period.