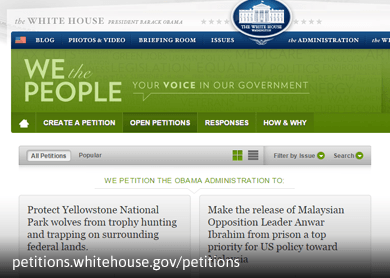 KUALA LUMPUR (Feb 11): Hours after Datuk Seri Anwar Ibrahim was found guilty of sodomy, a petition was set up on the White House website urging the Obama administration to make the release of the opposition leader a top priority in the US's foreign policy with Malaysia.
The petition, which was set up by a "J.M." from Alexandria in Virginia yesterday, described Anwar as a "political prisoner" who was jailed and convicted on "trumped-up charges".
It also said the de facto PKR leader is a "champion of democracy, a believer in Islamic justice, and a long-time friend of the United States".
The petition stated that Washington should do more, even though the White House issued a statement yesterday expressing its disappointment with Anwar's conviction.
Since it was set up, the petition has received 3,329 signatures.
It needs another 96,671 signatures by March 12.
There is no guarantee that the petition will receive any response from the Obama administration.
The White House website said if a petition gets enough support, its staff would review it and ensure it was sent to the appropriate policy experts. It would also release an official response.
The right to petition the US government is guaranteed by the First Amendment of the United States Constitution.
Apart from the US, several countries, including the United Kingdom, European Union (EU), Canada and Australia are also concerned about the Federal Court's verdict.
A spokesperson for EU High Representative said the conviction and sentencing of the opposition leader raised serious questions about the due process of law.
The High Commission of Canada, meanwhile, said it was concerned about judicial independence and selective prosecution under the Sedition Act in the country.
The apex court yesterday found Anwar guilty of sodomising his former aide Mohd Saiful Bukhari Azlan in a condominium unit at Bukit Damansara, Kuala Lumpur, on June 26, 2008.
Anwar was handed a five-year jail term.
In the summary of his judgment, Chief Justice Tun Arifin Zakaria found that claims of political conspiracy by the defence team remained an unsubstantiated allegation.
He also agreed with the High Court and Court of Appeal that Saiful was a credible witness.