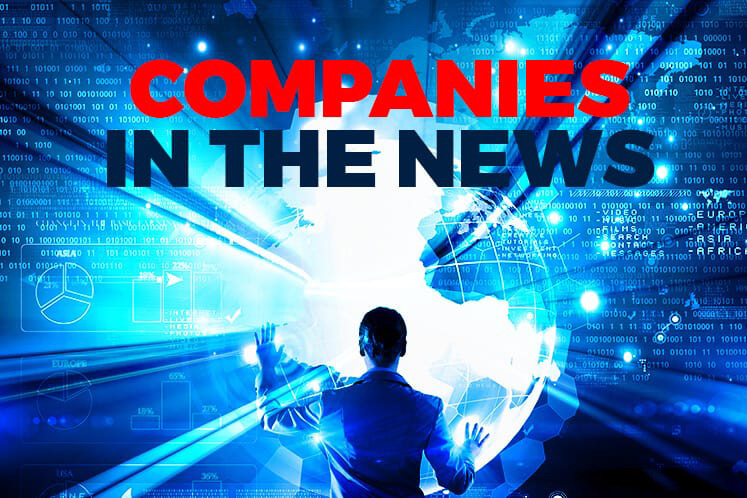 KUALA LUMPUR (Dec 31): Based on corporate announcements and news flow today, stocks in focus on Wednesday (Jan 2) may include Petronas Gas Bhd, Public Bank Bhd, AMMB Holdings Bhd, Genting Bhd, Genting Malaysia Bhd, Genting Plantations Bhd, Vizione Holdings Bhd, Pintaras Jaya Bhd, Handal Resources Bhd, Ornapaper Bhd, FGV Holdings Bhd, Kronologi Asia Bhd, Yinson Holdings Bhd, Merge Energy Bhd, Malaysia Airports Holdings Bhd, Binasat Communications Bhd, Theta Edge Bhd and PUB Bhd.
Petronas Gas Bhd (PetGas) said it has entered into the second term of the gas processing agreement (GPA) with its parent Petroliam Nasional Bhd (Petronas), with revised remuneration terms. The second term will commence tomorrow (Jan 1, 2019) until Dec 31, 2023.
Under the GPA entered between the two parties on March 31, 2014, the duration of the entire deal spans 20 years from April 1, 2014 till Dec 31, 2033.
Meanwhile, PetGas announced that it will revise the current tariffs for the utilisation of the Peninsular Gas Utilisation (PGU) system, the Regasification Terminal Sg Udang, Melaka (RGTSU) and the Regasification Terminal Pengerang, Johor (RGTP) for 2019.
For the entire 2019, the tariff for PGU is RM1.072 per gigajoule, down from RM1.248 per gigajoule this year, while the tariff for RGTSU is RM3.518 per million British thermal unit (mmBtu) and RGTP is US$0.637 per mmBtu.
PetGas said the Energy Commission has prescribed the incentive-based regulation (IBR) framework in setting the base tariff for PGU, RGTSU and RGTP vide its letter dated Dec 26, which was received today.
This follows the implementation of the third party access (TPA) pursuant to the amendment to the Gas Supply Act 1993 to Gas Supply (Amendment) Act 2016 effective Jan 16, 2018.
In accordance to the TPA, PetGas entered into three sale and purchase agreements (SPAs) with Petroliam Nasional Bhd (Petronas) to buy the minimum amount of gas required to operate its Peninsula gas utilisation pipeline and liquefied natural gas (LNG) to run its regasification terminal's storage tank in Melaka and Johor.
PetGas said the total purchase consideration for the Linepack and Heel is RM108 million.
Public Bank Bhd said Tan Sri Teh Hong Piow retires as chairman today but he will remain on the board as non-independent non-executive director effective tomorrow (Jan 1, 2019).
Deputy chairman Lai Wan will be redesignated as chairman effective tomorrow (Jan 1, 2019).
AMMB Holdings Bhd said today Voon Seng Chuan will be appointed as the new chairman of AmBank (M) Bhd with effect from tomorrow (Jan 1, 2019) as part of the financial-services group's directorship and chairmanship transition plan.
Voon, a Malaysian, aged 60, has been a member of the board of directors of AmBank (M) Bhd since 18 June 2015. He is also a member of the board of directors of AMMB Holdings Bhd.
Lim Keong Hui, the son of Tan Sri Lim Kok Thay — chairman and chief executive officer (CEO) of Genting Group — has been appointed as deputy CEO of Genting Bhd, Genting Malaysia Bhd (GENM) and Genting Plantations Bhd (GENP) effective tomorrow (Jan 1).
Keong Hui will be redesignated from his executive director positions in Genting and GENM, as well as non-executive director positon at GENP.
Kok Thay, meanwhile, will assume the deputy chairman role at GENP, redesignated from his CEO position.
GENP will then appoint Tan Kong Han to fill the CEO position.
Tan was appointed as GENP deputy CEO on Dec 1, 2010. He is also the president and chief operating officer of Genting.
Vizione Holdings Bhd has bagged a RM377.6 million contract from Permata Rebana Sdn Bhd to supply materials, labour and project management services relating to road works in Kota Kinabalu, Sabah.
The duration of the contract is 24 months subject to any extension of time granted under the construction contract to be entered into at a later stage.
Pintaras Jaya Bhd's unit has been awarded three new piling contracts worth a combined RM103 million.
The piling and foundation specialist said the contracts — awarded to its wholly-owned Singapore-based subsidiary Pintary International Pte Ltd — have varying contract periods, ranging from three to eight months.
Integrated crane services provider Handal Resources Bhd announced that its founder and non-executive chairman Datuk Mohsin Abdul Halim has tendered his resignation as he intends to retire from the position.
Handal said it has redesignated Tengku Baderul Zaman Sultan Mahmud as the new chairman, effective Jan 1, 2019.
Tengku Baderul Zaman is a director of Borneo SeaOffshore Sdn Bhd, which owns an 11.14% stake in Handal as at Dec 10, 2018.
Ornapaper Bhd executive director Sai Han Siong has been redesignated as chief executive director of the group, replacing See Wan Seng who has retired.
Ornapaper said Han Siong, 48, is the son of Sai Ah Sai, who is a non-independent and non-executive director of the group.
Han Siong has a 0.02% direct stake and a 25.92% indirect stake in the group as at March 28, 2018.
FGV Holdings Bhd has aborted its plan to collaborate with the Sabah Forestry Department to explore the rehabilitation of riparian and forest buffer zone which lies between the forest reserve and the FGV estate in Sahabat, Sabah.
FGV said both parties have agreed not to renew the Memorandum of Understanding (MoU) entered into on Nov 8, 2016 upon its expiry on Dec 7, 2018.
Geoffrey Ng Ching Fung has been appointed the non-executive chairman of Kronologi Asia Bhd effective tomorrow (Jan 1), following the resignation of Gerard Tan Wee Seng.
Kronologi said Ng's career spans 22 years in international investment management and advisory, and he is currently a director at Fortress Capital Asset Management (M) Sdn Bhd.
Ng, 45, was previously chief executive officer and executive director of Hong Leong Asset Management Bhd, senior vice president at Dubai Investment Group and chief investment officer of Pacific Mutual Fund Bhd.
Yinson Holdings Bhd said its Vietnam associate PTSC Asia Pacific Pte Ltd (PTSC AP) has entered into an addendum to the bareboat charter interim contract with Petrovietnam Technical Services Corp (PTSC) to extend the tenure for a further six months commencing Jan 1 till June 30, 2019.
The integrated offshore service provider said the extended interim contract was entered into pursuant to a six-month extension of the tenure of a contract entered into between PTSC and Petrovietnam Exploration Production Corp to charter PTSC Lam Son floating production, storage and offloading vessel for the petroleum operations within the Lam Son Field.
The group did not disclose the contract value of the extension.
KAF Investment Bank Bhd (KAF IB) has urged shareholders in Merge Energy Bhd to reject the unconditional mandatory takeover offer by Westiara Development Sdn Bhd, Cerdik Cempedak Sdn Bhd, Fine Approach Sdn Bhd, Anjuran Utama Sdn Bhd and Datuk Lee Tian Hock, as the offer is seen to be unfair and unreasonable.
Malaysia Airports Holdings Bhd (MAHB) will be embarking on upgrading works of the Kuala Lumpur International Airport's (KLIA) communication infrastructure starting from Jan 1.
The airport operator said the initiative — meant to enhance overall coverage and capacity of the airport's cellular network — is expected to be completed in phases over three months.
MAHB said the upgrade is meant to further enhance the airport experience at KLIA and will improve the overall coverage and capacity of the cellular network at the airport. It is also to cater for future digitalisation requirements such as Airports 4.0 initiatives, the e-commerce ecosystem and the Aeropolis development
Binasat Communications Bhd chief financial officer (CFO) Ng Kok Meng has resigned to pursue other career opportunity. The group has yet to announce a replacement for Ng.
Theta Edge Bhd said Othman Omar retires as chief operating officer today but will continue to serve the ICT company in a senior advisory capacity to ensure continuity on several large key projects and initiatives.
The group said this is to facilitate and ensure a smooth transition and completion of these large projects and strategic initiatives.
PUC Bhd is buying the rest of Pictureworks Holdings Sdn Bhd it does not already own from its group managing director and chief executive officer Cheong Chia Chou and two other companies for RM167.5 million.
The ACE Market-listed firm said it plans to acquire 12.34 million shares or a 67% stake in Pictureworks from Cheong, Superb Go Sdn Bhd and Beauty World Holdings Pte Ltd (BWH), through a combination of new share issuance and cash.
Cheong currently holds a 42.22% stake in Pictureworks, SGSB 20% and BWH 4.78%.
PUC said it has entered into a conditional sale of shares agreement with Cheong and Superb Go for the acquisition of their collective 62.22% shareholding in Pictureworks for RM155.55 milllion.
It added that it is in the midst of negotiation with BWH for the acquisition of the remaining 880,341 Pictureworks shares owned by BWH for RM11.95 million.
The proposed acquisition, which requires PUC shareholders' approval, is expected to be completed by the second quarter of 2019.