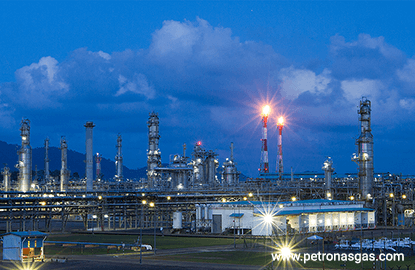 KUALA LUMPUR (Nov 2): Petronas Gas Bhd's net profit for the third quarter ended Sept 30, 2016 (3QFY16) climbed 38.6% year-on-year to RM422.71 million or 21.36 sen per share from RM304.98 million or 15.41 sen per share, largely because the previous year was impacted by a foreign exchange (forex) loss.
It recorded unrealised forex loss on its US dollar finance lease liabilities totalling RM167.5 million last year, Petgas' bourse filing stated to explain the y-o-y jump in earnings.
Stripping off the forex impact, PetGas said its profit for the current quarter was actually down 11.1%, due to higher operating costs and tax expenses.
Quarterly revenue was up 2.1% to RM1.16 billion from RM1.13 billion a year earlier, driven by higher utilities revenue, in line with the upward fuel gas price revisions from Jan 1 and July 1, respectively, as well as higher performance-based structure (PBS) income.
It also announced a 15 sen third interim dividend, amounting to RM296.8 million, payable on Dec 2. Year to date (YTD), it has declared 45 sen in dividends, compared with 43 sen in last year's YTD period.
For the cumulative nine months ended Sept 30, 2016 (9MFY16), its net profit was down 19% to RM1.27 billion or 64.37 sen per share against RM1.57 billion or 79.49 sen per share in the same period last year.
It said this lower earnings was because the previous YTD period had recorded lower tax expenses due to the recognition of deferred tax assets arising from the investment tax allowance for its plant rejuvenation and revamp.
Going forward, PetGas expects its performance to remain steady amidst challenging economic environment.
This is premised on the strong and stable income streams from existing gas processing agreements, gas transportation agreements and regasification service agreement signed with Petroliam Nasional Bhd (Petronas), it said.
"The utilities segment will continue to contribute positively to our results," it added.
Shares in PetGas closed at RM22.08, up six sen or 0.27%, with a market capitalisation RM43.69 billion.