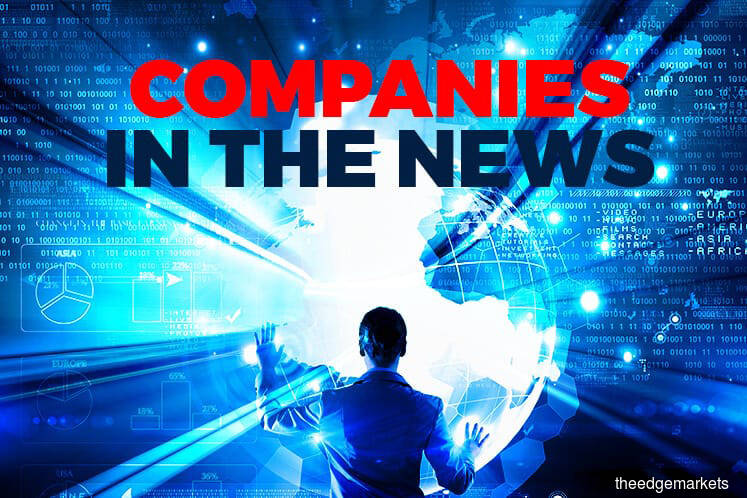 KUALA LUMPUR (May 18): Based on corporate announcements and news flow today, companies in focus tomorrow (May 19) may include: Petronas Dagangan Bhd (PetDag), Hartalega Holdings Bhd, Thong Guan Industries Bhd, FGV Holdings Bhd, Mi Technovation Bhd, LYC Healthcare Bhd, Sanichi Technology Bhd, AT Systematization Bhd, PNE PCB Bhd, ARB Bhd, Tan Chong Motor Holdings Bhd, CSC Steel Holdings Bhd, Southern Steel Bhd, GuocoLand (Malaysia) Bhd, Hume Industries Bhd, and Teo Seng Capital Bhd.
Petronas Dagangan Bhd (PetDag) reported its first loss-making quarter with a net loss of RM29.42 million for the first quarter ended March 31, 2020 (1QFY20), from a net profit of RM291.2 million last year due to lower gross profit following a sharp decline in Mean of Platts Singapore (MOPS) price trends, lower sales volume towards the end of the quarter, and higher operating expenses attributable to professional services cost and depreciation cost.
Quarterly revenue sank 16.04% to RM6.55 billion from RM7.81 billion, as overall sales volume declined by 4% for both its retail and commercial segments, with average selling prices (ASPs) dropping by 3%. Still, PetDag declared a dividend of five sen for the quarter, payable on June 17.
Hartalega Holdings Bhd, which posted record-high annual revenue for the financial year ended March 31, 2020 (FY20), will continue to expand production capacity to meet global growth in demand for rubber gloves. 
The nitrile glove maker rang up record annual sales of RM2.92 billion for FY20, compared with RM2.83 billion the year before driven by a 9% rise in sales volume. Its annual net profit, however, dropped 5% to RM434.78 million for FY20 against RM455.18 million for the previous financial year. For the fourth quarter, Hartalega's net profit expanded 28% to RM115.58 million versus RM90.33 million a year ago. Revenue climbed 14% to RM777.9 million from RM683.23 million previously.
Flexible packaging manufacturer Thong Guan Industries Bhd's net profit jumped 36.24% for 1QFY20 to RM17.46 million from RM12.82 million previously as it recorded higher revenue with more plastic packaging products sold, such as stretch film, industrial bags and films, and courier bags. Quarterly revenue rose 12.35% to RM244.02 million from RM217.19 million a year ago. It declared a first interim dividend of two sen, payable on June 24.
FGV Holdings Bhd said today power generation is among immediate projects that could be carried out as part of the oil palm plantation group's plan to boost returns from renewable energy projects, which constitute a part of the company's recovery strategy from the impact of the Covid-19 pandemic. The power generation business could be carried out through its biogas capture at its oil palm mills, said FGV.
Mi Technovation Bhd's net profit for 1QFY20 grew 49.9% to RM10.3 million, from RM6.87 million last year as on higher sales revenue, lower commission payable to external sales agent as well as foreign exchange (forex) gain from the stronger US dollar against the ringgit. Quarterly revenue increased by 19.54% to RM35.24 million from RM29.48 million due to stronger demand from customers in the Northeast Asia region.
LYC Healthcare Bhd, via its wholly-owned subsidiary LYC Medicare Sdn Bhd, is partnering with Biofresh Hygiene Services Sdn Bhd to market cleanliness, hygiene and sanitation services in Malaysia. Under the three-year partnership, LYC Medicare will be granted the rights to use all marketing materials developed by Biofresh to generate sales for Biofresh hygiene services.
Three Malaysian listed firms — Sanichi Technology Bhd, AT Systematization Bhd and PNE PCB Bhd — have joined forces with US-based company Arzon Solar LLC (ARZ) to produce medical-grade mechanical air ventilators to take advantage of the worldwide shortage of the product. The companies have inked a memorandum of understanding (MoU) to form a joint-venture company (JVco) for the purpose. The three Malaysian companies will each hold a 30% stake in the JVco, while the remaining 10% will be held by ARZ.
ARB Bhd has entered into a partnership deal with Beijing Kuangshi Technology Cl Ltd (MegVii) to explore business opportunities in artificial intelligence (AI) facial recognition application and relevant algorithm technology in the Internet of things (IoT) field in Malaysia.
Tan Chong Motor Holdings Bhd said its subsidiary TC Services Vietnam Co Ltd has been appointed China's largest automobile group SAIC Motor Corp Ltd as the exclusive importer and distributor of completely-built-up (CBU) MG brand.
A better product mix and cost management resulted in CSC Steel Holdings Bhd's net profit for 1QFY20 rising 8.68% to RM5.01 million, from RM4.61 million last year. Quarterly revenue, however, fell 14.17% to RM284.27 million from RM331.93 million previously.
Southern Steel Bhd, which remained in the red, saw its net loss for 3QFY20 narrow to RM37.58 million from RM41.57 million a year earlier, as margin improved from lower inventory cost. This marks the group's sixth consecutive loss-making quarter. Quarterly revenue was down 32.8% to RM470.37 million, from RM699.96 million previously, due to lower sales volume and selling price.
Marking its eighth consecutive loss-making quarter, GuocoLand (Malaysia) Bhd's net loss widened to RM10.13 million for 3QY20, from RM6.96 million a year earlier, on higher selling and marketing expenses, administration expenses, as well as finance costs. Quarterly revenue, however, rose slightly by 3.05% to RM98.06 million, from RM95.16 million in 3QFY19, on higher progressive revenue earned from its on-going Emerald Hills project.
Hume Industries Bhd, is back in the black in its third quarter, as it records higher revenue from lower rebates on cement selling prices. Its 3QFY20 net profit stood at RM1.81 million, versus a net loss of RM24.19 million last year, while revenue grew 16.63% at RM177.37 million from RM152.08 million.
Teo Seng Capital Bhd's net profit for 1QFY20 slumped 91.37% to RM1.91 million, from RM22.09 million a year earlier, on lower egg sale volume and prices. Quarterly revenue declined by 22.94% to RM115.98 million, from RM150.52 million.