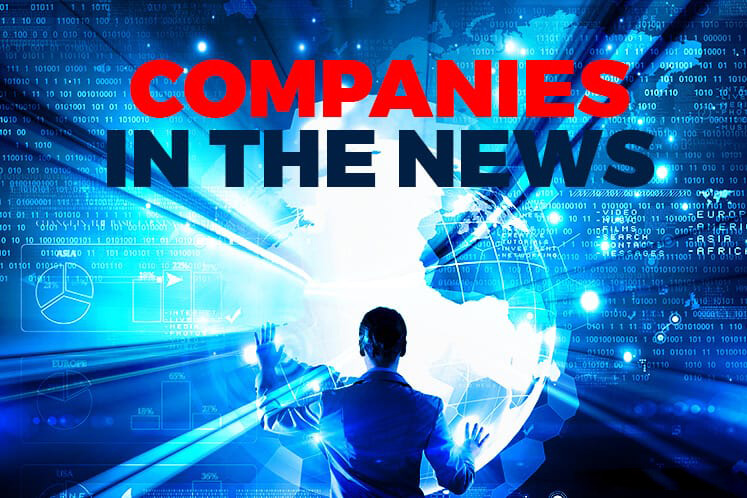 KUALA LUMPUR (April 27): Based on corporate announcements and news flow today, companies in focus on Monday (April 30) may include the following: Petronas Dagangan Bhd, AirAsia Group Bhd, Sinmah Capital Bhd, Aeon Credit Service (M) Bhd, Genting Malaysia Bhd, Inta Bina Group Bhd, Uzma Bhd, EcoFirst Consolidated Bhd, UMW Holdings Bhd, MBM Resources Bhd, TH Heavy Engineering Bhd and SP Setia Bhd.
Former Proton Holdings Bhd group managing director Datuk Seri Syed Zainal Abidin Syed Mohamed Tahir has been appointed as managing director (MD) and chief executive officer (CEO) of Petronas Dagangan Bhd (PetDag) effective June 1.
He will take over from Datuk Mohd Ibrahimnuddin Mohd Yunus who will step down on the same day.
In a filing with Bursa Malaysia today, PetDag said Syed Zainal, 55, will also be redesignated from non-executive director to executive director.
AirAsia Group Bhd, which comprises the low-cost carrier's operations in Malaysia, Indonesia and the Philippines, carried 16% more passengers at 10.65 million in the first half of this year (1Q18) from 9.15 million a year ago, in line with the added capacity.
In a statement today, AirAsia Group said its capacity grew 19% year-on-year (y-o-y) in 1Q18. However, passenger load factor fell 2 percentage points to 87% in the current quarter under review.
"In 1Q18, AirAsia Group's total fleet size grew to 123 aircraft, comprising 87 in Malaysia, 15 in Indonesia (PT AirAsia Indonesia Tbk) and 21 in the Philippines (Philippines AirAsia Inc).
"In 1Q18, Thai AirAsia (TAA) added three aircraft to bring its total fleet to 59 aircraft," it added.
It also said that AirAsia India (AAI) ended the first quarter with a fleet size of 16 aircraft after adding two aircraft while AirAsia Japan's fleet size stood at two aircraft as at March 31 this year.
Poultry producer Sinmah Capital Bhd said today the Inland Revenue Board (IRB) remains steadfast that the RM5.56 million in additional income taxes and penalties for years of assessment 2008 to 2013, cannot be settled through the dispute resolution proceeding (DRP).
"Following (an appeal session) held on Feb 15, the IRB held its stand and was of the opinion that the case cannot be settled through DRP. They (IRB) had forwarded the case to the Special Commissioner of Income Tax for registration for trial," Sinmah said in a filing with Bursa Malaysia today.
Sinmah will make further announcements as and when there are fresh developments arising from the matter.
Aeon Credit Service (M) Bhd's net profit rose 2.8% to RM82.31 million for its fourth financial quarter ended Feb 28, 2018 (4QFY18) from RM80.05 million a year ago, mainly due to higher revenue.
This resulted in higher earnings per share of 31.87 sen in 4QFY18 compared with 30.94 sen in 4QFY17. Quarterly revenue grew 6.3% to RM309.17 million from RM290.84 million a year ago.
The group also declared a final dividend of 20 sen per share for the financial year ended Feb 28, 2018 (FY18), payable on July 19.
Genting Malaysia Bhd is establishing a medium term note (MTN) programme of RM3 billion in nominal value through its wholly-owned subsidiary GENM Capital Bhd.
In a filing with Bursa Malaysia, Genting Malaysia said GENM Capital has made a lodgement with the Securities Commission Malaysia (SC) under the regulator's Lodge and Launch Framework for the establishment of the MTN programme.
The MTN programme will have a tenure of 20 years from the date of the first issuance of MTNs, which will be irrevocably and unconditionally guaranteed by Genting Malaysia. The MTNs may be issued at par or at a discount which shall be determined prior to each issuance of the MTNs.
The MTN Programme has been assigned an initial long-term rating of AAA(s) by RAM Rating Services Bhd, said Genting Malaysia.
Net proceeds from the MTN Programme shall be used for operating expenses, capital expenditure, investment, refinancing, working capital requirements and/or general funding requirements, including to finance the group's development and/or re-development of the properties and/or resorts, its filing read.
Barely a year since its debut on Bursa Malaysia's ACE Market, Inta Bina Group Bhd is seeking a transfer to the Main Market.
The building contractor said it has satisfied the profit requirement to be listed on the Main Market, which is having at least RM20 million of aggregate profit after tax (PAT) over the past three to five full financial years and at least RM6 million PAT for the most recent financial year.
In a filing with Bursa Malaysia, Inta Bina said it recorded an aggregate PAT of RM39.84 million over the past three financial years with a PAT of RM15.6 million for the year ended Dec 31, 2017 (FY17). The public shareholding spread of the company also meet the requirement of having at least 25% of total listed shares in the hands of a minimum of 1,000 public shareholders.
Uzma Bhd has bagged a two-year umbrella contract from Petronas Carigali Sdn Bhd to provide well abandonment integrated services. Uzma said there is no firm value for the umbrella contact, as it is dependent on work orders to be issued to it from time to time at the discretion of Petronas Carigali.
The tenure of the umbrella contract is two years from March 29, 2018 till March 29, 2020, with an extension option period of one year.
The umbrella contract is expected to contribute positively to the group's earnings and enhance its net assets per share for the financial year ending June 30, 2018 and onwards if work orders are issued to UESB.
EcoFirst Consolidated Bhd saw its net profit surge 3.47 times to RM4.48 million in the third financial quarter ended Feb 28, 2018 (3QFY18) from RM1.29 million a year ago, on contribution from its two development projects namely Phase 1 of Ampang Ukay known as Liberty @ Ampang Ukay here and Upper East @ Tiger Lane in Ipoh, Perak.
Quarterly revenue also grew 10.1% to RM35.3 million from RM32.05 million a year ago.
In a filing with Bursa Malaysia today, EcoFirst attributed the strong 9MFY18 results to its two property projects, as well as recurring income from its two malls — the South City Plaza in Seri Kembangan, Selangor and the 1Segamat Shopping Centre in Segamat, Johor.
UMW Holdings Bhd has extended the validity of its takeover offer for control over MBM Resources Bhd (MBMR) for another six months, ahead of a crucial shareholders' vote to decide on the offer on Monday.
In a filing with Bursa Malaysia today, UMW said its offer to buy a 50.07% stake MBMR is now valid until Oct 31. This is the second extension after UMW previously extended the validity from March 28 to April 30.
The latest extension is "to enable parties to deliberate on the offers", UMW said.
UMW is offering RM2.56 per share to Med-Bumikar Mara Sdn Bhd for the latter's 50.07% stake in MBMR. If Med-Bumikar accepts, UMW intends to undertake a mandatory general offer and take MBMR private.
While Med-Bumikar's board had rejected the offer, some of its shareholders keen to take UMW's offer had called for an extraordinary general meeting (EGM) to vote on the deal. The EGM is scheduled for next Monday.
Practice Note 17 company TH Heavy Engineering Bhd's independent auditor has cast significant doubt about the ability of the group to continue as a going concern.
TH Heavy's filing with the stock exchange today showed its independent auditor Messrs Deloitte PLT had expressed a disclaimer of opinion in the company's audited financial statements for the year ended Dec 31, 2017 (FY17).
"We are unable to ascertain the ability of the group and of the company to achieve sustainable and viable operations to generate adequate cash flows from their operating activities and the timely and successful formulation and implementation of the entire proposed regularisation plan," said the audit firm.
S P Setia Bhd has acquired 57 acres of freehold land in Cyberjaya, Selangor from Setia Haruman Sdn Bhd, the master developer of Cyberjaya, for RM177.5 million, which will be developed into a residential project with an expected gross development value (GDV) of RM650 million.
"The land will be developed by the joint venture (JV) company between SP Setia (70%) and Setia Haruman (30%)," S P Setia president and CEO Datuk Khor Chap Jen said in a statement today.
"The project is expected to commence in the second half of 2019 pending approvals, and is expected to take about six years to complete. It would be developed [into] an eco-themed sanctuary, emulating Setia Eco Glades in Cyberjaya," he added.