This article first appeared in The Edge Financial Daily, on December 2, 2019.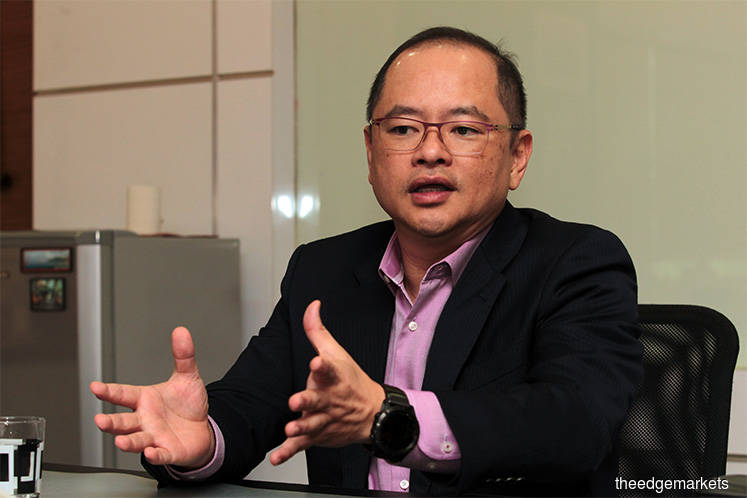 Lim: If we do not have success on our home ground, how are we going to sell elsewhere? Photo by Suhaimi Yusuf
KUALA LUMPUR: Pestech International Bhd sees a "strategic success" in its recent smart meter supply contract from Tenaga Nasional Bhd (TNB), as it seeks to establish the business here and regionally.
"This is a strategic success — for a utility firm to use our smart meters," group chief executive officer (CEO) and executive director Paul Lim Pay Chuan told The Edge Financial Daily in an exclusive interview. "We hope it is a springboard for us to better opportunities."
Pestech was one of five companies appointed by TNB last month to supply a combined 1.2 million smart meters in the Klang Valley across a two-year period.
At RM38.38 million, Pestech's contract may be small relative to the group's current order book of RM1.5 billion. The market segment, however, carries an exciting proposition.
If the supply of the 1.2 million smart meters is divided equally among the five companies, back-of-the-envelope calculation would put Pestech's contract at about RM160 per smart meter for 240,000 units.
To date, TNB has secured the supply of 1.5 million units. It plans to install 9.1 million in Malaysia by 2026. That means there is still potential supply of 7.6 million units — worth roughly RM1.2 billion — up for grabs.
Pestech's smart meters are now manufactured overseas by a subsidiary of Siemens AG. If Pestech wins bigger contracts in Malaysia, Lim does not discount the possibility of bringing the manufacturing onto home soil.
Lim added that Pestech is already doing a proof of concept of its smart meters in Bali, Indonesia, as well as the whole smart meter management ecosystem on the tourism island.
"If we do not have success on our home ground, how are we going to sell elsewhere?" Lim said.
Company eyes export of rail electrification expertise
That said, the smart meter-related business prospects may still be far ahead.
So, Pestech's immediate focus is to establish a regional presence for its other business that has a proven track record locally: rail-related electrification services.
Among Pestech's ongoing projects include the power supply and distribution systems package for the Mass Rapid Transit Sungai Buloh-Serdang-Putrajaya Line (MRT2) and the Gemas-Johor Baru (JB) electrified double-track electrification and signalling systems.
While these projects are prominent at home and a definite notch on Pestech's belt, the group must compete with European, Japanese and Chinese rail-related companies if it wants to expand overseas. "That is our challenge. But we should try to export our rail-related services and slowly build a regional market in the rail sector for ourselves," said Lim.
MRT2 is scheduled to begin operation by July 2021, while the Gemas-JB Double Track is set to be ready by October 2021.
"Our KVDT project is also finishing [this year]," he said, referring to the Klang Valley Double Track's signalling, communications, and electrification systems upgrade.
"As our order book has shown, we are not concerned about opportunities — but we need to have the wisdom to average out the market that we want to serve," Lim said.
Firm targets RM1 billion top line in FY20
Pestech is now eyeing to execute RM1 billion worth of its order book in the financial year ending June 30, 2020 (FY20), after missing a similar target the year before.
Results for the first quarter for FY20 is positive towards that goal — net profit grew 94.2% to RM19.32 million from RM9.95 million, as revenue rose 51% to RM187.36 million from RM124.06 million.
On top of the aforementioned projects, contribution will come from its substation and underground cable set-up for TNB, its project to set up a 230-kilovolt transmission line for a hydropower plant in Cambodia ending 2020, as well as smaller works in the Philippines and Papua New Guinea, among others.
The target takes up two-thirds of Pestech's current order book of RM1.5 billion. Pestech's annual project replenishment rate is at around RM900 million against a tender book of RM1.4 billion, and the group is not expecting much changes in the trend moving forward.
The group, Lim said, has tendered for works under the second phase of KVDT, and is still waiting for the conclusion of the bids at the main contractor level.
"I think there will be some growth [in Pestech's earnings] in FY21," Lim said, "based on the balance of our order book, with additional contracts that could come in."
Meanwhile, investors may have noticed that Pestech's net gearing stands at around 1.8 times. On that, Lim assured that most of its borrowings are ring-fenced project financing.
"It is the nature of our business, which is electrical infrastructure. There is very little consumer payment risk, and in turn our clients can deliver our returns," he added. "Our bankers are happy."
Pestech shares settled one sen lower at RM1.28 last Friday, giving it a market capitalisation of RM978.3 million. The stock has climbed over 14% in the past one year.