This article first appeared in The Edge Malaysia Weekly, on September 30, 2019 - October 06, 2019.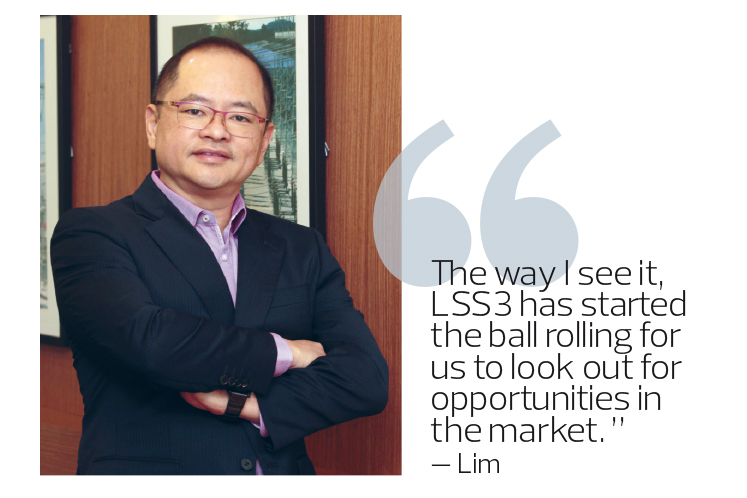 Photo by Suhaimi Yusuf/The Edge
IN a move to increase Malaysia's power generation from renewable sources, the government will dish out an estimated RM2 billion worth of projects under the third cycle of large-scale solar (LSS3) schemes.
The competitive bidding process for LSS3, with a total electricity generation capacity of 500mw, ended in August and the outcome is expected by year-end.
To many of the bidders, the LSS programme presents a now or never opportunity. But this is not the case for Pestech International Bhd, a power infrastructure specialist that has been listed on Bursa Malaysia since 2012.
According to Pestech CEO and executive director Paul Lim Pay Chuan, LSS3 does not mark the end of the group's foray into solar energy but is only the beginning as he believes other opportunities await the company in the future.
"We don't want to treat this as a one-off thing. Yes, we are bidding for LSS3 and we hope to win it, but this is not the only opportunity available in the solar industry," he tells The Edge in an interview.
"As much as we hope to win, we are not going to be very upset if we don't. The way I see it, it has started the ball rolling for us to look out for opportunities in the market. We now have a clearer direction of our strategies going forward," says Lim, who was appointed to the board in August 2011.
He began his career in 1994 with Motorola Malaysia Sdn Bhd as a product engineer, joined Pestech as general manager in 2000, and was promoted to CEO eight years later.
The 49-year-old is the nephew of Lim Ah Hock, the executive chairman and major shareholder of Pestech who owns 33.75% of the company.
Pestech is mainly involved in four major business segments, namely power transmission infrastructure and products, power generation and rail electrification, build-and-operate transmission assets and embedded system software and product development.
Lim stresses that Pestech does not aim to win an LSS3 project at the most competitive price and make a minimal profit by squeezing its contractors and suppliers.
"Our direction has to be like this: How do we improve the efficiency? How do we utilise the area that we have? Other than land, we can go to the lake, we can go to the rooftop," he explains.
Pinning hopes on hybrid project
Lim says Pestech has made a single bid for the LSS3 and is going in as a developer as well as an engineering, procurement and construction (EPC) contractor for the same project in Perak.
The proposed package, with an electricity generation capacity of 70mw to 100mw, will be wholly owned by Pestech, while the EPC will be co-owned by its subsidiary and a local solar installer.
"In our bid, we put in a hybrid project — 30% land and 70% lake — in which we hope to unlock the value  from a privately owned ex-mining pond in Perak. If we win, we will lease it from them," he reveals.
Considering that one of the biggest challenges in the solar power business is scarcity of land, Lim says Pestech hopes to prove that a solar panel installed on a body of water will be more efficient than one installed on land.
"We put them in the same location so that we can have very accurate output data to compare. If we win, it will mean a lot to us," he says.
Lim says although the LSS3 is a catalyst for solar players, Pestech will be focusing on its long-term participation in the industry, not just in Malaysia but in the region as well.
"There are plenty of opportunities in Myanmar, Cambodia and Laos. Besides, countries such as Papua New Guinea and Fiji could also use solar energy."
He believes Pestech must acquire the technological know-how to compete in the region and supply solar energy to these countries and not be confined to being just a solar farm owner or solar panel installer.
"We have to invest in the industry. We are looking beyond LSS1, LSS2 or LSS3. This will be our approach."
Year to date, Pestech's shares have gained 20% to close at RM1.19 last Friday, giving the company a market capitalisation of RM909.5 million. The stock is currently trading at a historical price-earnings ratio of 11.3 times.